At Feel Good Contacts, we stock a wide range of designer frames, but before you buy a pair, make sure you read our top 8 tips on how to look after your sunnies so that they remain in tip-top condition.
1. Store properly
You can avoid unnecessary damage to your designer sunglasses by ensuring they are stored appropriately when not in use. Not only will this prevent them from getting dusty, but it will also ensure they don't get scratched easily or bent out of shape. We recommend placing them in a protective case such as a hard case or a soft pouch such as the one included in The Feel Good Handy Kit.
2. Keep away from excessive heat
Excessive heat can cause the plastic frames of your sunglasses to distort, causing the lenses to crack. You should avoid leaving them in a hot car or direct sunlight during the summer months. If you have metal frames, leaving these in direct sunlight can cause them to heat up and burn you when you put them on.
3. Handle carefully
Handling your sunglasses with care when putting them on and taking them off is essential to ensuring that you don't stretch or bend the arms. You should also avoid placing your sunglasses face down on surfaces as this can lead to scratches on the lenses. When not in use, keep your frames in a hard case to prevent damage. Some brands supply a hard case with the frames; however, if you don't have one, we recommend purchasing our Feel Good Glasses Case, which features a durable design to keep your sunglasses safe.
4. Don't wear your sunglasses on top of your head
Wearing your sunglasses on top of your head may look cool and provide convenience when not in use; however, it can cause the screws to loosen and damage the nose pads.
5. Clean your sunglasses properly
Make sure you clean your sunglasses properly using a microfiber cloth and the correct cleaning solution. Never use your sleeve or paper towels to clean the lenses, as this can cause tiny scratches and transfer more dirt to the lenses.

Remember to clean the sides of the frames and nose pads too. This will stop them from slipping down your face and maintain hygiene. Our Feel Good Cleaning Kit is a handy little accessory for cleaning your designer sunglasses. It includes a microfiber cleaning cloth, lens cleaner and a screwdriver to keep your frames intact wherever you go.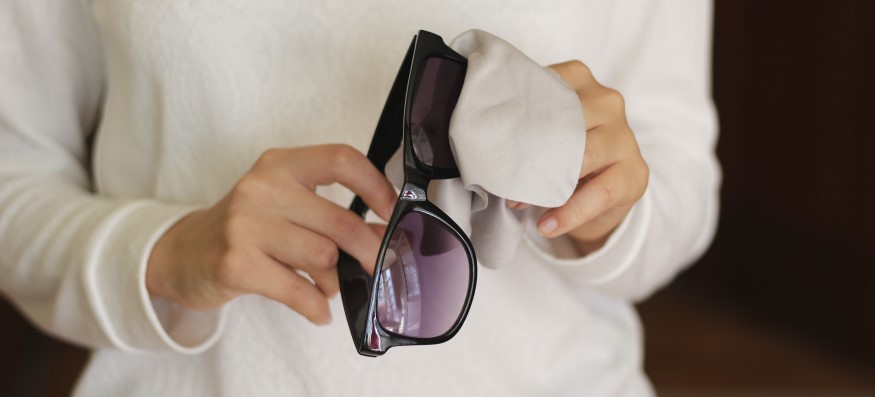 6. Make sure you readjust your sunglasses regularly
Taking the time to readjust your sunglasses is crucial as it's only natural that the frame joints can loosen over time, and this can cause your sunglasses to fall or slip off your nose and break. If you're unsure of how to readjust your sunglasses, take a look at our article 'How to tighten my glasses.' You can apply the same techniques to sunglasses.
7. Take care not to lose your sunglasses
Some people avoid buying designer sunglasses for fear of losing them. A high-quality pair of sunglasses is essential to protecting your eyes from harmful UVA and UVB rays. You can avoid losing your sunglasses by adopting specific habits such as keeping them in the same place when not in use.

If you are more prone to losing things, it may be good to invest in multiple pairs of sunglasses. For example, you may want a pair you keep at home and a pair you keep in a safe compartment in the car. If you're on a budget, you'll be pleased to know that you can buy designer sunglasses for up to 50% off at Feel Good Contacts.
8. Sunglasses at the beach
If you're taking sunglasses to the beach, make sure you keep them away from the sand and seawater when not in use, as both can cause damage. We recommend keeping them in a protective case and putting them in a beach bag.

It's also essential to select the correct type of sunglasses for at the beach; for example, if you intend on partaking in water sports, we'd recommend polarised lenses as they reduce glare from the light reflected off surfaces such as water. Mirrored lenses are excellent for sunbathing as they reflect sun rays back in very bright conditions.
Are designer sunglasses worth it?
Designer sunglasses are worth it as they are crafted from high-quality materials and feature 100% UVA and UVB protection in the lenses. Guaranteed to last, if you take care of them, they are a worthwhile investment. At Feel Good Contacts, you can find the perfect shades for you, we stock top-selling brands such as Ray-Ban, Oakley and Prada.