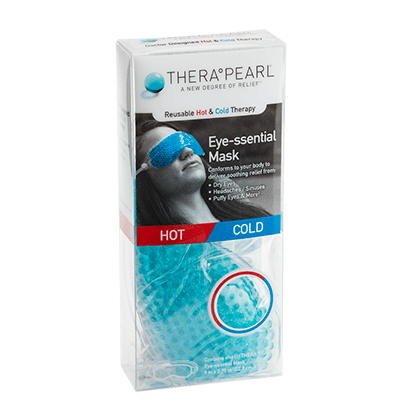 Thera-Pearl Eye Mask Benefits & Features
Spa-like eye mask to rejuvenate eyes
Can be used hot or cold
Therapeutic – relaxes and soothes eyes
Pearl Technology® - stays hot or cold
Freeze or Microwave for best results
Recommended For
People who suffer from dry eyes, allergies, puffy eyes or headaches
Those after a pamper session from the comfort of their own home
Styes, migraines or sinus issues
Alternative to Thera-Pearl Eye Mask
The Eye Doctor Premium is an alternative eye mask.
Product Description
Thera-Pearl Eye Mask offers a therapeutic spa-like treatment for a variety of eye conditions, from the comfort of your own home. Developed by eye care professional Bausch & Lomb, the eye-ssential mask is perfect for treating dry eye, Blepharitis, sinus headaches, irritation and relieving puffy eyes.
Why use Thera-Pearl Eye Mask?
Suitable cold or hot, you can choose the type of treatment you're after with Thera-Pearl Eye Mask. Designed with Pearl Technology, the small pearls can retain heat or remain cool for long periods of time. This versatile product is suited to those with even the most sensitive eyes. Cold therapy can be used to relieve puffy eyes, eye bags, headaches, migraines and sinuses. While hot therapy can help relieve dry eyes and styes.
For all other eye care products, browse our range at Feel Good Contacts.
Need more optical advice help? Ask our optical experts
Product Details
Cautions
For external use only.
For Use
Complete these simple steps.
To use as a cold compress, chill Thera-Pearl Eye Mask in the freezer for 2 hours to rejuvenate tired eyes or minimise the sting of a brow wax.
Alternatively, to use as a hot compress. Pop into the microwave for 15 seconds (700 Watt) to relieve dry eyes, or to simply clear your nasal passages and airways.
Make sure to gently clean the eye mask with mild soap after each use.
Frequently Asked Questions
Can you sleep in the Thera-Pearl Eye Mask?
You cannot sleep in the eye mask as this may restrict the blood vessels surrounding your eyes.
Product Summary
Thera-Pearl Eye Mask can be used as a hot or cold to treat symptoms like blepharitis, MGD and dry eyes.