Multifocal Contact Lenses
Sort By:
What are multifocal contact lenses?
Multifocal contact lenses (also known as varifocal lenses) are designed to correct age-related vision problems such as presbyopia. This is when the eye struggles to focus on nearby objects. Multifocal contacts blend two or more prescriptions to allow your eyes to focus on things at all distances without the need to wear varifocal glasses. Multifocal contact lenses (multifocal contacts) are also known as progressive contact lenses.
With multifocal contact lenses, the transition between different prescriptions is more gradual than bifocal glasses, making for seamless focusing on objects near and far.
By offering two or more different prescriptive powers, varifocal contact lenses can ensure clear and concise vision across all distances, whether the object you're looking at is right in front of your nose, a few metres in front of you, or on the other side of the street.
How do multifocal contact lenses work?
Multifocal contact lenses combine multiple prescriptions in a single lens to provide clear vision at all distances.
These different prescriptions are incorporated into the lens in a few ways: one uses a set of concentric rings, each with its distinct viewing power. The other is an aspheric design that blends these circles for a natural viewing experience and seamless transitioning between different distances.
How do multifocal toric contact lenses work?
Multifocal toric contact lenses work by offering patients with both astigmatism and presbyopia clear vision at all distances. Most multifocal toric contact lenses are designed with a stabilisation system to ensure the astigmatism correction is positioned in front of the eye throughout wear.
How do you adapt to varifocal contact lenses?
Adapting to varifocal lenses or multifocal contact lenses is no different from wearing any other lens. The first few days, your eyes will be adjusting to having a new corrective lens in your eye. For varifocal lenses, in particular, your eyes will need to adapt to focusing while wearing a lens with more than one prescription. Your eyes will take time to utilise the segment of the lens required to focus on a particular object and distance.
You may notice the feeling of the lens or have trouble inserting and removing the lens. This usually clears after a few days, and practice makes perfect when wearing lenses. You can read our full guide on inserting and removing contact lenses. If you experience continuous discomfort and issues with visual clarity, you should speak to your optician. They will consider factors such as your lifestyle, hobbies, regular activities, and prescription to determine the right lens for you. Remember, multifocal lenses do not replace glasses but can enhance your lifestyle.
Types of multifocal contact lenses
The two most common design types of multifocal contact lenses are aspheric and concentric.
Aspheric
Aspheric multifocal lenses feature a similar composition to progressive glasses lenses. They have no visible lines in the lenses and feature a seamless transition between multiple prescriptions. Both distance and near prescriptions are located at the centre of the lens and gradually change as you move outwards.
Concentric
Concentric multifocal lenses feature concentric circles on the lens. They typically feature your normal prescription for either short or long-sightedness at the centre of the lens, surrounded by rings for near and distance powers.
Segmented
Segmented designs are only featured in gas-permeable multifocal contact lenses. These multifocal lenses have two distinct viewing zones: the distance prescription occupying the centre and upper zones and the prescription for near vision occupying the bottom zone. The bottom edge of the lens is flattened to prevent the lens from rotating.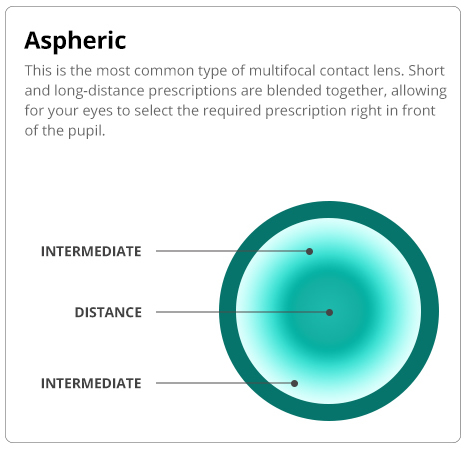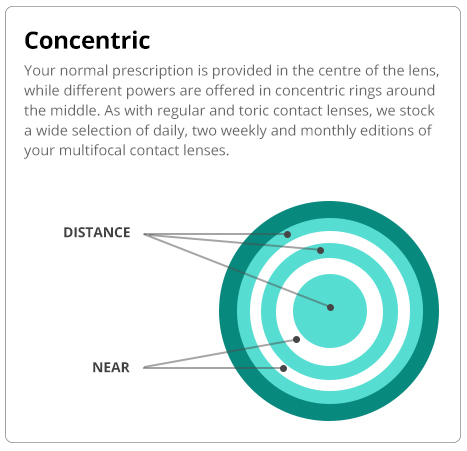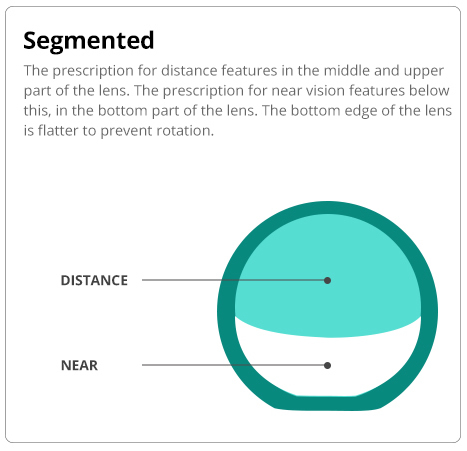 What are the benefits of multifocal contact lenses?
Multifocal contact lenses are designed with vision issues such as presbyopia in mind, which is the most important benefit – but there are also many other positives:
1. No need for glasses
An alternative to multifocal contact lenses is multifocal or bifocal glasses. Although these options also work well in correcting near and far vision issues – glasses are not always practical. With multifocal contact lenses, you can see near and further distances without needing glasses. This will particularly prove beneficial when taking part in vigorous activities.
2. Plenty of options
There are plenty of different types of multifocal contact lenses for wearers to choose from. There are daily multifocal contact lenses, which is particularly beneficial for those looking for a quick and easy disposable option, and monthly multifocal contact lenses, a more cost-effective option.
3. Personal preference
When correcting presbyopia, many prefer the look and feel of multifocal contact lenses compared to other options. Glasses can be a source of self-consciousness for some, whereas multifocal contact lenses offer freedom from glasses and provide you with clear and natural vision.
See our top multifocal contact lenses here.
What are the disadvantages of multifocal contact lenses?
There are a few disadvantages which should be considered when deciding whether to use multifocal contact lenses:
1. Initial adjustment period
Some individuals find that multifocal contact lenses produce a night-time glare and hazy or shadowed vision during the first few months of wearing them.
2. Different viewing experience
Getting used to multiple prescriptions in one lens can be difficult for many and may take a while. Some wearers experience blurred vision and headaches whilst adjusting to the viewing experience.
3. More expensive
Multifocal contact lenses tend to be more expensive than standard contact lenses due to the complexity of the lens and the intricacy of fitting these lenses.
Which are the best multifocal contact lenses?
Best daily multifocal contact lenses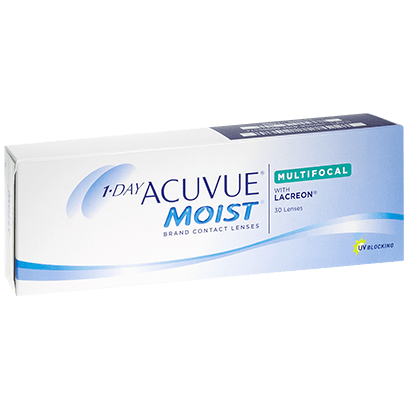 Part of the Acuvue Moist range, these multifocal daily disposable contact lenses offer excellent presbyopia correction with an aspheric design that helps the lens follow the eye as it moves. LACREON® technology is the main element in these innovative daily disposables, locking in moisture and offering long-lasting hydration, which is particularly useful for dry eyes.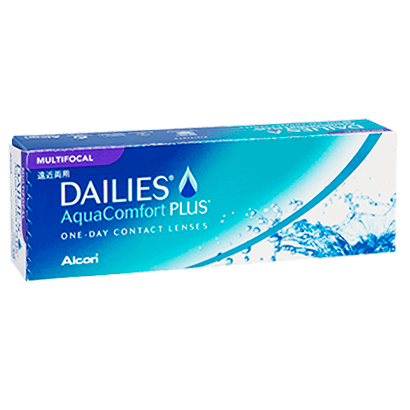 Created by Alcon & Ciba Vision, these daily multifocal contacts ensure seamless vision between different distances for your eyes. Highly convenient, they can be disposed of after use. Just put your lenses in when you wake up and enjoy a full day of wear before disposing of them at the end of the day. You can then insert a fresh pair of lenses in the next day.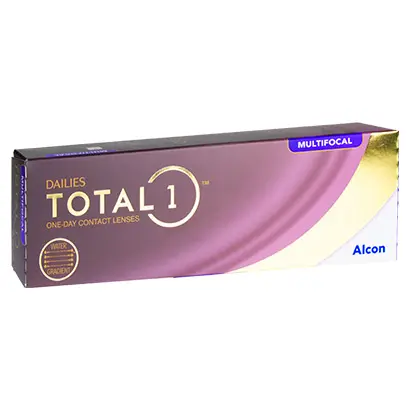 Due to their high water content and silicone hydrogel material, these multifocal daily contact lenses can be worn for up to 16 hours daily. By wearing a new set of lenses daily, you can rely on total hygiene and enjoy complete visual clarity and comfort for the day before throwing the lenses away before going to sleep - no cleaning or storing routine is needed.
Best monthly multifocal contact lenses
The silicone hydrogel material of these contacts allows for a higher flow of oxygen in and out of the eye. Offering up to six times the amount of oxygen compared to standard hydrogel lenses. By using Unique Precision Profile technology, these multifocal lenses can contain multiple prescriptions in one lens and achieve complete visual clarity and crisp vision at short, intermediate and long distances.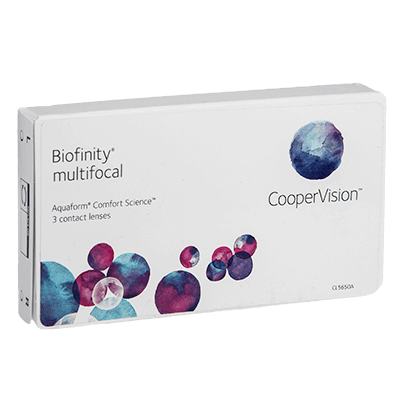 These Biofinity lenses deliver a smooth and seamless vision at all distances for contact lens wearers with presbyopia. Made from silicone hydrogel for a refreshing and barely noticeable presence in your eye. Aquaform Technology works to lock in moisture and minimise the risk of dry eye for contact lens wearers. With these multifocal contact lenses, you can rely on hydrated, moisturised, healthy eyes for presbyopia.
Best two weekly multifocal contact lenses
Acuvue Oasys Multifocal contact lenses offer a two weekly wear and can be worn for a whole week without removal as an extended wear contact lens if approved by an optician. With an advanced aspheric design, multiple prescriptions are blended to correct presbyopia. These silicone hydrogel contact lenses allow up to six times the amount of oxygen to flow through the material than hydrogel lenses. They also feature a Pupil Optimised Design which accounts for the natural pupil variation that occurs across refractive error range.
Best toric multifocal contact lenses
These innovative lenses combine the benefits of a multifocal contact lens and a toric lens for astigmatism. Multiple prescriptions are blended to achieve clear and crisp vision for the wearer, correcting presbyopia and astigmatism. Rest assured, you will receive sharp and consistent sight throughout the day, unaffected by distortions. PC Technology helps to lock moisture into the lens, keeping it moist and hydrating your eyes throughout wear.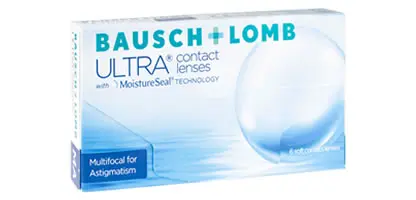 Bausch & Lomb Ultra Multifocal for Astigmatism (6 Pack) contact lenses are a combined multifocal and toric lens featuring 3-Zone Progressive technology for clear vision at all distances and an OpticAlign design for consistently clear and stable vision. These toric multifocal contact lenses have been engineered for optimal comfort with MoistureSeal technology, which locks in moisture for 16 hours. They can also be worn as extended wear contact lenses for up to 7 days if approved by your optician.
Tips on buying multifocal contact lenses online in the UK
At Feel Good Contacts, we stock genuine branded contact lenses. Buying multifocal contact lenses online is easy. Here are our top tips:
Check your contact lens prescription.
Choose your usual brand of contact lenses.
Choose contact lenses according to your wearing schedule. We stock multifocal contact lenses for various wearing schedules, including extended wear, daily contact lenses, monthlies and torics.
Once you have found your lenses, enter your prescription, then add them to your basket and proceed to checkout.
When buying multifocal contact lenses online in the UK, order from a licensed online contact lens retailer.
FAQs
What vision problems do multifocal lenses correct?
Multifocal contact lenses correct age-related vision problems known as presbyopia. Presbyopia usually occurs in people over the age of 40 and causes close-up vision to become blurry.
Are there coloured multifocal contact lenses?
Coloured multifocal contact lenses do not exist. Unfortunately, no brand produces multifocal coloured contact lenses.
Is presbyopia and multifocal the same?
Multifocal is the term given to lenses which correct presbyopia.
Who can wear multifocal contact lenses?
Those who require distance and near vision correction can wear multifocal contact lenses, provided their eyes are healthy and have been checked by an optician. They are a convenient option if you have presbyopia and switch between vision ranges throughout the day.
Why are my multifocal contact lenses blurry?
Your multifocal contact lenses may seem blurry for a variety of reasons. For example, blurry vision while wearing contact lenses could be due to a change in your prescription, a build-up of deposits on the surface of the lenses, dry eyes, allergies, and other problems with your eye health. You should see your optician if you experience blurry vision while wearing your multifocal contact lenses.
How do you clean multifocal contact lenses?
For advice on how to clean multifocal contact lenses, you can read our guide on caring for contact lenses. Make sure you use a contact lens solution suitable to the lenses you wear and avoid using water to clean your contact lenses at all costs. If you're new to wearing multifocal contact lenses, make sure you follow the advice given by your optician.
Quick links:
What is Presbyopia?
Which multifocal contact lenses are the best for me?
Do I need an eye test?