Acuvue Oasys 1-Day with HydraLuxe Benefits & Features
Breathable silicone hydrogel lens material offers outstanding moisture and hydration
The Acuvue Oasys HydraLuxe technology works like your tears to reduce tired and dry eyes
Hassle-free for those who have an active lifestyle
Blocks 90% UVA and 99% UVB rays
Visibility tint and '123' inversion indicator helps with lens application
Recommended For
Ideal for first-time wearers looking to correct short or long-sightedness
Those with busy and active lifestyles who want the convenience of daily disposables
Tired and dry eyes
Use alongside UV-blocking sunglasses in direct sunlight
Alternative to Acuvue Oasys 1-Day with HydraLuxe Contact Lenses
Dailies Total 1 and My Day are alternative daily disposable contact lenses.
If you're looking for a cheaper alternative, you can also try comfi Purest 1 Day.
This is a recommendation made by Feel Good Contacts. If you wish to try alternative contact lenses you will need to consult your optician to make sure they are suitable for you and are fitted correctly.
Product Description
Acuvue Oasys 1-Day with HydraLuxe contact lenses by Johnson & Johnson are daily contact lenses with exclusive technology offering high levels of comfort. HydraLuxe™ technology coats the lenses with tear-like molecules that keep the lenses and your eyes moist all day long. This helps to prevent dry eyes and irritation, and ensures that eyes remain hydrated all day long.
These silicone hydrogel contact lenses coupled with Acuvue Oasys HydraLuxe™ technology will keep your eyes feeling natural throughout the day; you'll forget you're even wearing contact lenses. With the cheapest Acuvue Oasys 1-Day prices online, you can stock up for a cost-effective and convenient home delivery.
Acuvue Oasys 1-Day with HydraLuxe is a daily lens designed to stand up to the demands of modern-day living and environmental factors such as air conditioning and digital screen use. The added UV filter in these lenses offers protection against harmful rays from the sun, while the handling tint makes them easy to apply.
Acuvue Oasys 1-Day with HydraLuxe parameters
| | |
| --- | --- |
| Manufacturer | Johnson & Johnson |
| Brand | Acuvue |
| Wearing type | Daily Contact Lenses |
| Power range | +8.00 to -12.00 |
| Base curve(s) | 8.5mm, 9.0mm |
| Diameter(s) | 14.3mm |
| Lens material | Senofilcon A |
| Water content | 38% |
| Oxygen permeability | 121 Dk/t |
| Pack size | 30 Pack |
Want to compare lenses? Browse our extensive contact lens specification page.
Further Optical Advice
How long can you wear Acuvue Oasys 1-Day with HydraLuxe?
Acuvue Oasys 1-Day with HydraLuxe contact lenses are daily disposables that can be worn for a full day before being disposed of at bedtime. Thanks to the breathable Acuvue Oasys 1-Day material, they should feel comfortable and fresh all day until removal. Insert a fresh, new set of Acuvue Oasys 1-Day with HydraLuxe contact lenses the next morning and enjoy the same amazing benefits without the stress of a highly structured contact lens cleaning routine.
Is Acuvue Oasys 1-Day with HydraLuxe hygienic?
Acuvue Oasys daily lenses use the most hygienic and safest wearing modality. With daily wear and disposal, there is by far less risk of contamination from debris and allergens when in the eye. The popularity of this lens for its high oxygen permeability and ease of use has been well documented in the thorough Acuvue Oasys 1-Day reviews provided by customers and opticians.
Are Acuvue Oasys daily lenses available as a toric or multifocal lens?
Acuvue Oasys 1-Day with HydraLuxe daily disposable contact lenses are also available as a toric lens for astigmatism. Acuvue Oasys 1-Day for Astigmatism has all the same benefits as the original contact lens and also corrects astigmatism. From the broad range of contact lens powers available, you can always get the best price for Acuvue Oasys 1-Day online, from a trusted retailer.
Reviewed by our Optical Team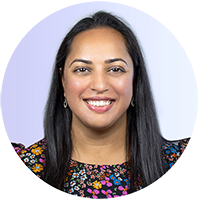 Tina Patel, Contact Lens Optician.
Tina Patel is a qualified Contact Lens Optician and part of the Optical Team at Feel Good Contacts, which promises the same attentive and quality service offered on the high street. With an outstanding 25 year strong career in the optical industry, Tina offers expert advice and support on contact lenses, solutions and eye care.
Ousler III, George W.; Anderson, Russell T. & Osborn, Kathrine E. (2008), 'The effect of senofilcon A contact lenses compared to habitual contact lenses on ocular discomfort during exposure to a controlled adverse environment', Current Medical Research and Opinion, 24(2), pp.335-341:
https://www.tandfonline.com/doi/abs/10.1185/030079908X260826
Chandler, Heather Ph.D. (2011), 'Ultraviolet Absorption by Contact Lenses and the Significance on the Ocular Anterior Segment', Eye & Contact Lens: Science & Clinical Practice, 37(4), pp.259-266:
https://journals.lww.com/claojournal/Abstract/2011/07000/Ultraviolet_Absorption_by_Contact_Lenses_and_the.13.aspx
Korde, Vrushali; Wei, Xin; Hofmann, Greg; Gerligand, Pierre; Jubin, Philippe; Wooley, Ben (2019), 'Vision Modeling Prediction of Senofilcon-A with HYDRACLEAR® PLUS and Senofilcon-A with HydraLuxe™ Contact Lenses', Investigative Ophthalmology & Visual Science, 60(9):
https://iovs.arvojournals.org/article.aspx?articleid=2746814

Acuvue Oasys 1-Day with HydraLuxe Reviews
(700)
I have tried a few lens types and these are by far the best, long wear without suffering dry eyes and daily disposables are convenient to carry around and remove the risk of infection from contamination of poor storage.

Karmen Nagy-Stephenson

-

23 Nov 2023

Great lenses, super comfortable to wear for some reason all the others I've tried feel like I've got grit in my eye part way through the day even though I use a fresh pair each day but not these.

I have really dry eyes, I get headaches easily and blurred vision. These are great! I don't even realise I'm wearing these, sometimes I'm about to get into bed and I'm like "oh!! My contacts are still in!" Usually I can't wait to get other brands of contacts out of my eyes as soon as I come home from work.

Patsy Brewster

-

31 Oct 2023

As always very speedy service and good quality contacts.