MyDay Benefits & Features
Ideal for dry eyes
Smart Silicone™ technology allows more oxygen to reach the eye
Combines best qualities of hydrogel and silicone hydrogel lenses
Daily lenses provide hygienic and convenient way of wearing lenses
Blocks out harmful UV rays
Recommended For
Those wanting the ease of a daily lens
Dry and irritated eyes
Use with UV protecting sunglasses for full protection from harmful UV rays
Similar Contact Lenses
comfi Purest 1 Day are similar contact lenses.
Optician Equivalents
Boots Protect Platinum
Specsavers easyvision Linarial
Eyexpert Pure 1 Day
This is a recommendation made by Feel Good Contacts. If you wish to try alternative contact lenses you will need to consult your optician to make sure they are suitable for you and are fitted correctly.
Product Description
MyDay contact lenses are high-quality daily disposable contact lenses. Created by CooperVision, these lenses deliver absolute comfort and uninterrupted performance from morning to night.
Buy MyDay contact lenses to experience innovative SmartSilicone technology which enhances breathability. With a good balance of silicone hydrogel material, these lenses have more room for moisture to keep your eyes hydrated, healthy and feeling fresh. Aquaform technology also allows you to enjoy less friction between the lens and the eyelid.
Exceptional comfort and clear vision from MyDay
Apply a new set of CooperVision MyDay contact lenses every morning and enjoy crystal clear vision. These lenses are so lightweight and comfortable that you won't even feel like you're wearing them. Some of the most innovative lenses on the market, these convenient daily lenses are the ideal choice for those with a fast-paced lifestyle. Ensure your eyes stand up to the demands of the day with these exceptional daily contact lenses.
The MyDay range of daily silicone hydrogel contact lenses are available as MyDay toric and MyDay Multifocal, offering the best price when you buy contact lenses online at Feel Good Contacts.
Need more optical advice help? Ask our optical experts
MyDay parameters
Manufacturer
CooperVision
Brand
MyDay
Wearing type
Daily Contact Lenses
Power range
+8.00 to -12.00
+8.00 to -12.00
Base curve(s)
8.4mm
Diameter(s)
14.2mm
Lens material
Stenfilcon A
Water content
54%
Oxygen permeability
100 Dk/t
Pack size
30 Pack
Want to compare lenses? Browse our extensive contact lens specification page.
Further Optical Advice
Who makes MyDay contact lenses?
MyDay are silicone hydrogel daily disposable contact lenses manufactured by CooperVision.
How long can you wear MyDay contact lenses?
MyDay is a daily disposable contact lens and can be worn for up to 12 hours. It must be disposed of after one use and not worn again.
What are the benefits of wearing MyDay contact lenses?
MyDay is a highly breathable silicone hydrogel lens with that is also hydrating thanks to its high-water content, perfect for dry and irritable eyes. Although they have UV protection, this lens is not a substitute for protective UV eyewear.
Reviewed by our Optical Team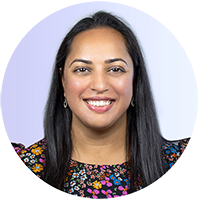 Tina Patel, Contact Lens Optician.
Tina Patel is a qualified Contact Lens Optician and part of the Optical Team at Feel Good Contacts, which promises the same attentive and quality service offered on the high street. With an outstanding 25 year strong career in the optical industry, Tina offers expert advice and support on contact lenses, solutions and eye care.
Teran, E., Pablo De Gracia, Romo-Garcia, E. and Ortega, J. (2019) 'UV protection of contact lenses under outdoor light environments: beach, snow and city', Investigative Ophthalmology & Visual Science, 60(9), pp.3891–3891.
https://iovs.arvojournals.org/article.aspx?articleid=2745810
Gary Orsborn a et al. (2019) Eye care professionals' perceptions of the benefits of daily disposable silicone hydrogel contact lenses, Contact Lens and Anterior Eye. Elsevier.
https://www.sciencedirect.com/science/article/pii/S1367048418308464

Kim Rushton

-

31 Jul 2023

Extremely soft and comfortable , cannot feel them in the eyes at all - very happy

Victoria Stroncik

-

13 Jul 2023

amazing product and service! :)

Victoria Stroncik

-

13 Jul 2023

Gareth Owen

-

24 Jun 2023

Excellent contacts. Super comfy and well worth the money

Been using these for 5 years and no issues