Sort By:
Looking for ways to spice up your costumes this year? Then you'll need a pair of crazy lenses! We have a huge selection of colours and designs to choose from; whether you're dressing up as a wicked witch, mummy, Barbie, or the Mad Hatter himself – you're guaranteed to find a pair that'll win you that best costume trophy this year.
What are crazy contact lenses?
Crazy lenses are contact lenses that are designed with unique colours and designs. They completely cover your natural eye colour and are a go-to for dress-up costumes and occasions such as Halloween or Cosplay.
Where can I buy crazy lenses Ireland?
You can buy crazy lenses from Feel Good Contacts, where you can ensure your crazy contact lenses are safe. You should never buy coloured or cosmetic contact lenses from unapproved retailers who cannot prove they have safety checks in place. Trustpilot is a great platform to check the credibility of products, including contact lenses.
The comfi Colors Crazy range is exclusive to Feel Good Contacts, you won't find these crazy lens designs anywhere else. This range includes 20 zero-power (0.00/plano) contact lenses, all of which feature a unique colour and design. These lenses are ideal for Halloween, or any costume event you may attend throughout the year.
These cool lenses are available in both daily and monthly modalities. comfi Color Crazy Daily lenses are designed to be disposed of after single use. On the other hand, the monthly options can be used for a maximum of 30 days before disposing them of.
Here are some of our top-selling crazy lenses Ireland:
Mad Hatter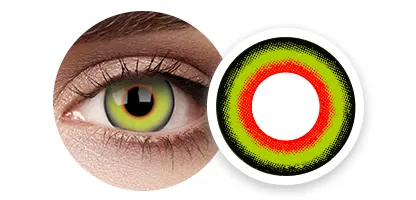 'We're all mad here!' The comfi Colors Crazy Mad Hatter 1 Day is one of our bestselling crazy lenses and will ensure your costume knocks it out of the park… or wonderland.
Barbie Pink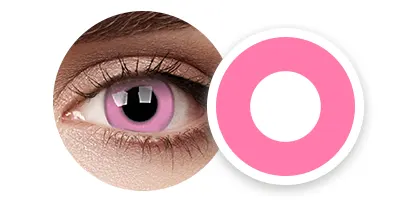 Make every night girls' night with these Barbie Pink contact lenses. These are monthly lenses and, can be worn for up to 30 days. Step into the most viral trend of this year with these lenses.
Whiteout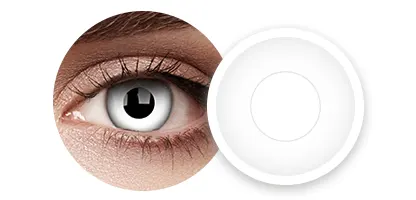 Going for a more angelic look this Halloween? Then you'll need a pair of Whiteout comfi Colors Crazy 1 Day contact lenses to complete your look.
Why should I buy comfi Color Crazy contact lenses?
There are many reasons to grab yourself a pair of comfi Color Crazy contact lenses:
20 designs to choose from
The only issue you'll have here is choosing which design will suit your costume best! However, we've recommended a costume idea for each individual design. Problem solved!
comfi is a reputable brand
Sure, you can grab cool lenses from a tattoo parlour or beauty store – but unlike comfi, these suppliers are less likely to ensure the lenses have gone through necessary safety checks. Try our comfi collection, get amazing design and quality for less.
Good quality and affordability
That best costume trophy doesn't have to come with a hefty price tag. You can pick up your ideal, high-quality comfi Colors Crazy contact lenses for less than a tenner.
Hydrogel material for comfort
These crazy contact lenses are made using hydrogel material to enhance comfortability.
How do I look after my crazy contact lenses?
Crazy contact lenses may be trendy; however, they require the same care as all contact lenses. Daily contact lenses cannot be reused and must be disposed of after wearing them once.
The monthly designs can be reused for up to 30 days; therefore, they need a proper cleaning routine. If you're unsure about how to properly care for monthly contact lenses, follow our simple steps below:
Wash your hands thoroughly and completely dry them with a lint-free towel.
Place one contact lens in the palm of your hand and apply a few drops of multi-purpose contact lens solution to the lens.
Gently rub the lens back and forth with your index finger and thumb to clean the surface of the lens for at least 10 seconds.
Rinse the lens with a few more drops of contact lens solution.
Disinfect your lens by placing them in a clean contact lens case filled with fresh disinfecting solution.
Repeat this process for your other lens.
Leave both lenses to soak in the lens holder for as long as recommended on the product packaging.
When cleaning your contact lenses, be sure to put the lid back on the solution bottle to prevent the solution from becoming contaminated. Additionally, throw the bottle of solution away 30 days after opening or as recommended by your optician, and not only when the solution has run out.
Read more about properly caring for your contact lenses here.
How long can I wear my crazy contact lenses for?
The comfi Colors Crazy contact lenses can be worn for up to 12 hours a day. However, you should always consult with your optician when purchasing a pair of crazy lenses and follow the advice given.
Why should I buy crazy lenses from Feel Good Contacts?
There are plenty of reasons to shop with Feel Good Contacts:
Affordable prices
If you were wondering where you can grab a pair of cheap crazy contact lenses online, you've come to the right place.
Get a discount on your first order
Never shopped with Feel Good Contacts? As part of our welcome offer, we'll give you 10% off your first order.
Refer your friend for more savings
Matching costumes this year? Why not reward your friend with a referral this Halloween?
We offer student discount
If you're in full-time education, you can get up to 16% off off your first order with us.
Same Day Dispatch
Need your crazy lenses ASAP? Order by 5:45pm for same day dispatch.
Read our reviews
The proof is in the pumpkin! With over 50,000 reviews from happy customers, we're delighted to have earned an excellent rating on Trustpilot.