Toric / Astigmatism Contact Lenses
Sort By:
What are toric lenses?
Toric contact lenses have been specifically designed to correct the effects of astigmatism. Toric lenses form a torus shape that bends and focuses the light entering your eye, providing clear and accurate vision. If you're looking for contact lenses for astigmatism, it's important to note that many brands refer to them as toric lenses.
What is astigmatism?
Commonplace amongst contact lens wearers, astigmatism is the condition of your eye's cornea not being entirely spherical in shape, this can affect one or both eyes. Astigmatism can affect people at any age, and nearly half of the people who wear glasses for vision correction have astigmatism. While corneas are normally spherical, a cornea with astigmatism is typically oval-shaped. This means that you'll most likely suffer from blurry or distorted vision as the eye is unable to adjust to the light that enters it.
Astigmatism can cause blurred vision when trying to focus on objects at long distances, such as road signs. It can also affect your vision for close activities, such as reading or sewing. If left uncorrected, astigmatism can lead to:
Headaches
Fatigue
Squinting
Eye pain
Blurry vision
There are three types of astigmatism:
Myopic astigmatism – one or both of your eye's principle meridians is short-sighted
Hyperopic astigmatism – one or both of your eye's principle meridians is long-sighted
Mixed astigmatism – one principle meridian is long-sighted and the other is short-sighted
For a more in-depth look, read our helpful guide to astigmatism.
If you think you have astigmatism, it's best to speak with your optician as they'll be able to prescribe you your required axis and recommended astigmatism contacts.
Visit our helpful Eye Care Hub to find out more about how toric contact lenses work.
Advice on buying toric contact lenses
Buying toric contact lenses online is quick and easy. Once you've seen your optician and they've checked your eyes, they'll give you a prescription. Toric contact lenses are prescribed with an axis value, telling you the degree of the curvature of your cornea. Your prescription for toric contact lenses could look something like this:
| Dailies AquaComfort Plus Toric | SPH | CYL | AXIS | DIA | BC |
| --- | --- | --- | --- | --- | --- |
| Left eye | -1.00 | -1.25 | 180 | 14.5 | 8.6 |
| Right eye | -1.00 | -1.25 | 180 | 14.5 | 8.6 |
What type of toric contact lenses are there?
Fortunately for sufferers of astigmatism, there are a wide range of toric contact lenses designed to cater to all eye care requirements. Whether you wear daily contact lenses, monthly contact lenses or two weekly lenses, you'll find toric contact lenses to correct your astigmatism and fit your lifestyle. Gas permeable contact lenses can also be used for more complex prescriptions.
Daily toric contact lenses
Daily disposable contact lenses for astigmatism mean you can enjoy astigmatic correction without the need to follow a lens cleaning and storing routine every night. Highly convenient, daily toric lenses are perfect for those with a hectic schedule. A daily lens is a more hygienic option that is gentle on the eye. Some of the most popular dailies for astigmatism are 1 Day Acuvue Moist for Astigmatism, Dailies AquaComfort Plus Toric, Acuvue Oasys for Astigmatism and SofLens Daily Disposable Toric.
Monthly toric contact lenses
Monthly toric lenses represent exceptional value for money, with each set of lenses lasting you a whole month, with nightly removal and cleaning. Some of our best-selling monthly lenses for astigmatism are Biofinity Toric, Proclear Toric and Air Optix for Astigmatism.
Two weekly toric contact lenses
Lenses that offer the 'best of both worlds', two weekly astigmatism contact lenses are similar to monthlies in that they require nightly cleaning and storing; however, they are to be disposed of every two weeks. Two weekly lenses are almost more affordable than daily disposables. You can find Acuvue Oasys for Astigmatism and Acuvue Advance for Astigmatism at Feel Good Contacts.
Multifocal toric contact lenses
For those with astigmatism and presbyopia, multifocal toric contact lenses are an excellent option to correct both these conditions. This type of lens is designed to be the correct shape for an astigmatic eye, whilst also giving the wearer seamless vision at all distances.
How to choose toric contact lenses?
Toric contact lenses are available in several different wearing types. Daily disposable, two weekly, multifocal and monthly contact lenses are available; your optician can help you determine which wearing type is most suitable for you and your lifestyle.
Toric contact lenses fitting
The fit of a toric contact lens is especially important, as the eye is more rugby-shaped than eyes without astigmatism, which are more football-shaped. Toric contact lenses are personalised, which means they are created to fit your eye shape specifically, for a comfortable fit and clear vision. It is best to see an optician to ensure you choose the right lens and fit for you.
Why should I choose astigmatism contacts?
In order to achieve clear and uninterrupted vision day-in, day-out as a contact lens wearer with astigmatism, there really isn't a better option than toric contact lenses.
Spherical contact lenses won't deliver clear vision due to their shape not being suitable for eyes that have astigmatism. This means that vision will be interrupted as the eye moves, proving a constant distraction throughout the day.
However, with toric contact lenses, you'll be sure of a lens designed to fit your eye and deliver comfort as well as clear and crisp vision all day long.
When buying toric contact lenses online, keep in mind that essentially all branded toric contact lenses will have the words 'for astigmatism' or 'toric' in the product name.
Top Sellers
Out top selling toric contact lenses for astigmatism: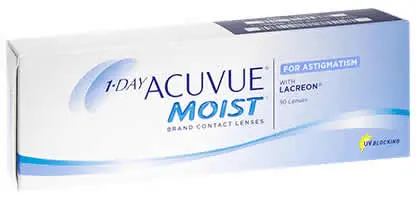 1 Day Acuvue Moist For Astigmatism is a comfortable daily toric lens. It features the convenience of a daily disposable with the comfort Acuvue is known for.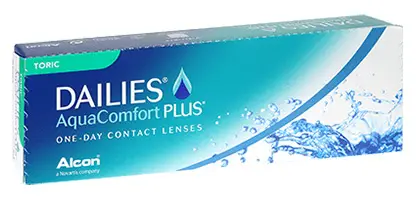 Dailies Aquacomfort Plus Toric is an easy and hydrating daily toric lens. The handling tint allows for simple application.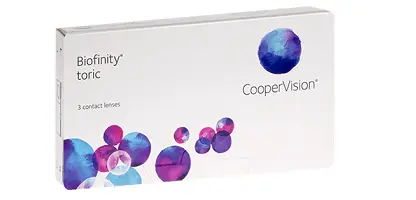 Biofinity Toric is a great toric lens with a monthly replacement schedule. If you're comfortable with cleaning and storing your lenses, this could be a great, affordable option for you.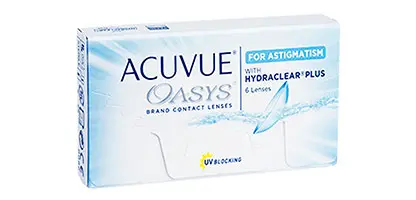 Acuvue Oasys For Astigmatism is a great alternative to monthly and daily toric lenses, as they need to be replaced every two weeks. Made from breathable silicone hydrogel material, these hydrating lenses feel comfortable all day long.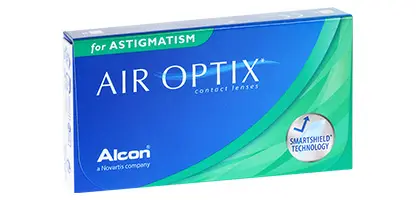 Air Optix for astigmatism is a monthly lens ideal for dry eyes. If you lead a busy lifestyle, these lenses could be the ideal match as they are designed to be worn for 16 hours a day.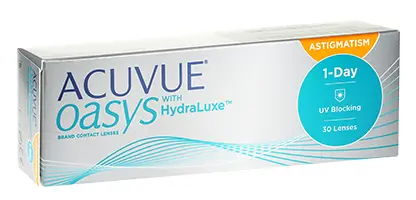 Acuvue Oasys with HydraLuxe for astigmatism is a daily disposable lens that provides stable vision. HydraLuxe technology mimics your natural tears for long-lasting moisture. This lens also has UV protection.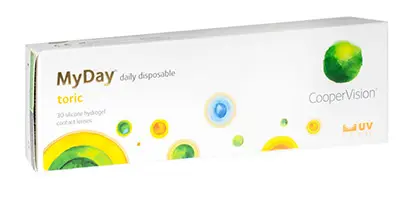 MyDay Toric is a breathable daily disposable lens with UV protection. If you have a busy lifestyle, this lens can easily be thrown away at the end of each day, removing the need for a lens cleaning routine.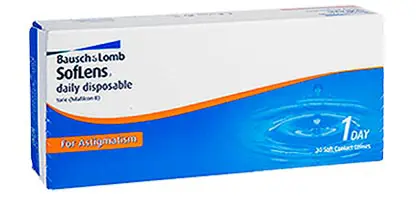 SofLens daily disposable for astigmatism is a daily lens that uses ComfortMoist technology to keep your eyes and lenses hydrated throughout wear. These lenses are thinner for increased comfort.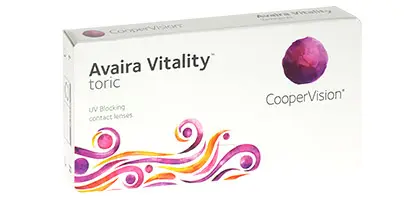 Avaira Vitality Toric are UV blocking monthly lenses made from breathable silicone hydrogel and are ideal for dry eyes. These monthly replacement toric lenses are a great choice if you need affordability and lasting comfort.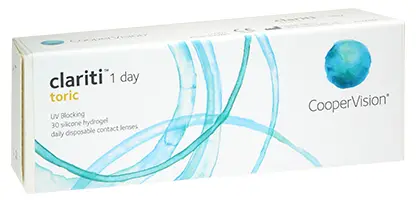 Clariti 1 Day are UV blocking, daily disposable toric lenses with WetLoc technology to keep your eyes and lenses hydrated all day long. These silicone hydrogel lenses allow more oxygen through to the eye compared with standard hydrogel lenses.
FAQs
What toric lenses can I wear?
At your eye test you will receive a prescription (or you can ask for it once your fitting is completed). If your optician mentions you have astigmatism, you can choose the type of toric lenses that best suit your eyes. The wearing type of the lens will be the most convenient one for your situation, your optician can help you choose which would be best suited to you.
What happens if you wear regular contact lenses when you have astigmatism?
Regular contact lenses won't correct the specific visual issues that astigmatic people suffer with. Therefore, you shouldn't wear standard/spherical contact lenses if you have astigmatism.
Why are my toric contact lenses blurry?
Toric contact lenses are more difficult to fit than standard, spherical lenses. If your prescription is correct, but your vision is still blurry, your eyes may not be lubricated enough, and you should consider using some rewetting drops. Your blurry vision could also be due to wearing an ill-fitting lens; speak to your optician if you're unsure.
Are there coloured toric lenses?
Although toric coloured contact lenses are available, there aren't many brands that stock this particular type of lens. This tailored lens can also be incredibly expensive.
How to put in and take out toric lenses?
Check out our article on how to put in contact lenses for more information on how to insert toric lenses.
How much are toric contact lenses?
Our toric contact lenses range from €17 to €46 depending on the brand and wearing type.