Dailies Total 1 Benefits & Features
Ideal for dry eyes and anyone with an active lifestyle
Silicone hydrogel offers incredible comfort and superior breathability
SmarTears technology provides long-lasting moisture
Daily disposable lenses deliver highest level of hygiene and convenience
Handling tint for easy application
Recommended For
Correcting short or long-sightedness
Those with busy and active lifestyles who want the convenience of daily disposables
Dry eyes
Similar to Dailies Total 1 Contact Lenses
Acuvue Oasys 1 Day with HydraLuxe are similar daily disposables.
If you're looking for a cheaper alternative, you can also try comfi Purest 1 Day.
This is a recommendation made by Feel Good Contacts. If you wish to try alternative contact lenses you will need to consult your optician to make sure they are suitable for you and are fitted correctly.
Product Description
Dailies Total 1 are daily disposable contact lenses designed by Alcon & Ciba Vision. Renowned as the world's first water gradient contact lenses, these lenses feature a water content of 80% at its surface for hydrated eyes all day long. These water gradient silicone hydrogel contact lenses ensure that your eyes enjoy a welcome supply of oxygen throughout the day, preventing the onset of dry eyes. These lenses are the ultimate choice for a modern, busy lifestyle. The water content of these lenses transition from 33% at the core to over 80% at the surface, and almost 100% at the outer surface.
The smooth, wettable surface of Dailies Total 1 contact lenses reduces the friction between your eyelid and the eye for optimal comfort, even up to 16 hours after inserting them. You'll barely even feel you're wearing them.
Exceptional hygiene is ensured when you wear these daily disposable lenses, as the protein-resistant structure keeps the lenses clean from morning to night. By simply removing your lenses each night and applying a new set the next day, you'll be sure you're putting in a clean, hygienic and fresh pair every morning.
Further Optical Advice
Are Dailies Total 1 worth it?
Dailies Total 1 benefits – these premium contact lenses are incredibly breathable and feature some of the latest contact lens technology. You can be sure to experience outstanding comfort all day long when you wear these lenses. You only have to read many excellent Dailies Total 1 contact lenses reviews to learn why so many customers love this product.
How long can you wear Dailies Total 1?
Dailies Total 1 is a daily disposable contact lens that can be worn for up to 16 hours due to its high oxygen permeability and water gradient technology. You may wear each lens once before throwing away.
Can I wear Dailies Total 1 more than once?
No, you cannot wear Dailies Total 1 more than once. These contact lenses should be disposed of after one use and a new pair inserted every morning.
What does Dailies Total 1 cost?
Dailies Total 1 contact lenses are around €27 for a pack of 30 lenses. You can always find the most affordable price at Feel Good Contacts, we also offer Price Match Guarantee meaning if you can find these lenses cheaper elsewhere, we'll match that price for you.
Can you sleep in Dailies Total 1?
You cannot sleep in Dailies Total 1 contact lenses as they are not an extended wear lens.
Reviewed by our Optical Team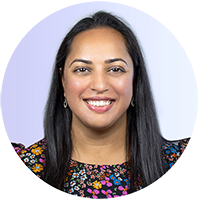 Tina Patel, Contact Lens Optician.
Tina Patel is a qualified Contact Lens Optician and part of the Optical Team at Feel Good Contacts, which promises the same attentive and quality service offered on the high street. With an outstanding 25 year strong career in the optical industry, Tina offers expert advice and support on contact lenses, solutions and eye care.
Pérez-Gómez, I. and Giles, T. (2014) 'European survey of contact lens wearers and eye care professionals on satisfaction with a new water gradient daily disposable contact lens', Clinical Optometry, pp.17.
https://doi.org/10.2147/opto.s55304.
Marx, S., Lauenborg, B. and Kern, J.R. (2018) 'Performance evaluation of delefilcon a water gradient daily disposable contact lenses in first-time contact lens wearers', Contact Lens and Anterior Eye, 41(4), pp.335–341.
https://doi.org/10.1016/j.clae.2017.12.019.

Dailies Total 1 Reviews
(980)
Really great lenses, easy to wear and very comfortable.

I have been using Dailies for years now and I doubt I will ever change brand

Great product. Excellent service and delivery

Super soft and comfortable

Louise Beveridge

-

03 Sep 2023

Really comfortable to wear