Proclear 1 Day Multifocal Benefits & Features
Daily disposable lenses designed to correct presbyopia
Suitable for dry eyes
PC technology mimics the biology of your eye for a comfortable, natural feeling
Deposit-resistant material protects your eye
Can be worn for up to 12 hours
Recommended For
Anyone looking for a comfortable daily lens
Those who need correction for presbyopia
Someone who spends a lot of time in front of screens
Alternative contact lenses to Proclear 1 Day Multifocal
Try 1 Day Acuvue Moist Multifocal, as they are similar daily disposable multifocal contact lenses.
This is a recommendation made by Feel Good Contacts. If you wish to try alternative contact lenses you will need to consult your optician to make sure they are suitable for you and are fitted correctly.
Optician Equivalents
Specsavers easyvision Daily Vusion Multifocal
Product Description
Proclear 1 Day Multifocal contact lenses offer clear vision at all distances. These exceptional multifocal contact lenses provide a seamless transition between short, intermediate and long distances.
Proclear 1 Day Multifocal for smooth and seamless use
These daily disposable contact lenses for presbyopia have an impressive aspheric design, blending multiple prescriptions together in one lens, to deliver clear vision at all distances. These CooperVision Proclear 1 Day Multifocal lenses utilise PC Technology to help attract and bind moisture to the lenses, preventing your eyes from drying out over the day, even after 12 hours of wear. Your eyes will stay comfortable and hydrated even with digital screen use, and environments such as air-conditioned rooms.
Need more optical advice help? Ask our optical experts
Further Optical Advice
How does Proclear 1 Day Multifocal work?
Molecules within the lens of Proclear 1 Day Multifocal Disposable contact lenses bind water to the surface of the lens, keeping the lenses hydrated and comfortable throughout wear.
What are the benefits of wearing Proclear 1 Day Multifocal lenses?
Proclear 1 Day Multifocal 30 pack lenses are hydrophilic (they attract water) and stay 96% hydrated even after 12 hours of wear. Using PC Technology, these lenses retain their 60% water content throughout wear. The lenses blend together multiple prescriptions to deliver smooth and seamless focusing for contact lens wearers. You only have to look at the Proclear 1 Day Multifocal reviews to discover how popular these contact lenses are.
Reviewed by our Optical Team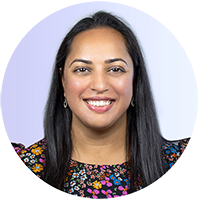 Tina Patel, Contact Lens Optician.
Tina Patel is a qualified Contact Lens Optician and part of the Optical Team at Feel Good Contacts, which promises the same attentive and quality service offered on the high street. With an outstanding 25 year strong career in the optical industry, Tina offers expert advice and support on contact lenses, solutions and eye care.
Kim, E., Bakaraju, R.C. and Ehrmann, K. (2016) 'Power Profiles of Commercial Multifocal Soft Contact Lenses', Optometry and Vision Science, 94(2), pp.183–196.
https://www.ncbi.nlm.nih.gov/pmc/articles/PMC5287430/
Lemp MA, Caffery B, Lebow K, Lembach R, Park J, Foulks G, Hall B, Bowers R, McGarvey S, Young G. Omafilcon A (Proclear) soft contact lenses in a dry eye population, CLAO J. 1999 Jan;25(1):40-7. PMID: 10073636.
https://pubmed.ncbi.nlm.nih.gov/10073636/
Hall B, Jones S, Young G, Coleman S. The on-eye dehydration of Proclear compatibles lenses. CLAO J. 1999 Oct;25(4):233-7. PMID: 10555740.
https://pubmed.ncbi.nlm.nih.gov/10555740/

Proclear 1 Day Multifocal Reviews
(68)
Stella Ware

-

05 Apr 2023

As always, an excellent service from an efficient team- thank you!

Alla Narinkeviciene

-

22 Nov 2022

Thanks for the excellent and quality service. You are best!!!

carol manchester

-

26 Oct 2022

Used product over years without any issues

Very good vision for both reading and also distance