Acuvue Oasys (12 Pack) Benefits & Features
Uses HYDRACLEAR PLUS technology for long-lasting moisture
Excellent breathability provided by silicone hydrogel lens material
Easy insertion and removal with visibility tint and 1-2-3 indicator (for inside-out lenses)
UV protection with 99.9% UVB and 96.1% UVA filter technology
Cost effective two weekly wearing type
Suitable for extended wear up to one week (when approved by an optician)
Recommended For
Regular and familiar wearers of Acuvue Oasys
Those who wear contact lenses all day
Experienced wearers on a budget
Myopia or hyperopia prescriptions
Alternative to Acuvue Oasys Contact Lenses
comfi 2 Weekly can be worn alternatively.
Product Description
Acuvue Oasys (12 Pack) contact lenses with Hydraclear Plus are a highly hydrating and comfortable two-weekly disposable lens option. Hydraclear Plus Technology mimics the eye's natural tear film to keep the eyes continuously hydrated for a better all-day-long comfort.
As a silicone hydrogel contact lens, these lenses offer exceptional breathability which allows the right amount of oxygen to reach the eye. This makes them a safer option for your eye, especially if you tend to wear contact lenses over long periods such as a full day of work. So, they can be worn confidently all day long or even as extended wear contact lenses up to a week if approved by your optician.
Produced by a reputable manufacturer, Johnson & Johnson, Acuvue Oasys contact lenses are a quality assured choice that comes with the guarantee of years of experience. This makes them a trustworthy choice for a more cost-effective two weekly wearing type.
Need more optical advice help? Ask our optical experts
Further Optical Advice
How do you clean Acuvue Oasys contacts?
To clean your lenses, gently rub the lens with your fingertip, then place the lens into its case along with fresh contact lens solution. Leave overnight, then the lens should be ready for a new day of wear. Every 12 to 14 days, the lenses should be disposed of and replaced with a new pair. However, the cleaning regimen should be continued as before.
As extended wear contact lenses, overnight storage is not necessary every night. Instead, every 6 to 7 days, the lenses will need to be removed and they should be thrown away and replaced with a fresh set. However, daily cleaning may be necessary from time to time additionally. If your eyes feel gritty or sore, this may be due to a foreign object in the eye that needs to be removed through standard cleaning.
Can you wear Acuvue Oasys to sleep?
Acuvue Oasys lenses are suitable to use as extended wear contact lenses, but only when approved by your optician. As extended wear contacts, taking a nap or a full 8 hour sleep is only recommended within the continuous wearing duration recommended by your optician, usually suggested that you can keep them in for up to 6 days and 7 nights without removal.
Are two weekly disposable contact lenses expensive?
Biweekly or two week disposable contact lenses are a cost-effective option that also come with the benefit of being a more hygienic option as well. Because they are disposed of every two weeks rather than every month, there are fewer risks of contamination. Two weekly lenses can be reused for up to 14 days, which can make them a cost-effective option when compared to some silicone hydrogel daily disposable lenses.
How many contacts are there in a 12 pack of Acuvue Oasys?
A 12 pack of contact lenses contains 12 identical lenses of the same power. Usually, you will buy one pack for each eye and wear one lens at a time for the recommended wearing and storage period, before moving on to the next lens as recommended. An Acuvue Oasys 12 pack should last 24 weeks when lenses are replaced every 14 days. If you use the same prescription for both eyes, you can buy one box and use two lenses (one for each eye) for the recommended wearing and storage periods, before moving on to the next two lenses. In this case, one box will provide enough lenses for 12 weeks when lenses are replaced every 14 days.
How long can you wear Acuvue Oasys 12 pack?
Whether you buy the 12 pack or the 6 pack, Acuvue Oasys contact lenses are recommended to be worn for up to 14 hours and reused each day for up to two weeks. In between 14 hour periods of wear, the lenses should be removed and stored overnight in a contact lens case with an appropriate contact lens solution.
Under special circumstances, your optician may recommend you for Acuvue Oasys as extended wear contact lenses. This means the lenses can be worn continuously (without overnight removal and storage, for up to 6 nights and 7 days). However, approval from your optician is necessary for an extended wear modality.
Reviewed by our Optical Team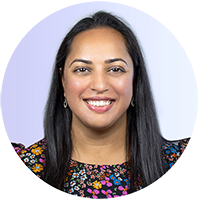 Tina Patel, Contact Lens Optician.
Tina Patel is a qualified Contact Lens Optician and part of the Optical Team at Feel Good Contacts, which promises the same attentive and quality service offered on the high street. With an outstanding 25 year strong career in the optical industry, Tina offers expert advice and support on contact lenses, solutions and eye care.
Guillon, M. Ph.D., Maïssa, C. Ph.D. (2010) 'Long-term effects of the extended wear of senofilcon A silicone hydrogel contact lenses on ocular tissues', Optometry - Journal of the American Optometric Association, 81(12), pp.671-679.
https://www.sciencedirect.com/science/article/abs/pii/S1529183910004884
Dumbleton, K., Woods, C., Jones, L., Richter, D. and Fonn, D. (2010) 'Comfort and vision with silicone hydrogel lenses: effect of compliance', Optometry and Vision Science: Official Publication of the American Academy of Optometry, 87(6), pp.421–425.
https://journals.lww.com/optvissci/Abstract/2010/06000/Comfort_and_Vision_with_Silicone_Hydrogel_Lenses_.8.aspx
Efron, S. E., Efron, N., Morgan, P. B., Morgan, S. L. (2012) 'A theoretical model for comparing UK costs of contact lens replacement modalities', Contact Lens and Anterior Eye, 35(1), pp.28-34.
https://www.sciencedirect.com/science/article/abs/pii/S1367048411001056