Peripheral vision loss (tunnel vision)
Medically reviewed by Sharon Copeland on 3rd May 2022
What is peripheral vision?
Peripheral vision is your side vision. It allows you to see objects that lie outside of your central field of vision without needing to move your eyes or turn your head. Peripheral vision is also vital to sensing motion and helps you to move without bumping into things.
We use our peripheral vision when we need to see something out of the corner of our eyes and for activities such as driving and playing sports. Our nerve cells, known as rods, help our peripheral vision and are located outside the macula.
What is peripheral vision loss?
Peripheral vision loss (PVL), is the loss of vision beyond your central point of view and is also known as tunnel vision. While your central vision may be normal, peripheral vision means that you won't have a healthy, wide-angle field of vision; you'll be able to see what's directly in front of you but have trouble seeing things to the side.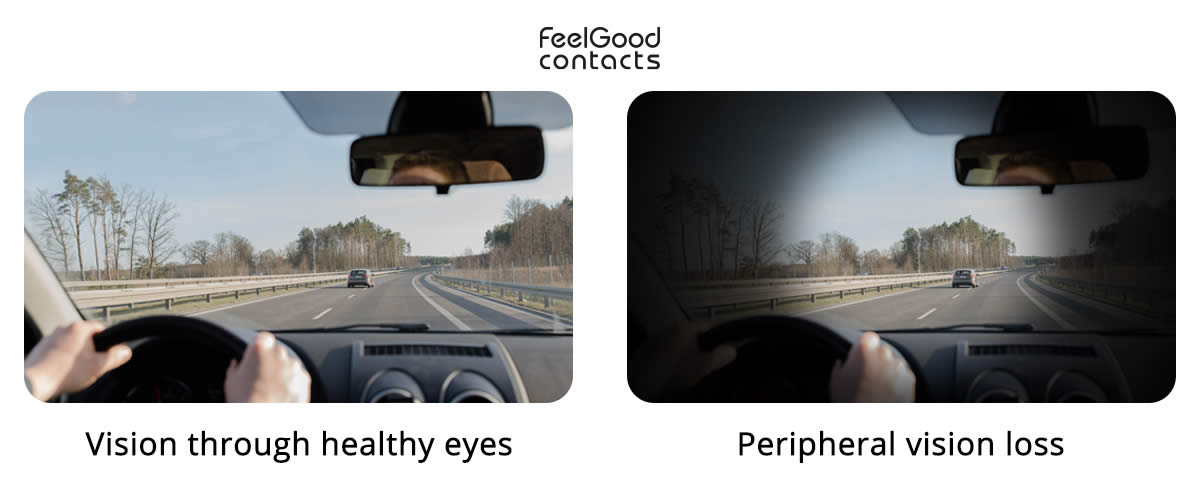 Peripheral vision loss is often referred to as tunnel vision because it feels as though you are looking through a narrow tube; while you can see everything in front of you, the stuff above, below or around you appear black.
Symptoms of peripheral vision loss
There are a variety of symptoms which one may experience with peripheral vision loss. The main symptom is that you'll notice the sides of your vision becoming dark or blurred. Other symptoms of peripheral vision loss include:
Seeing glare or halos
Increased or decreased sensitivity to light
Redness or swelling
Difficulty walking in the dark
Trouble driving
Bumping into objects
Difficulty navigating through crowds
Falling over
Peripheral vision loss can be temporary or permanent and can affect one or both eyes depending on its cause.
Temporary loss of peripheral vision
Loss of peripheral vision can happen temporarily when the body produces too much adrenaline. In cases of temporary tunnel vision, treatment is not usually needed to restore normal vision.
Ocular migraines can also cause temporary peripheral vision loss. Causes of ocular migraines are unknown. However, doctors have suggested that spasms in the blood vessels of the retina can lead to ocular migraines.
Temporary peripheral vision loss is also a symptom of vasovagal syncope syndrome, which happens when blood pressure drops. Vasovagal syncope can also lead to fainting, dizziness and blurred vision.
What can cause peripheral vision loss?
The loss of peripheral vision is associated with many underlying health conditions. Some of these (such as migraines) can cause temporary PVL whereas others can lead to permanent PVL. Some of the causes of peripheral vision loss include:
Retinal detachment - the thin layer at the back of your eye loosens and lifts away
Brain damage from a disease, injury or stroke - this can lead to permanent vision loss in one side of each eye
Papilledema (when the head of an optic nerve is compressed) Eye strokes or occlusions
Glaucoma - eye conditions which damage the optic nerve resulting in vision loss and blindness
Eye strokes or occlusions (a blockage of a blood vessel)
Retinitis pigmentosa - a group of genetic disorders causing loss of cells in the retina
Migraines - these can cause a range of visual disturbances which usually last between 10-20 minutes. You should seek urgent medical advice if they last more than an hour
Diabetic retinopathy - eye condition affecting people with diabetes. It can cause vision loss and blindness
Stroke – a stroke can damage one side of your brain and cause permanent loss of peripheral vision. This PVL is neurological as your eyes are still in working order, but your brain is no longer able to process what you see
Scotoma – retinal damage from conditions such as glaucoma and macular degeneration can cause blind spots in your vision called scotoma
People of different ages can experience peripheral vision loss. Some of the eye health conditions listed above have similar symptoms, making them harder to diagnose as a result. For this reason, you should visit your optometrist for a diagnosis. Regular eye exams are crucial to detect eye diseases which can lead to tunnel vision if left untreated.
Can peripheral vision loss be restored?
While it's possible to reverse some cases of peripheral vision loss (depending on its cause), in most cases, you cannot restore peripheral vision. However, you can treat the underlying causes to slow down its progression or stop it completely.
How is peripheral vision loss diagnosed?
A visual field test is done at a sight test to check for peripheral vision loss. It will test the area of the retina which sees side vision and checks for blank spots.
The visual field test requires that you use one eye at a time to look at a small central light on a blank screen. A series of lights will flash up on the screen while you are focusing on the light at the centre, and you'll get asked to press a button each time you see a flash.
How is peripheral vision loss treated?
You cannot correct loss of peripheral vision with contact lenses or glasses; however, for certain types of peripheral vision loss, a prism lens can be added to your glasses to expand your field of vision.
Other treatment options usually vary, depending on the severity of the peripheral vision loss, and the underlying cause. Such treatments include eye drops, surgery, diet supplements such as omega 3 fatty acids or lifestyle changes. Your doctor will recommend the best treatment for you.
In the case of vision loss from eye conditions such as glaucoma, eye drops, and laser surgery may stop the situation from deteriorating. Those with glaucoma must remember to take their medication in addition to eye drops. Failure to do this can result in optic nerve damage and blank spots in their field of vision.
In cases of brain damage, for example, the effects of peripheral vision loss may be long-term and possibly irreversible.
Is loss of peripheral vision a disability?
Severe cases of peripheral vision loss get classed as legal blindness. Those with poor peripheral vision can register as visually impaired, allowing them to claim for a Disability Living Allowance (DLA) or Personal Independence Payment (PIP). These are both tax-free benefits that can go towards expenses to help manage this disability.
Can you drive with loss of peripheral vision?
Loss of peripheral vision can affect your ability to drive, and you may need to consult with eye care or low vision specialist to see whether you meet the legal requirements to operate a vehicle. Risks of having tunnel vision while driving include the inability to recognise potential dangers to your sides.
Quick links:
A guide to light sensitivity
A guide to blurry vision
A guide to red eyes