Medically reviewed by Khuram Sarwar, Dispensing Optician at Feel Good Contacts

There are so many fantastic eyewear colours, styles, silhouettes and designs to choose from. This can make it challenging to know which prescription glasses frame to choose and which glasses style will suit your face shape the best.
Once you buy your spectacle frames, you're going to be wearing them for a while. So, it's important to choose wisely. The problem is: there is no science to fashion and there are no rules that make choosing the frame that looks the best on you easier – that part is down to fate. What works for you just works!
If you're really stuck and don't know where to start, we've created a basic guide that suggests the best frames that typically suit each type of face shape. This might help to narrow it down for the first few frames you try.
What is my face shape?
Your face shape refers to the closest resemblance of your face's silhouette to an easily recognisable standard shape. Commonly recognised face shapes include square, round, rectangle, heart-shaped, oval and triangle.
There are a range of methods that can help you to determine your face shape. This includes the phone method, the mirror method and the photo method.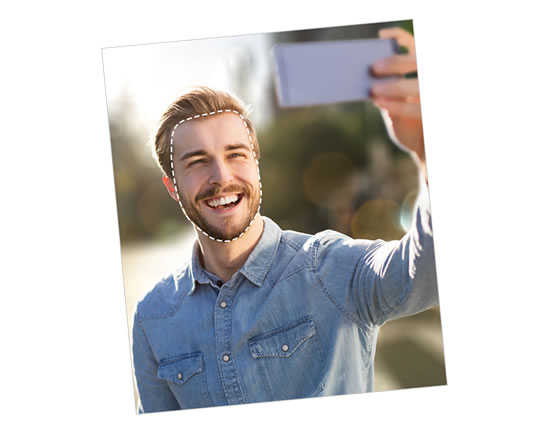 1. The phone method
Simply take a selfie using the camera app or Instagram on your phone. Then, use the colour pen editing tool to trace the basic geometry of your face. It doesn't have to be perfect, it just needs to be accurate enough to get the basic shape.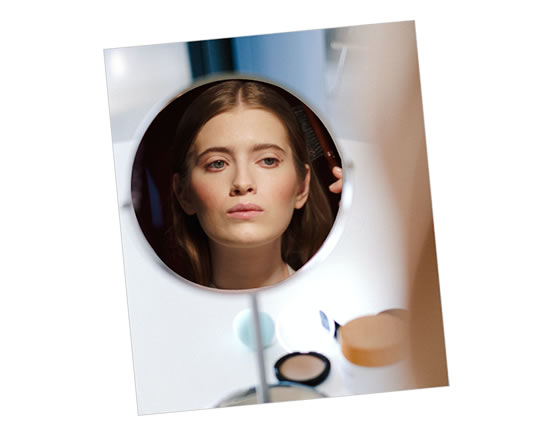 2. The mirror method
Look in the mirror and trace your face shape onto the mirror's surface using a washable marker pen.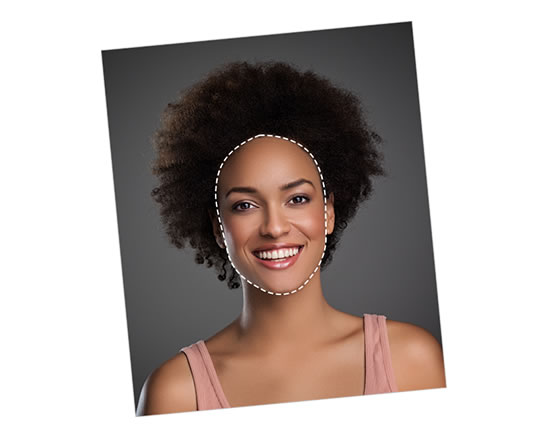 3. The photo method
Print a photo of yourself and trace around your face and hairline to outline the basic shape.
Once you've determined your face shape, you can figure out which shape of glasses might suit you best. Some people find that choosing glasses which contrast their face shape can be the most complementary. For example, if you have a round face shape, angular and boxy style frames could be a good place to start.
Our guide below helps you figure out which face shape best describes yours.
How can I use my face shape to find which glasses suit me?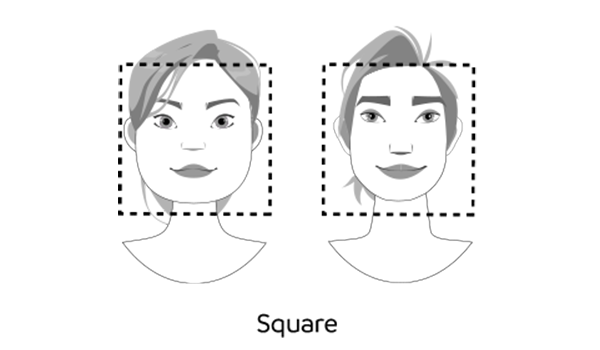 Best glasses for square faces
People with square faces frequently choose round or oval frames, as well as Clubmasters. The theory is that the soft curves of rounder frames have an appealing contrast to the lovely sharp edges of a square face.
Rectangle frames are a safe option for most people. This is because they create a narrow focus towards the centre of the face. Both thin and thick rims look equally good on square faces, but we recommend trying some of the darker colours which create a classic and timeless feel.
Celebrities with square face shapes include Margot Robbie, Jennifer Hudson, Emily Blunt, Riz Ahmed, Pedro Pascal, William Jackson Harper.
Please note: Square faces are defined by a strong chiselled jawline and broad forehead. They have a 1:1 ratio and are even in width and length.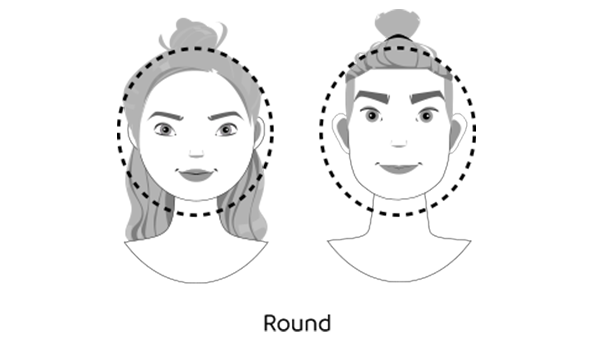 Best glasses for round faces
Angular shaped frames such as square and Wayfarer frame styles tend to look particularly good on round faces. They add dimension and balance, which make them a good option for round face shapes to try.
Oval, round and cat eye frames can make faces appear slightly wider. Some people with round faces prefer to avoid these shapes for that reason, but others choose to accentuate this feature. As an alternative, thinner, lighter coloured frames have the opposite effect, adding soft, romantic touches to rounder faces. This can make faces appear longer. If you have a desired look in mind, these suggestions can help. Otherwise, try both and see which one you like!
Celebrities with round face shapes include Mila Kunis, Janelle Monae, Selina Gomez, Leonardo DiCaprio, Aziz Ansari, Paul Dano.
Please note: Round faces have fuller cheeks, less defined jawlines. The smooth lines of a round face mean that they have a greater curve of symmetry, but less definition.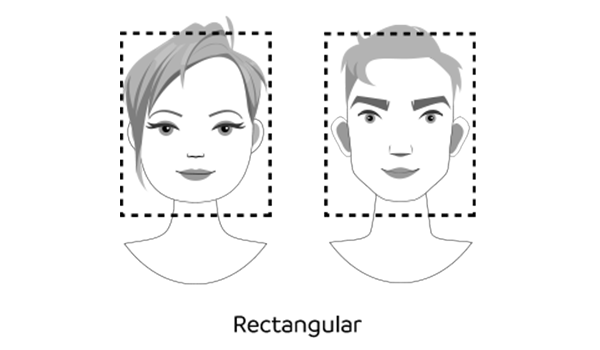 Best glasses for rectangular faces
Thick Wayfarer, Clubmaster, cat eye and square frames give the illusion of greater width and create balance. For longer faces like rectangle shaped faces, thicker frames often look really comfortable and natural. They create a break in the length of the face, so people with rectangular faces might find that these are a good choice for them. Bold prints, bright colours and splashes of retro neon are a nice additional feature that pairs well with a rectangle frame.
Celebrities with rectangle face shapes include Hailey Bieber, Dua Lipa, Cristina Yang, Arnold Schwarzenegger, John Cena, Sacha Baron Cohen.
Please note: Rectangular faces are typically longer in length and shorter in width.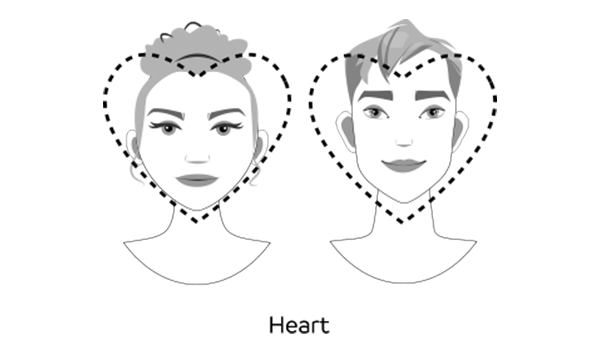 Best glasses for heart-shaped faces
Cat eye and rounder frames are perfect choices for heart-shaped faces. Lighter frames with thinner rims, or even rimless glasses, also add a soft touch for those who like a barely-there look. Transparent and pastel-coloured frames have a similar effect, while darker, more angular frames might distract from the beautiful natural structure of a heart-shaped face.
Celebrities with heart-shaped faces include Zendaya, Jenna Ortega, Jenifer Lawrence, Chris Hemsworth, Ryan Reynolds, Bruno Mars.
Please note: Heart-shaped faces are broader at the top and become slender and thinner towards the bottom. A broad brow and narrow chin make frames elongate the face and even out its proportions.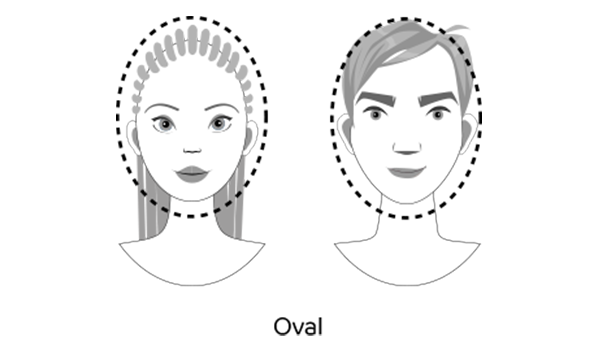 Best glasses for oval faces
Oval face shapes can be complemented by wider frames which maintain a balance of proportions. Rectangle or cat eye frames will create more dimension across your face if you have an oval face shape. On the other hand, to enhance the natural silhouette of an oval face, thinner frames might be preferred.
Celebrities with oval face shapes include Kendall Jenner, Beyonce, Bella Hadid, Jessica Alba, Zayn Malik, John Legend, Liam Hemsworth.
Please note: Oval shaped faces are longer in length and shorter in width. The sleek and slender silhouette has a beautifully rounded symmetry.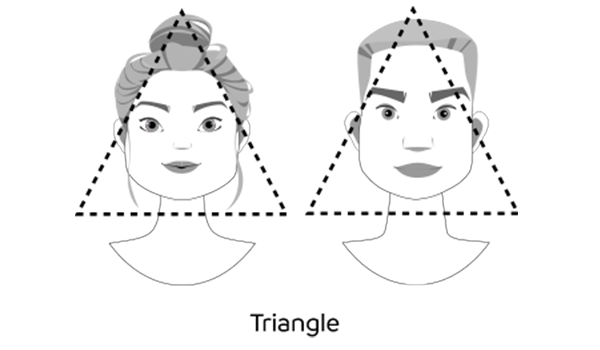 Best glasses for triangle-shaped faces
To create more definition towards the upper half of the face, frames with a heavy brow and thick upper rim help to create fullness. Clubmasters and Wayfarers are particularly complementary, and bolder colours or charismatic prints are good choices too. To accentuate a strong jaw and the triangular shape of your face, choose something a little more subtle, like a metal frame.
Celebrities with triangle face shapes include Keira Knightley, Billie Piper, Viola Davis, Luke Wilson, Jay-Z, Kanye West.
Please note: Triangular faces are thinner at the top and become wider at the cheeks and down towards the chin area.
Best-selling glasses
The best-selling glasses brands at Feel Good Contacts offer a full range of frames for every and any face shape. Some brands have a distinctive style, like Ray-Ban, which favours classic Wayfarer or Aviator designs, or Oakley's distinctive wrap style. A firm favourite for rectangle frames is Ralph by Ralph Lauren. Our best-selling frames from Feel Good Collection offer a diverse and stylish solution to finding affordable eyewear, available in a wide range of shapes, styles, colours and finishes.
Other things to take into account when purchasing your glasses online are factors such as skin tone, eye colour, hair colour, hairstyle and overall personal style. Glasses can help to finish your look, so choose something that is versatile and can work with your preferred aesthetic.
It can be beneficial to have more than one pair of glasses so that you can switch up your style. For example, you could have a pair that's classic for everyday/work and a quirkier pair for going out.
Ultimately, the frame shape, colour and style of glasses you choose are up to you. The most important thing is that you feel comfortable in your glasses, no matter what your face shape is. Find the perfect pair of prescription glasses at Feel Good Contacts for the most affordable prices. You can even enjoy up to 70% off our glasses range when you buy from our always-on sale items. Don't forget to use our virtual-try-on option before finalising your glasses!