With the current news cycle mostly focused on the corona virus pandemic, it can be difficult to stay positive, but for every dark cloud, there is usually a silver lining. Most of the time, you have to really dig to find good news stories, but there just as many great things happening amidst the chaos.
Appreciation for our NHS
Never before have we relied so heavily on our national health service. Random acts of kindness are being given to these everyday heroes such as free food shops at the supermarket, free luxury hotel stays, discounts across many retailers and clapping for them among your fellow neighbours. Workers on the frontline are putting themselves at risk daily so they can protect us.
Many health care workers are doing 12 hour shifts to try and deal with the sheer numbers of people who fall sick to this virus. To show their appreciation, children have been drawing 'thank-you' and 'stay home' posters, usually with rainbows on them. Many parents have displayed these in their windows at home for any passers-by to see.
Love for thy neighbour
We're probably never more aware of our neighbours than now. One soprano opera singer has started giving daily recitals from her doorstep, to some very appreciative neighbours, every day at 12pm. Italy and Spain have also had people singing from the rooftops to try and lift the spirits of their neighbours in this time of isolation.
A lot of people are also checking in on their neighbours, to see if they need any supplies or just to check if they're doing okay, which is lovely to see.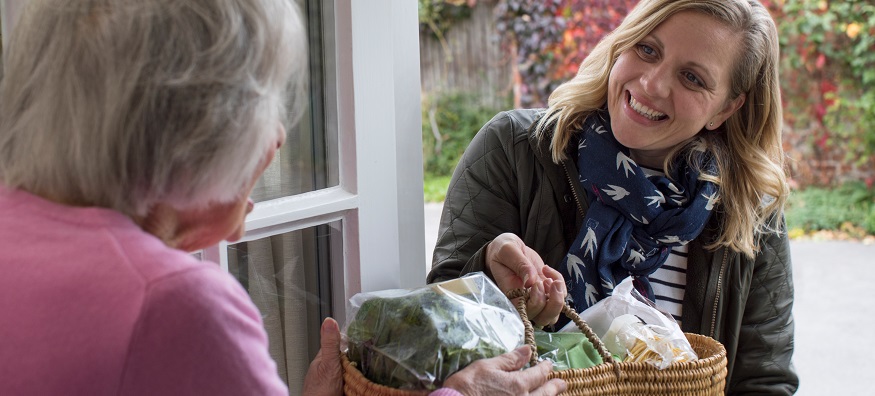 Musicians are giving free virtual concerts
Musicians such as John Legend, Sam Smith and Nothing but Thieves among many other artists are all performing on social media. They are usually livestreamed through platforms like Facebook or Instagram or added as direct posts. At a time when concerts and festivals have all been cancelled, these intimate, acoustic sets are just what we need to keep a positive mindset.
Socialising at a distance
It's strange that at a time when we're not allowed to physically see our friends, we're making more of an effort than ever to keep up with them. Life before covid-19 was a busy world, just knowing that you could get on the train or into your car and see your friend anytime you like was enough to not bother with regular calls or texts.
Now that staying in is the new going out, some have taken to dressing up for their weekly video chats. The joys of this kind of socialising is that you can wear something fancy on your top half with some joggers and furry slippers on your bottom half, and no one need know.
The earth is healing
With fewer cars on the road, hardly any planes in the sky and less people to litter the streets, our world is starting to heal itself. India is known for being one of the most polluted places in the world and the air there is a near constant haze of smoke. For the first time in decades, the air is so clear that you can now see the Himalayan mountains in parts of India. In other parts of the world like Wuhan in China, where covid-19 was first detected, the air is also clearing up.
This is brilliant news because air pollution kills seven million people every single year. Thanks to the lockdown and travel bans across the world, the cleaner air is saving lives. Read our blog post on how air pollution affects your eyes to find out more about how unclean air can impact your health.
In Venice, the waterways which are usually cloudy with sediment from the many boats passing through, are now clear too.


Free celebrity workouts
Many celebrities like Chris Hemsworth and Davina Mccall are giving away free fitness programmes for a limited time. For a range of free workouts that you can access long term, Instagram is the platform for you. Fitness influencers such as Alice Living, Meghan Grubb, Zanna Van Dijk, Whitney Simmons and many more are all providing free, regular workouts on their Instagram accounts. These workouts are singular posts on their feed as well as live workouts, typically in the morning or evening, but some at midday too.
Joe Wicks aka The Body Coach, has been streaming live fitness sessions on his YouTube channel The Body Coach TV. These free workouts run Monday to Friday at 9am. The videos quickly became popular, particularly with parents trying to keep their children active. Even more impressive, Wicks is donating 100% of the profit from these videos directly to the NHS, and his videos made £80,000 just in the first week.
We've learned the importance of personal hygiene
Not that people weren't aware of it before, but hygiene isn't something that is always at the forefront of your mind. When you stop to think about how many people have potentially touched that self-service touch screen or how many people have held that same pole on the bus, it seems obvious that we should all be washing our hands more.