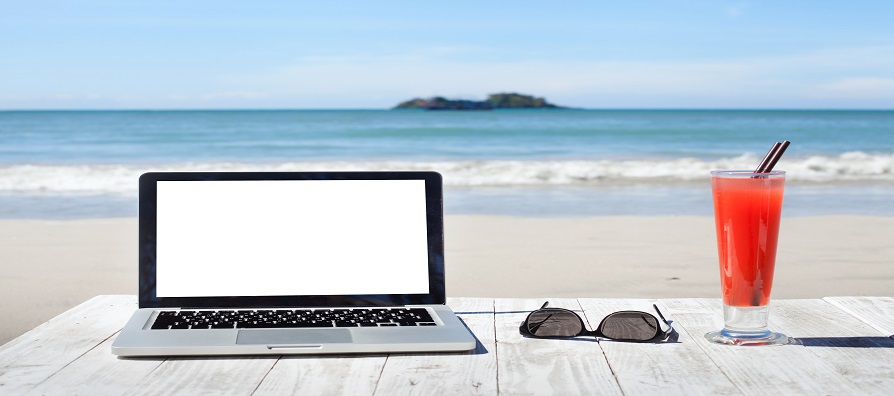 These days many companies offer their employees the choice of remote working. any employees love WFH for flexibility, sleeping in and achieving work-life balance. Some even choose picturesque beaches as their ideal workspace.

It can be exciting and stress-relieving to work from a beach. However, before you pack your bags and arrive at a beach for work, you must understand the role of sunlight and how its rays can affect your eyes. We'll also guide you on how to choose the right shades and which lenses will most suit your needs.


Role of sunlight
The sun provides vitamin D which helps our bodies to absorb calcium to keep our bones strong. The sun also just feels pleasant and can boost our mood. However, you must know about the effects of the sun when you choose to work from the beach. The sun emits UV rays which can be harmful.

That's why you must understand the properties of these rays so that you can prepare yourself with the right protection.
The nature of UV rays
Sunlight contains Ultraviolet Rays (UV) that comes under the electromagnetic spectrum. These non-ionising rays ranges between 10 to 400 nm and are more potent than visible light and infrared rays, falling just short of the energy intensity of X-rays. There rays are further subdivided into three types:

UVA rays
These rays are closest to visible light and can pass through the cornea, reaching the lens and retina inside the eye, potentially causing several eye problems.

UVB rays
These rays have longer wavelengths and are partially filtered out by the ozone layer. However, some of these rays penetrate the layer and reach the surface which can cause sunburn, skin cancer and several eye conditions.

Risk of exposure to UV rays
Prolonged exposure to the sun may causes eye damage. In some countries, skin cancer is frequent. And this can be caused by overexposure to ultraviolet (UV) radiation.

Even on overcast and chilly days, UV rays can still reach you, bouncing off surfaces such as water, concrete, sand and snow.

In the United Kingdom, UV rays are strongest from 11 am to 3 pm during the daytime.
The importance of UV-protected sunglasses
Sunglasses that provide adequate UV protection will either have the CE label or the UKCA mark.

UV-blocking sunglasses protect your eyes from detrimental radiation. Remember, UV rays hold the potential to harm your eyes and even induce cancer. At the minimum, they may result in glare, blurred sight and viewing difficulties.

When shopping for beach sunglasses, look for a pair that offers complete UV protection and a well fitted and snug pair. One that does not slip down the nose easily due to oily skin, sweat or suncream.

Feel Good Contacts offers online access to the finest UV-protecting sunglasses. Our sunglasses offer complete UVA and UVB protection. We stock sunglasses with various lens types, including polarised, mirrored, and gradient lenses. They all provide UV protection, but their varying benefits cater to various circumstances.
Polarised lenses: Ideal for water sports and driving, providing protection from glare and UV rays.
Mirrored lenses: Ideal for skiing and snow sports. Stylish and reduce glare, offering UVA and UVB ray protection.
Gradient lenses: Protect eyes from overhead sun while allowing more light through the bottom half of the lenses.
Choosing the right sunglasses for beach wear
You can determine whether your sunglasses provide UV protection by searching for a UKCA or CE mark on the frame, but this depends on where the product is sold. You should look for a UKCA label on a good pair of sunglasses with enough UV protection in the UK. You should look for a CE label in Ireland and other EU countries. The purpose of this is to ensure that the lenses possess UV protection. Nonetheless, it should be noted that the absence of a CE or UKCA marking does not necessarily indicate a lack of appropriate UV protection.

Sunglasses lens categories
Sunglasses lenses are categorised from 0 to 4, indicating tint darkness. Category 0 is the lightest (transparent or very light tint), while category 4 is the darkest.

Consider these things:

Look for category markings inside the temples or consult an eye care professional who can use a photometer to assess your sunglasses' protection.
Categories 0 to 3 are safe for driving, with 3 being common. Category 4 is unsuitable for driving but suits snowboarding and skiing.
Note: Lens darkness doesn't affect UV protection; it reduces the brightness reaching your eyes.
Three of the best brands for beach sunglasses
When choosing sunglasses for the beach, consider brands known for high-quality UV protection and durability. Here are a few top picks:


Neill ONS ZEPOL 2.0 127p matte black polarised
These O'Neill ONS Zepol 2.0 127P Matte Black Polarised sunglasses are perfect for working at the beach. They have a durable wrap frame for comfort and protection. The grey polarised lenses and silver mirror front add a stylish touch. They also offer 100% UV ray protection. Furthermore, the wrap-style gives more coverage against the sun protecting eyes from all angles.
Feel Good Collection Valentine Black Polarised
The Feel Good Collection Valentine Black Polarised sunglasses are ideal for beachwear. These stylish and lightweight sunglasses have a black frame that suits both men and women. The lenses have UV filters, ensuring 100% UVA and UVB protection.

Polaroid PLD 1016/S/NEW 086/UC dark Havana Polarised
The Polaroid PLD 1016/S/NEW 086/UC Dark Havana Polarised sunglasses are ideal for beachwear. The classic square frames are versatile and suit most face shapes. The green lenses beautifully contrast the dark Havana frames, offering a stylish choice. With polarised lenses to reduce glare and 100% UVA and UVB protection, these sunglasses ensure optimal visibility and eye protection under the sun.
Conclusion
Working from the beach can be a refreshing change of pace, but it's essential to protect your skin and eyes from the sun's harmful UV rays.

By taking the necessary precautions like wearing UV-protective sunglasses, using a parasol, applying/re-applying SPF throughout the day, and seeking shade during midday, everyone can safely and enjoyably work from the beach while protecting themselves from sun exposure.