Contact lenses offer freedom from glasses, complete versatility and are just as easy to wear, so throw away all of those misconceptions and scare stories and try them out for yourself.
Go get your prescription checked
The first thing you need to do if you're considering wearing contact lenses is go for a proper eye examination from a qualified optician. Contact lens prescriptions and glasses prescriptions are different, therefore, they need two completely different tests. You cannot convert a glasses prescription to a contact lens prescription and vice versa.

Once you have your contact lens prescription however, you don't need to purchase your contact lenses from your optician. You have the right to ask for your prescription and order contact lenses online.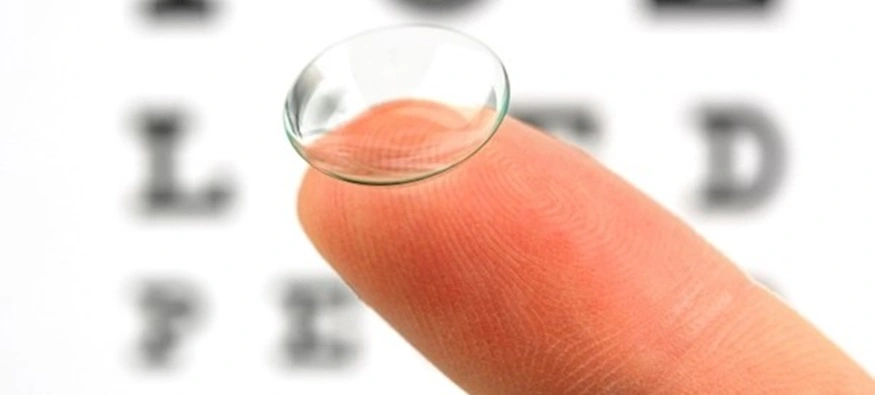 Don't believe the negative myths
There are many misconceptions and negative ideas about contact lenses that are false. Here is a quick rundown of the main ones:

Contact lenses are too expensive – contact lenses are highly affordable at Feel Good Contacts, and you won't find your contact lenses cheaper anywhere else. Our comfi lenses offer fantastic value for money, high visual clarity, and are a comfortable and reliable option.

Contact lenses cause eye infections – bad 'hand hygiene' while handling contact lenses is what causes infections. It is important that you wash hands thoroughly when inserting and removing contact lenses. It's also important to keep your lenses away from water, so avoid showering or swimming in your lenses, and make sure your hands are thoroughly dry before handling them. This is because when your lenses are exposed to water it can cause eye infections that could lead to blindness. Sleeping in your lenses can also lead to eye infections, so should be avoided (unless recommended by your optician).

My prescription is too difficult to find, I need to have it ordered from my optician – we stock a wide range of prescriptions for all common refractive errors. Those with astigmatism can order toric contact lenses. Those who have presbyopia can order multifocal contact lenses, while we even have a specialised lens - Bausch & Lomb Ultra Multifocal for Astigmatism (6 Pack) – which is a great silicone hydrogel option for those who suffer from both astigmatism and presbyopia.

I have dry eyes, I can't wear lenses – this too is incorrect. Silicone hydrogel contact lenses with added moisture offer the highest level of comfort and breathability and are a great choice for those who suffer from dry eyes. Dailies Total 1 has a unique water gradient technology and is combined with silicone hydrogel material. It is one of our best-selling contacts for dry eyes, offering longer wearing times great hydration and comfort all day.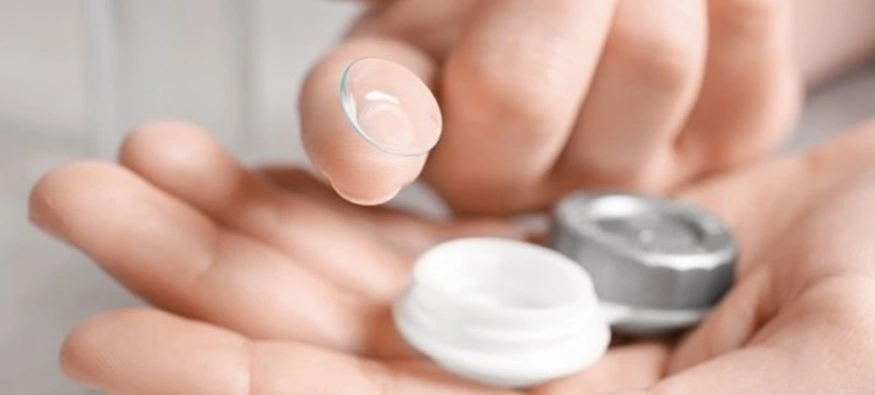 Practice makes perfect
You may find it difficult to put in your contact lenses at first, and they may initially feel slightly uncomfortable in your eyes. Like everything, however, applying your lenses comes with practice, and your eyes will eventually adjust to having lenses in them, as you become an expert at applying and removing them.

If irritation persists though, remove your lenses and give your eyes a break. If it doesn't start to feel better, consult your optician. You could consider trying different lenses or your eyes might just have needed a break.

One of the most common issues for first time contact lenses wearers is trying to apply contact lenses that are sitting the wrong way up. Read our handy guide on how to apply contact lenses the right way up.
Try out different brands
Different manufacturers use different materials and a variety of different technologies in the making of their lenses, which makes some lenses less suitable for some eyes than others. And, while most people find one brand that works well for them, it may take trying a few different brands before you find what works for you.

Remember to speak with your optician or eye care practitioner before trying out any new contact lenses.
How to put in contact lenses for the first time
Many people assume putting in contact lenses is difficult, although it isn't. It may take a bit of practice, but after a few goes most people get the hang of it. It simply takes some patience and a steady hand.
How to put in soft contacts
Putting in soft contacts can seem daunting due to their fragility, however, you'll find that many of or Acuvue soft contact lenses have a 1,2,3 indicator and blue handling tint which makes them easier to apply. Whichever type of lenses you use, you should always use a hygienic method, taking care to wash and dry your hands thoroughly first.
The easiest way to put in contact lenses
For top tips on putting in contact lenses read our lens fitting page which includes a full instruction guide.
How to remove contact lenses
There are several ways to remove your contact lenses. The most popular way is the 'pinching' method. Before you remove your contact lenses, make sure you always wash and dry your hands thoroughly. First, using your non-dominant hand, pull down the lower eyelid and pull up your upper eyelid pushing it against your brow bar. Then placing your finger on the lens, gently slide the lens to the outer edge and use a pinching motion using your index finger and thumb to grip and remove the lens.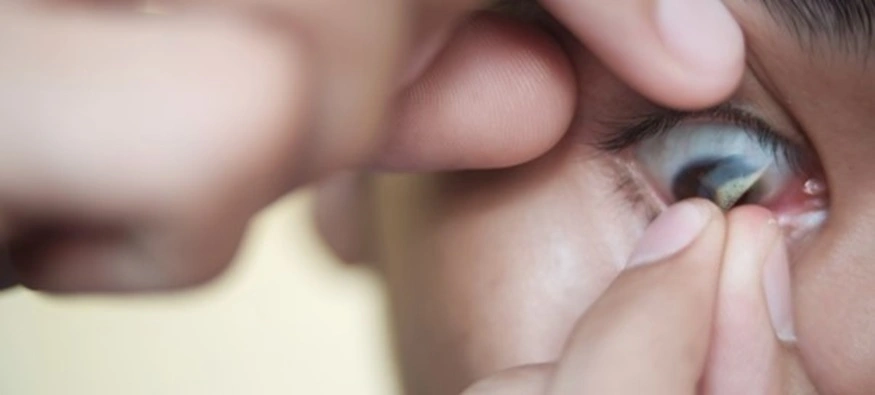 Purchase some handy add-ons
If you're wearing two weekly or monthly contact lenses, you'll need to store them at night. There are 3 different types of contact lens cases, flat case, barrel case and barrel case with disc Different solutions come with different lens cases, so if you are buying another case, ensure it is the right type of case for the solution you are using.

For convenience and value for money, we recommend a multi-purpose contact lens solution that will clean your lenses as well as disinfect, rinse and store your lenses all at once. Highly affordable, comfi All-in-One contact lens solution offers an exceptional clean. Alternatively, if you wear rigid gas permeable lenses, we offer an entire range of solutions that cater to this type of lens. Whatever the lens, it is important for contact lens wearers to fill the contact lens case with fresh solution every time and never reuse the old solution from the case, this will reduce the risk of eye infections.

If you suffer from dry eyes, or spend hours looking at a screen all day, you may want to purchase some eye drops. Blink Intensive Tear Vials are convenient, pocket-sized and can be carried around whilst on the go. There's enough in each vial to treat both eyes, which only require a few drops to soothe them. Be careful not to touch the eye when you are applying the drops.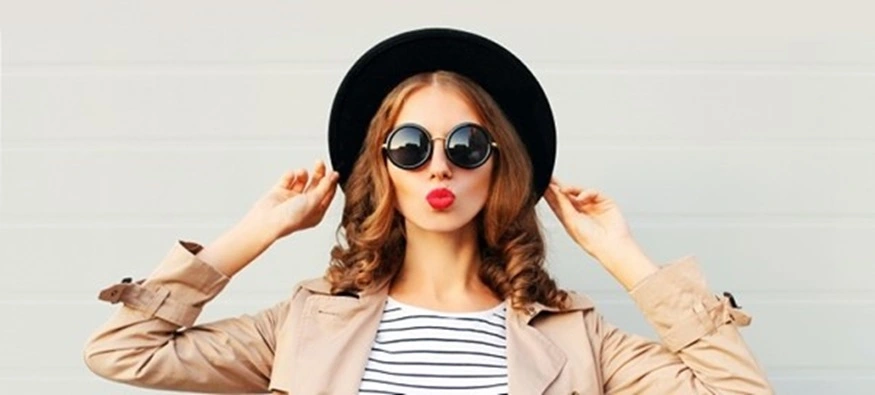 Enjoy the freedom!
Contact lenses offer complete freedom from glasses and are far more convenient for those who have an active lifestyle. You won't have to worry about your lenses slipping off during workouts, or having to endure bad sight simply because you've needed to take your glasses off.

Wearing contact lenses also allows you to wear sunglasses when its bright out. And, at Feel Good Contacts, you can discover a wide range of designer sunglasses to suit every style and budget.

For more information on getting started with contact lenses and overall eye care, check out our handy Eye Care Hub. Here, you'll find a wealth of information about keeping your eyes healthy and contact lenses in top shape.