What are contact lenses made of?
Soft contact lenses are all made from a mouldable plastic material. The composition of these plastics may vary, thus, creating a slightly different sensation and level of comfort depending on the wearer.
Hydrogel and silicone hydrogel lenses are both soft lenses made of plastic material. The material is absorbent and makes the lens soft when hydrated with water or solution, but hardens when dry. Silicone is the name used to describe plastic materials with a gel-like consistency that contain silicone, as well as oxygen and other elements. It's an extremely flexible material, which makes it excellent for making not only contact lenses, but many other medical products such as implants and tubing.
Should I wear hydrogel or silicone hydrogel lenses?
It's perfectly okay to wear either option, and most people get on with standard hydrogel lenses fine. Sometimes you may need to try different options and see which one best works for you.
The main advantage that silicone hydrogel has over standard hydrogel, is that silicone hydrogel lenses are highly porous and absorbent. They allow a higher oxygen transmissibility allowing more oxygen to permeate through the contact lens and reach the surface and cornea of the eye in comparison to standard hydrogel contact lenses. If oxygen cannot reach the cornea, it causes a condition referred to as hypoxia. This can lead to blurry vision, red eyes, loss of visual clarity and increase the chances of eye related complications.
How do hydrogels work?
Standard hydrogels are also soft lenses made from a flexible plastic combined with oxygen to allow water to pass through. They are usually cheaper than silicone hydrogel and work in a similar way, however they have a lower oxygen permeability.
What are hydrogels used for?
Just like silicone hydrogel lenses, standard hydrogels are used to correct a wide range of prescriptions. They are usually cheaper than silicone hydrogel lenses and more popular than rigid and gas permeable lenses which are made from a harder material.
The benefits of silicone hydrogel lenses
Silicone hydrogel lenses offer an increased level of comfort and oxygen throughout the day when wearing lenses. For two weekly and monthly contact lenses, silicone hydrogel material helps to ensure that your lenses remain breathable throughout their entire wearing cycle.
Silicone hydrogel lenses can be worn more comfortably for longer periods of time. This is especially helpful for those who live active lifestyles, spend long periods of the day looking at a screen, or who are easily susceptible to dry eyes.
Their improved comfort means that they can also be worn as extended wear lenses. Extended wear contact lenses are suitable for continuous wear day and night without needing to be removed, for up to a fixed amount of time (typically one week). These are perfect for those with a busy schedule as they eliminate the hassle of a contact lens cleaning routine. If you wish to opt for these, you'll need to visit an optician to get them approved and ensure that they are suitable for you.
Daily wear lenses are a popular choice as they have less risk of eye infections for the contact lens wearer and are considered better for eye health. Whichever lenses you decide to choose, we recommend consulting your eye care professional first.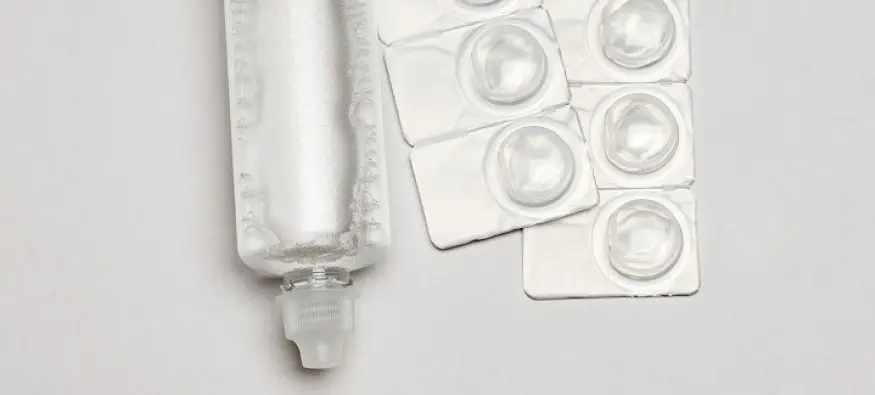 Which silicone hydrogel lenses should I buy?
Most contact lens manufacturers will have at least one silicone hydrogel lens in their range. You can buy silicone hydrogel contact lenses online at Feel Good Contacts for short-sightedness, long-sightedness, toric lenses for astigmatism and multifocals for those who need more than one prescription in their lens and have presbyopia.
comfi Purest 1 Day is a fantastic daily silicone hydrogel contact lens for those who require a daily disposable wear lens. The innovative lens allows more oxygen to pass through the eye, highly advantageous for those who need a longer wearing time. Daily contact lens wearers may also want to consider Dailies Total 1 by Alcon & Ciba Vison, which contains almost 80% water on the surface of the lens making it a great choice for dry eyes and long days.
Those who prefer to wear monthly or two weekly lenses can choose from a range of options including Air Optix Plus HydraGlyde (monthly) or Acuvue Oasys (two weekly). If you have astigmatism and require toric lenses, we highly recommend Biofinity Toric. Alternatively, if you are presbyopic, Air Optix Aqua Multifocal offer the freedom from reading glasses, while offering exceptional comfort. And for those of you who need a multifocal toric lens, Baush & Lombs Ultra Multifocal for Astigmatism offers a comfortable wearing experience with its MoistureSeal technology.
The disadvantages of silicone hydrogel contact lenses
Silicone hydrogel contact lenses have a slight premium on their price as they are a higher quality product. Rest assured that you will get your silicone hydrogel lenses at the cheapest prices here at Feel Good Contacts thanks to our Price Match Guarantee.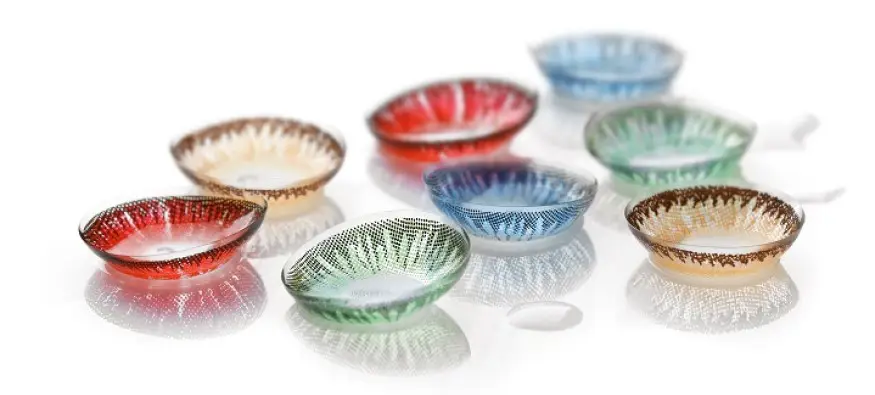 Are there coloured silicone hydrogel lenses?
Yes, there are coloured silicone hydrogel contact lenses.
Air Optix Colour contact lenses are made with silicone hydrogel. Manufactured by Alcon, this vibrant collection of coloured contact lenses comes in a range of nine different colours and offer both an impressive change in style and complete visual clarity. Alcon & Ciba Vision's exclusive 3-in-one colour technology ensures a natural, but vibrant appearance, even for those who have darker eyes. Due to the colour pigment restricting the flow of water and oxygen in and out of the eye, coloured contact lenses can sometimes be uncomfortable to wear. However Air Optix Colours silicone hydrogel surface allows oxygen and moisture to move more freely, allowing for a slightly longer wearing time.
Browse our full range of silicone hydrogel contact lenses at Feel Good Contacts. Customers receive next day delivery on all orders.