Bausch & Lomb Contact Lenses and Solutions
Sort By:
From SofLens to PureVision, you'll find Bausch & Lomb contact lenses at low prices when you buy contact lenses online in Ireland with Feel Good Contacts. The contact lenses from this manufacturer are designed to correct a number of refractive errors, whilst also providing comfort and hydration during wear.
Who are Bausch & Lomb?
Arguably the world's most well-known and respected contact lens manufacturer, Bausch & Lomb contact lenses are always high quality. They have delivered an extensive range of excellent contact lenses, solutions and eye care products over the years.
What Bausch & Lomb contact lenses are there?
Whether you're a daily contact lens or monthly contact lens wearer, our range of Bausch & Lomb contact lenses has everything you need.
Biotrue ONEday contact lenses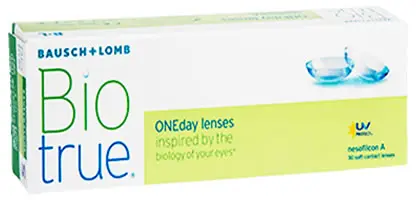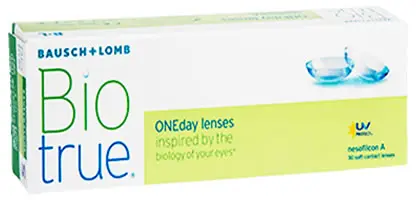 The Biotrue ONEday range of contact lenses offer a highly convenient and comfortable daily disposable contact lens option.
Designed with High Definition Optics and a high water content, Biotrue ONEday daily contact lenses provide clear and crisp vision, alongside a soft, moist and comfortable presence over the entire day. You'll also find Biotrue ONEday for Presbyopia and Biotrue ONEday toric contact lenses for astigmatism at Feel Good Contacts.
SofLens contact lenses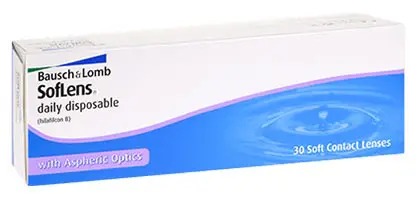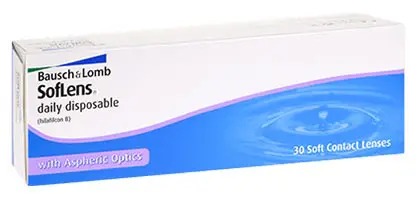 Those after impressive and affordable contact lenses will be delighted with SofLens contacts. The range utilises ComfortMoist Technology and High Definition Optics to deliver sharp vision and a comfortable wearing experience.
SofLens contact lenses have been designed by Bausch & Lomb to cater for all visual requirements, with SofLens Daily Disposable one of the most popular daily disposable contact lenses in the UK.
For a comfortable monthly option, you can try SofLens 59. For those that have presbyopia, SofLens Multifocal fits the bill. Astigmatism is also covered by this brand, with SofLens Toric.
Bausch and Lomb Ultra contact lenses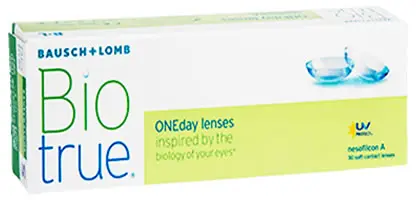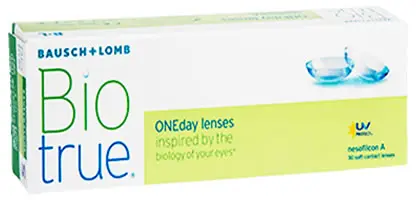 Bausch and Lomb Ultra are premium contact lenses that provide lasting comfort, ideal for those with dry eyes.
Bausch & Lomb Ultra contact lenses are another choice of monthly contact lenses, and make use of MoistureSeal Technology to retain water throughout the day and offer a high degree of hydration and comfort for the wearer. We also stock a 6-pack edition, while Bausch & Lomb Ultra for Presbyopia are multifocal contact lenses designed to correct the issue of presbyopia. Those who prefer daily disposable lenses can try Bausch and Lomb Ultra One Day.
PureVision contact lenses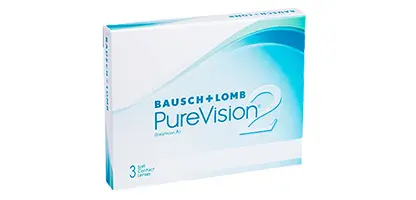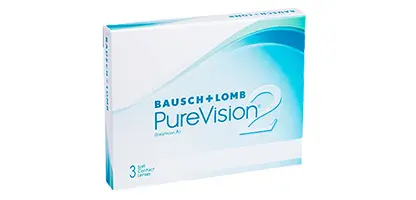 The PureVision range of contact lenses are renowned for their exceptional performance and the longevity of wear they offer. Made from silicone hydrogel, PureVision contact lenses are able to provide an unrivalled level of breathability.
Up to five times the amount of oxygen can flow through each PureVision contact lens compared to standard hydrogel lenses. The result for the wearer is fresher and healthier eyes, and a more comfortable contact lens wearing experience.
PureVision2 HD is an impressive monthly contact lens, tying High Definition Optics and ComfortMoist Technology into a silicone hydrogel design. These monthlies can alternatively be worn as extended wear lenses, meaning you can wear them day and night without removal, however this must be approved by your eye care practitioner.
PureVision2 HD for Astigmatism are toric contact lenses designed to correct the issue of astigmatism, while PureVision2 for Presbyopia are available for those of multifocal contact lenses.
What Bausch & Lomb contact lens solutions are there?
Bausch and Lomb have a variety of different contact lens solutions to suit different needs. Wearers of two weekly or monthly contact lenses will need a premium contact lens solution they can rely on and this brand really delivers in that department.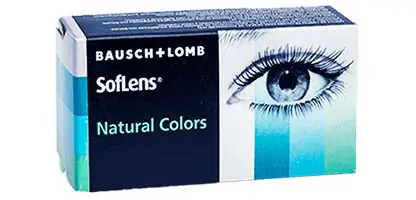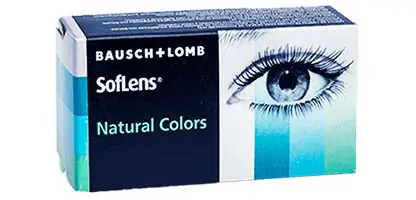 Bausch and Lomb does have a range of coloured contact lenses under the brand SofLens Natural Colours. These colour contact lenses offer a radiant and natural colour change to your eyes.
The lenses are available in 10 colours, including:
Amazon
Aquamarine
Dark Hazel
Emerald
India
Indigo
Jade
Pacific
Pacific
Topaz
SofLens Natural Colors contacts are even available without a prescription, if you plan on wearing them for cosmetic purposes only. The soft lens material will ensure that you have comfort and moisture while you're wearing them.
Do Bausch and Lomb make coloured contacts for astigmatism?
Bausch and Lomb do not currently manufacture coloured lenses for astigmatism. They have one standard line for coloured lenses that correct myopia. Due the number of parameters this would require, Bausch and Lomb does not make coloured contact lenses for astigmatism.
Frequently asked questions
Here are some of the most frequently asked questions about products from the Bausch and Lomb range.
How long can I wear Bausch and Lomb lenses each day?
The length of time you can wear Bausch and Lomb lenses depend on the particular lens you choose to buy. The brand manufactures daily and monthly lenses which should be worn according to the instructions given by the manufacturer and your optician. Daily Bausch and Lomb contact lenses should be worn once and thrown away after one use. Monthly Bausch and Lomb contact lenses can be worn for 30 consecutive days, but must cleaned and stored each night.
How often should I replace my Bausch and Lomb contact lenses?
This will depend on the type of lens. Daily disposable contact lenses must be replaced each day, a convenient option for busy lifestyles. The monthly lenses from Bausch and Lomb can be worn daily (and removed, cleaned and stored each night), these lenses must be replaced every 30 days, no matter how many times you have worn the lenses in that time.
Can I sleep with Bausch and Lomb contact lenses?
Some of the contact lenses from this brand are suitable for extended wear use, such as PureVision 2. Please note, extended wear contact lenses may only be slept in if permitted by an eye care professional.
Are Bausch and Lomb contact lenses comfortable to wear?
The contact lenses by Bausch and Lomb are designed using modern technologies to ensure lasting comfort during wear.
Can I order Bausch and Lomb contact lenses online
You can buy Bausch and Lomb contact lenses online for the most affordable price, at Feel Good Contacts. Not only are we competitively priced, we also offer Price Match Guarantee and a generous 10% off your first order.