Running tips for contact lens wearers
Running with contact lenses
Running is a great way to keep fit especially for those who love the outdoors. Whether it's a crisp winters day, spring or summer, this natural outdoor activity is much widely preferred than a mundane routine at the gym.
Whilst some enjoy a daily jog, others prefer competitive running. Those who enjoy the latter may find themselves faced with a few problems if wearing contact lenses.
If this is the case for you, here are our 5 essential running tips for contact lens wearers.
Summary of tips:
Hydrate well to avoid overly dry eyes using travel eye-drops and an absorbent headband
Wear soft, daily disposable contact lenses for breathability, comfort and hygiene
Do not rub your eyes under any circumstances
Avoid getting water in your eyes by pouring it over you to cool down or entering triathlons
Be gentle on yourself to help your eyes adjust to wearing contact lenses whilst running
Can you run with contact lenses?
You can of course run with contact lenses. In fact, wearing contact lenses instead of glasses provides an added convenience for runners. Unlike glasses, contact lenses are less likely to fall off and don't need constant adjusting. They also allow you to look out for potential hazards and have a better view of the beautiful scenery around you, as they don't have frames to interfere with your peripheral vision. This coupled with the fact that they don't steam up, makes them a safer option to run with than glasses.
Does sweat affect contact lenses?
Sweat, if it gets into your eyes, increases the rate at which natural tears evaporate, causing irritation and dry eyes. In addition to this, it can cause a range of eye infections due to harmful bacteria. Therefore, running with contact lenses can cause potential problems if the right precautions are not put in place. Read on for our tips to avoid sweat from contaminating your contact lenses.
Our 5 running tips for contact lens wearers
1. Hydrate well
Running can cause the body to sweat more than usual which can lead to dehydration and dry eye, as natural tears evaporate more quickly. Wearing contact lenses when running can further enhance this.
Using eye drops, drinking plenty of water and wearing an absorbent headband can help combat dry eyes when running. Our travel sized eye drops are perfect for adding extra moisture to your contact lenses on the go, whilst an absorbent headband will help prevent sweat from rolling into your eyes.
2. Wear the right contact lenses
When choosing the right contact lenses for running in, it's a good idea to consult with your optician.
Soft contact lenses are usually the best recommended option for running. Not only are they stable and less likely to fall out, they allow more oxygen to pass through the eyes and they can also prevent sweat from running into the eye and causing discomfort and stinging. We recommend choosing contact lenses which maintain moisture to keep your eyes well hydrated. At Feel Good Contacts we have 1 Day Acuvue Moist, Focus Dailies All Day Comfort and comfi Pure 1 Day. All of which are great options for running in.
Try comfi Pure 1 Day
Our comfi Pure 1 Day contact lenses are daily disposable contact lenses that will provide exceptional comfort all day long. Made from silicone hydrogel material, these soft lenses are incredibly stable and less likely to fall out when running compared to standard hydrogel lenses. They have a natural, 'barely-there' feel and are ideal for new lens wearers and anyone looking for a comfortable daily lens.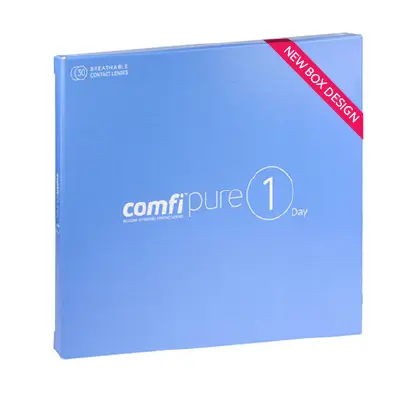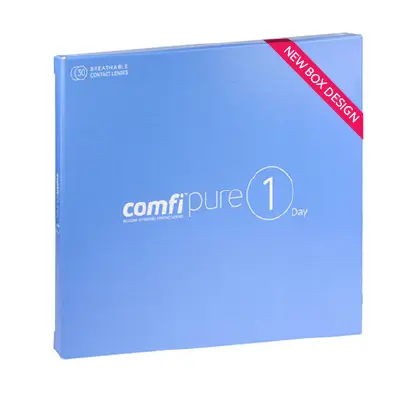 Daily disposable lenses are popular amongst runners, especially those who usually wear glasses. If you wear monthly or yearly lenses for running, you might find your contact lenses blurry due to protein deposits which build up on the surface of the lenses. Wearing daily contact lenses avoids this risk, therefore, allowing a more comfortable, hygienic and clearer wear whilst running. You won't experience cloudy contact lenses with dailies and they can also end up being more affordable in the long run.
3. Don't rub your eyes
Whilst running, you may find that something gets in your eyes, be it some dirt or an insect. Whatever you do, do not rub your eyes or attempt to get it out with your fingers. This is because you don't want to get harmful bacteria from your hands into your eyes.
Instead, make sure you come prepared. Bring a spare pair of contact lenses with you and a travel sized bottle of contact lens solution. Our comfi All-in-One Solution Travel Pack should do the trick and is perfectly formulated for sensitive eyes. You can store, clean, disinfect and rinse your lenses with this solution. In addition to this, the 100ml bottle is also an environmentally friendly choice as it eliminates the need to buy two separate saline and peroxide solutions, therefore, reducing plastic waste.
4. Avoid getting water in your eyes while wearing contact lenses
Whether you're tempted to pour water over your head when hot or are entering a triathlon where you'll be required to swim, you must avoid getting water in your eyes whilst wearing contact lenses.
Not only can water dislodge your lenses, it can also lead to severe eye infections. Triathletes should wear watertight goggles over their glasses. If your eyes have contact with water, remove your contacts and throw them away.
5. Be gentle on yourself if you're a beginner at running
If you're new to running or haven't been running in a while, ease yourself in gently. Whilst we know how easy it is to be overly enthusiastic and excited, you don't want to overdo it and get injured as a result. Set yourself realistic goals each week and make sure you get plenty of rest in-between.
It's better to start off slowly and run a couple of times a week rather than going running every day and feeling burnt out as a result. It's also recommended that you warm up before you go running and cool down after. Perhaps start and end the run with a brisk walk or gentle jogging and don't forget to stretch.
6. Lastly, if you're partaking in a race, enjoy yourself
A race can be quite daunting especially if it's your first time. Whatever you do, remember to enjoy yourself because signing up to go running in the first place is a great achievement whether it's running for a charity or just for fun.
Now that you've read our top tips, I hope you can agree that wearing contact lenses does not have to get in the way of your active lifestyle. So long as you follow our top tips, you won't have to worry about cloudy contact lenses, and you'll be able to enjoy the freedom of running with crisp clear vision. Our handy tips will ensure you the ultimate safety and comfort. Time to ditch the glasses and discover the joys of wearing contact lenses when running!