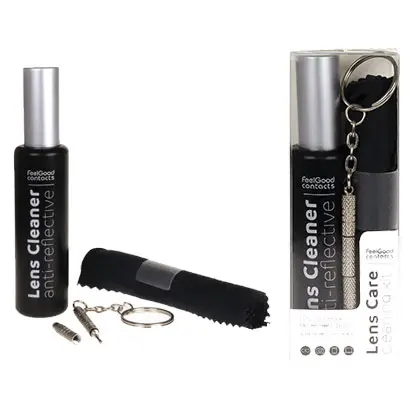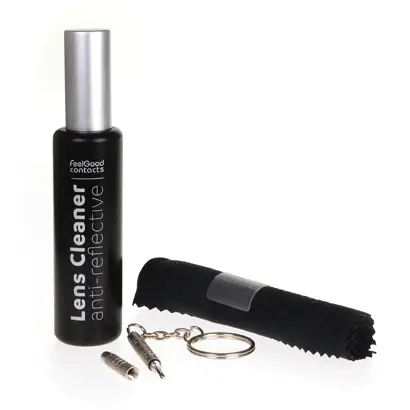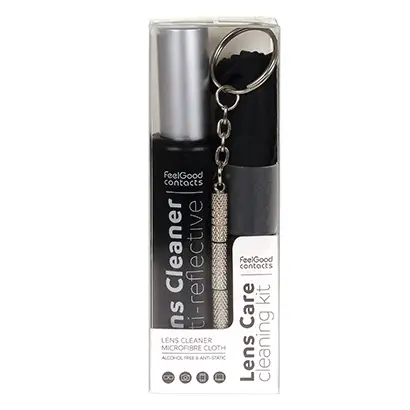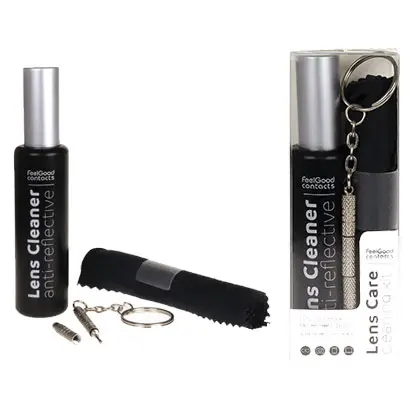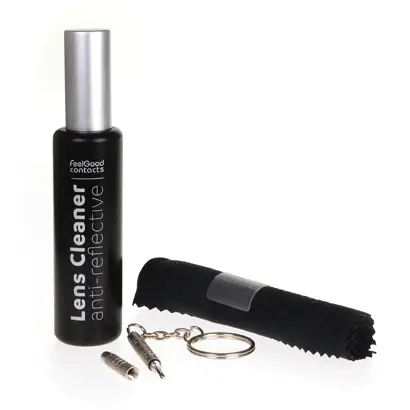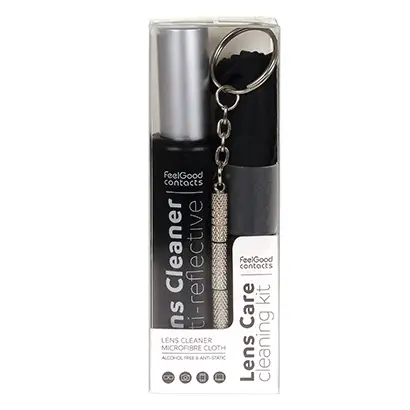 Feel Good Cleaning Kit Benefits & Features
Suitable for all lens types
Use on glasses or sunglasses
Alcohol-free
1 x Lens cleaner 30ml
1 x Microfibre lens cloth
1 x 3-in-1 keychain screwdriver
Recommended For
Those after an all-in-one product to help maintain their glasses or sunglasses
Anyone who wants to save and not have to buy multiple products
Anyone who needs a handy kit for on-the-go
Product Description
Enjoy a handy accessory with the all-in-one Feel Good Cleaning Kit, which includes a lens cleaner, a microfibre lens cloth and a screwdriver.
The spray bottle is filled with alcohol-free solution to effectively clean all lens types. As well as your spectacles or sunglasses, the lens cleaner can be used on your lens camera or laptop and smartphone screen. The soft microfibre lens cloth can be used to gently remove any dust or dirt from your lenses.
The keychain screwdriver can be used to tighten any loose bolts and screws on your glasses and can be attached to your key ring for convenience. So, it's ideal for when you're out and about.
Get the Feel Good Cleaning Kit exclusively at Feel Good Contacts.
Need more optical advice help? Ask our optical experts
Product Details
| | |
| --- | --- |
| Manufacturer | Feel Good Contacts |
| Brand | Feel Good Contacts |
| Pack Size | 1 x lens cleaner 30ml, 1 x micro fibre lens cloth, 1 x 3-in-1 keychain screwdriver |
Cautions
For external use only.
For Use
Complete these simple steps.
To clean, spray the lens and gently rub in a circular motion until the solution disappears.
To tighten your frames, use the mini screwdriver and gently turn in a firm motion until tightened.
Frequently Asked Questions
Why should I buy the Feel Good Cleaning Kit?
You should buy the multi-pack cleaning kit to eliminate the need in buying multiple products to save you both time and money.
Product Summary
The Feel Good Cleaning Kit is the ultimate, handy accessory for your glasses and sunglasses maintenance needs.

Feel Good Cleaning Kit Reviews
(10)
Dave Walton

-

07 Jun 2023

Very compact,so easy to carry around,and it cleans a treat.

PADDY MCCOY

-

21 Sep 2022

Jackie Heskin

-

06 Sep 2022

Excellent value for money

Gerard Fegan

-

24 Aug 2022

Excellent value for money. Would recommend to anyone buying sunglasses.

Does exactly what it says - excellent price, great quality