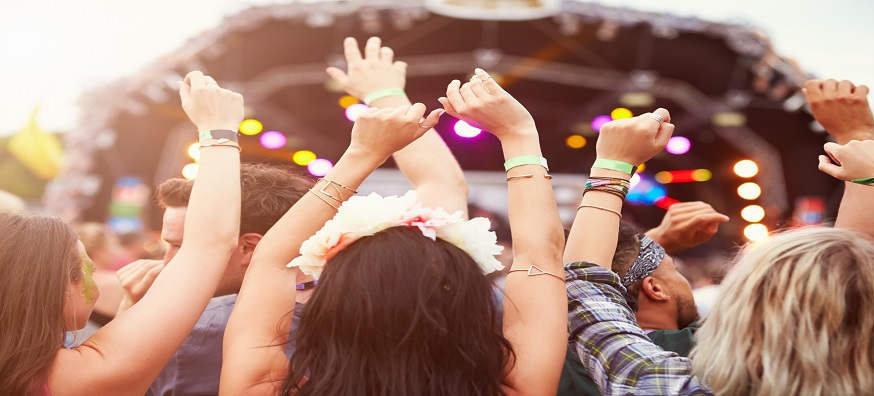 Festival season is in full swing, and as summer transitions to autumn, it's crucial to take care of your eyes before joining the festivities. That's why we've put together a list of 10 invaluable tips for wearing contact lenses at a festival safely.
Safeguard your eyesight during festivals
Some of the most common issues for glasses wearers at festivals are:
Glasses can easily get lost, damaged, or broken in crowded festival environments.
Dust, dirt, and sweat can accumulate on glasses, obstructing vision and causing discomfort.
Glasses may fog up in hot and humid conditions, hindering clear vision.
Wearing glasses while dancing or participating in activities can be uncomfortable and restrict your movement.
Prescription sunglasses may be needed for outdoor performances, adding the hassle of carrying multiple pairs.
The solution is simple and effective - daily disposable contact lenses. With dailies, you can relish the festival atmosphere without worrying about your eyewear. You can wear these lenses throughout the day, enjoying the music and socialising with friends, and at the end of the day, simply dispose of your lenses before going to sleep. They require the least effort, allowing you to concentrate more on the fun and less on the fuss.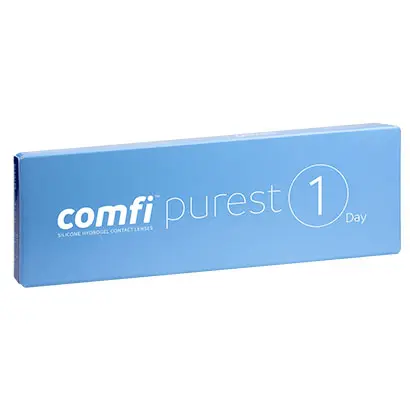 We recommend the 'comfi Purest 1 Day (5 Pack)' contact lenses for festival goers. These lenses will keep your eyes comfortable and provide UV protection. Plus, as daily disposables, there's no need for cleaning, making them a perfect choice for festival attenders. We stock an extensive range of daily disposables, and with our Price Match Promise, you're guaranteed to find the cheapest contact lenses with us.
Buy travel-sized solution
If you are using reusable lenses and contact lens solutions, then you may face:
Inconvenience: regular-sized contact lens solution bottles are heavy.
Travel restrictions: Larger bottles may not comply with airport liquid restrictions.
Space constraints: Limited space in hand luggage for bulky solution bottles.
We recommend a travel-sized contact lens solution pack for festivals, these smaller bottles offer the following benefits:
Convenience: travel packs are compact and lightweight, easing your travel experience.
Compliance: 100ml bottles meet airport restrictions on liquids.
Portability: a handy contact lens case is included with smaller solution bottles.
Space-saving: travel packs efficiently utilise the limited space in your hand luggage.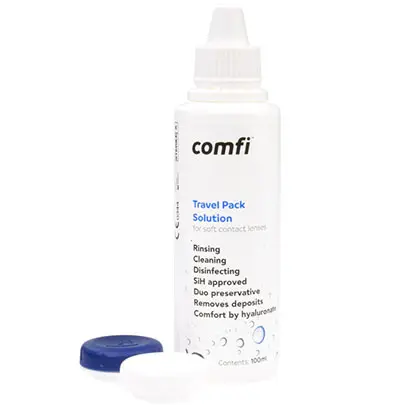 The comfi All-in-One Solution Travel Pack is ideal for festival-goers and travellers. It's a compact lens care solution with a gentle formula for dry and sensitive eyes, it also includes a contact lens case. This contact lens solution is perfect for travel and can be used for two weekly or monthly contact lenses.
ALWAYS wash and dry your hands
Maintaining good hygiene at a festival is crucial, even when water is scarce. Prioritise cleanliness by carrying a small bottle of anti-bacterial hand gel or anti-bacterial hand wipes. Remember to wash and dry your hands thoroughly before handling contact lenses to avoid the potential risk of eye infections. In case you have limited access to a sink, some suggest using antibacterial gel, ensuring it is completely absorbed before handling lenses. But it is ideal to wash and dry your hands properly where possible. For reusable lenses, it's advisable to dispose of the lenses, the lens case and the solution bottle, after the festival to minimise infection risks
Handle your lenses in the comfort of your own tent
Even in the vibrant festival atmosphere, it's important to adhere to proper contact lens hygiene to keep your eyes comfortable and healthy. To clean your 2 weekly or monthly lenses, using a small amount of lens solution, gently rub them with a clean fingertip then rinse them with fresh solution. Keeping your lenses clean will help them to stay fresh and will reduce the risk of potential infections.
Carry rewetting drops for festival convenience
Warm festival environments can cause your lenses to dry out, leading to discomfort and irritation. Keep your eyes comfortable by rehydrating them regularly with eye drops
Consider using rewetting drops, which instantly re-moisturise your eyes, some can even be applied while wearing contact lenses. With the added convenience of a travel-friendly 100 ml bottle, they're the perfect companion for your festival adventures.
Maintain good eye health with eyelid wipes
When you're away from the comforts of your own home at a festival, it's important to be prepared. Eyelid wipes are a practical solution for removing eye makeup, pollen, debris and dirt from around the eye area, keeping your eyes clean and healthy. They also provide soothing relief from dryness, ensuring your eyes stay refreshed. Each wipe is conveniently pre-moistened and sealed in an airtight sachet. Their compact size makes them easy to carry in your pocket, taking up minimal space in your luggage.
Hydrate for healthy eyes
Drink plenty of water, particularly on hot days, to keep your eyes healthy. Carry a water bottle as a reminder and choose one that keeps drinks cold for longer. Use the attached karabiner clip to conveniently secure the bottle to your backpack or belt loop. Staying hydrated will help to prevent dryness and eye irritation.
Combat hay fever symptoms
When camping in fields, hay fever can become bothersome. With this year's increased pollen count, seasonal allergy sufferers should consider our range of eye drops. Some eye drops are designed to effectively alleviate hay fever symptoms like itchy eyes. Remember to pack some eye drops to provide relief during a festival.
Use sunglasses with UV protection
Sunglasses play a crucial role in safeguarding our eyes from the harmful effects of the sun's rays. Beyond their fashionable appeal, sunglasses offer vital protection against ultraviolet (UV) radiation. Prolonged exposure to UV rays can contribute to various eye conditions, including cataracts, macular degeneration, and photokeratitis (sunburn of the cornea). Therefore, wearing sunglasses that provide 100% UV protection is essential for maintaining optimal eye health.

At Feel Good Contacts, we offer a wide range of stylish designer sunglasses that not only enhance your look but also provide 100% UV protection.

Here is our recommendation: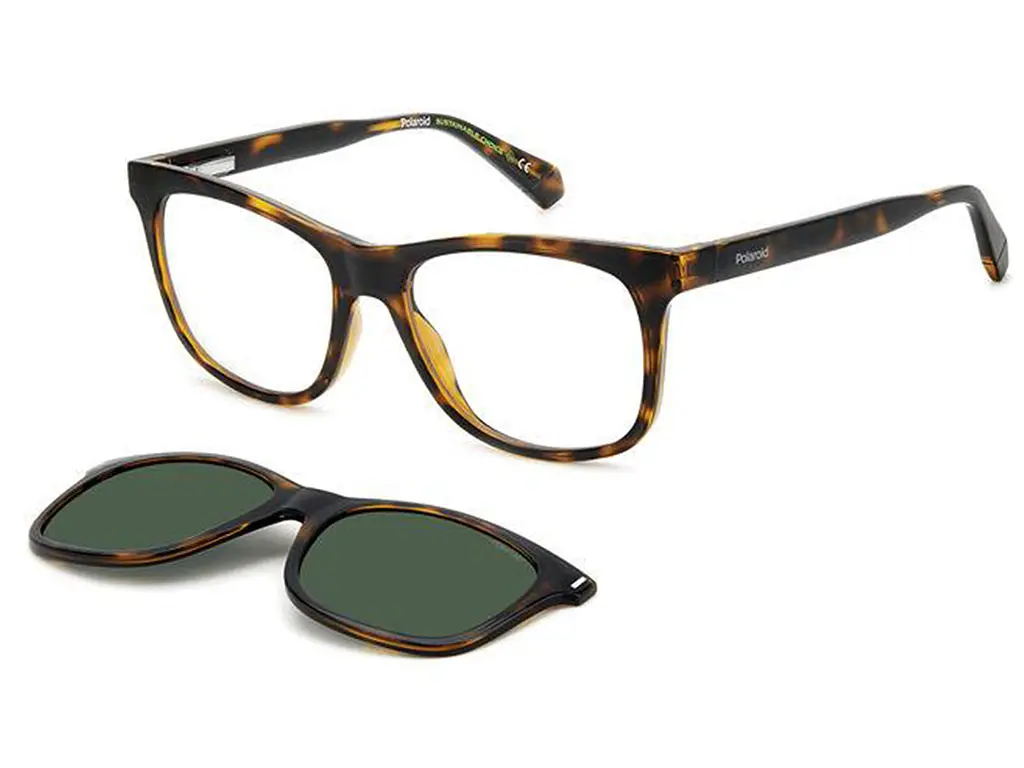 These sunglasses are the perfect choice for festivals. With a square frame shape that suits everyone, they offer the best of both worlds: glasses and sunglasses. The polarised clip-on lenses provide style and functionality, allowing you to use them indoors or outdoors. This model is available in a black colour frame, in addition to the Havana option.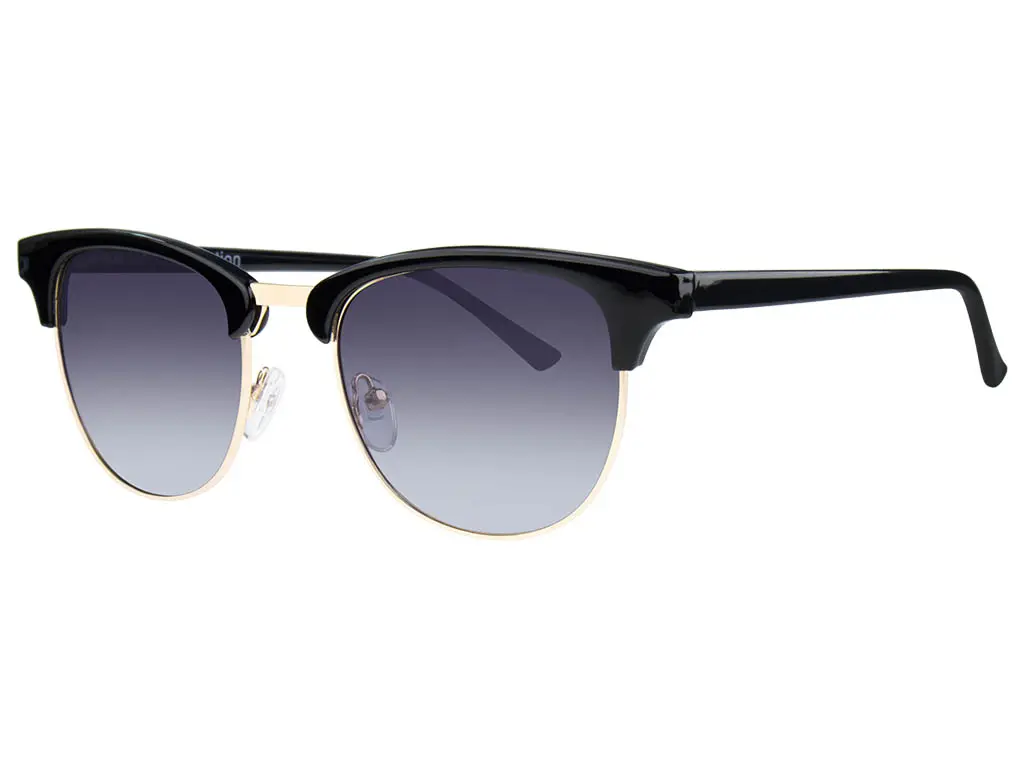 These sunglasses are suitable for both men and women, making them a unisex option, keeping your eyes safe from the sun's harmful rays. With their stylish design, they are a good choice for festival goers who want to look fashionable while also protecting their eyes from the sun.
If you find yourself wondering,
"Which sunglasses will suit my face shape?"
or want to learn more about
sunglasses with UV protection,
our
EyeCare Hub
article can provide you with helpful guidance and insights.
Bring spare lenses for festival-friendly vision
It is a good idea to carry a few spare pairs of lenses with you. Crowded festival environments can lead to eye irritation, accidental damage, or even misplacement of lenses. Having a few extra pairs of lenses will allow you to enjoy yourself without having to worry about your lenses letting you down.
Conclusion
Taking care of your eyes at a festival is easy with our top tips. These tips are key to enjoying the festival worry-free. If you're off to a festival, or know someone who is, use these tips as a handy checklist. They'll help you look after your lenses and keep your eyes safe while you have fun.