Taking care of contact lenses can be a chore when you're away, especially when at a festival. But at these times it's even more important to ensure you keep your lenses clean and keep your eyes in great health.
Have a read of our helpful tips on how to look after your lenses and make sure that nothing stops you from seeing your favourite acts.
Switch to dailies
Daily disposable contact lenses are considered a more attractive choice for festivals. Not only are they the most hygienic way of wearing contacts, they also require the least amount of effort.
Simply pop in your lenses in the morning, then after a full day's wear you can dispose of them before bed.
We stock an extensive range of daily disposables, and with our Price Match promise we guarantee you'll find the cheapest price in Ireland when you order online with Feel Good Contacts.
Buy a travel pack size
If you're a monthly or two weekly contact lens wearer, we highly recommend buying a travel pack to make your trip easier.
Travel packs are an ideal option to clean and store your contact lenses, and are available in a handy 100ml bottle size, making for a lighter packing option and easy travel companion. Not to mention they come with a handy contact lens case.
Bring spare lenses
It's an incredibly obvious one, but remember to take extra pairs of your contact lenses with you. In case you lose, damage or tear your lenses, you'll be able to fall back on spare sets you take along with you.
If you're embracing festival looks with different sets of coloured contact lenses it would be a good idea to buy additional contact lens cases to store them in.
ALWAYS wash your hands
Regular festival goers will be aware of the conditions you'll face and how imperative it is to maintain good hygiene. This is why you should carry a small bottle of antibacterial hand gel or even some wet wipes with you to keep yourself clean.
This way, you'll also be able to scrub away any dirt from your hands and fingers before handling your contact lenses.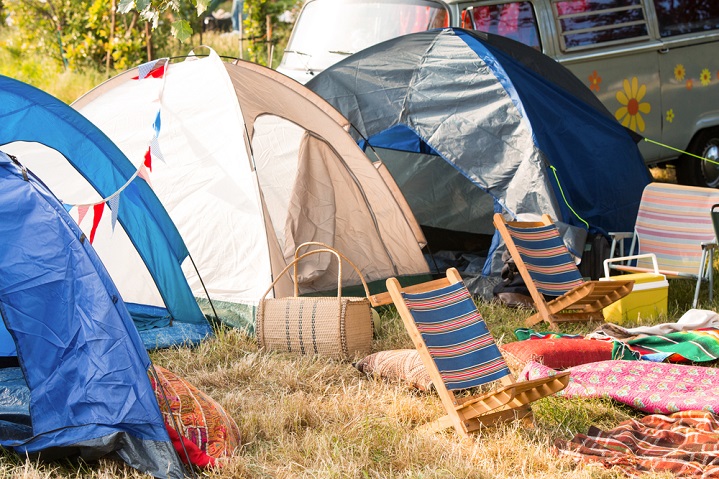 Handle your lenses in the comfort of your own tent
When you need to go to the toilet at a festival, you shouldn't expect a luxury pamper room. Unfortunately, the public toilets tend not to be very sanitary and are also typically a bit of a trek from the campsite, which is why we suggest handling your contact lenses in the comfort of your own tent.
Provided you keep it clean, your tent is more than good enough in terms of hygiene to apply and remove your lenses. You can even bring a compact mirror to help with applying and removing them.
Take rewetting drops with you
Warm environments can cause your lenses to dry out, which can lead to dry and irritated eyes. For this reason, it's very important to rehydrate to keep your vision sharp and eyes healthy.
Biotrue Rewetting Drops work to instantly re-moisturise your eyes and can even be used whilst you have your lenses in. On top of this, they're available in a convenient 10ml bottle to take with you on the go.
Consider buying eye lid wipes
As you won't have the comforts of your own home around you, its safer to come prepared. Eyelid wipes are an effective way to remove make-up and dirt, maintaining your ocular hygiene.
They'll also work to soothe your eyes from any dryness and keep them refreshed. Each wipe is pre-moistened and sealed in an airtight sachet, meaning they won't take up too much space.
Drink water plenty of water
This one is easy - just make sure you drink enough water and stay hydrated while you're having fun in the sun. If you're well-hydrated, your eyes will be too and less likely to become dry or irritated.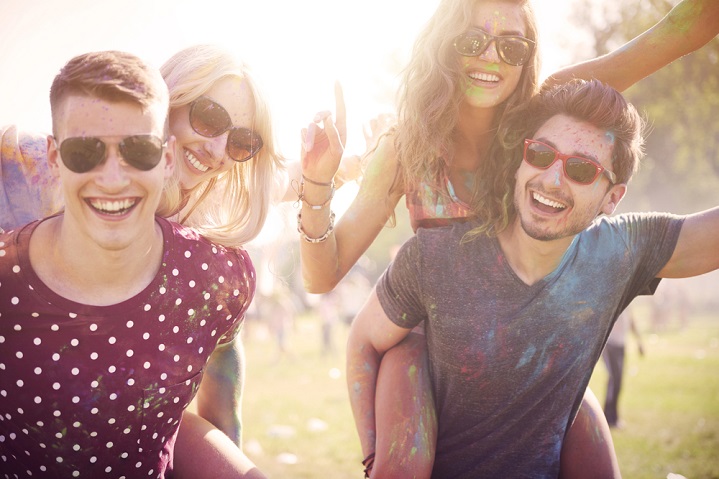 Fight hay fever
Hay fever - the bane of our summer. The pollen count is higher than ever this year and if you're a victim, be sure to browse our selection of eye drops. Dry eyes and irritation will be gone in no time if you bring a small bottle of the drops with you.
Stay safe in the sun
While there are some contact lenses which offer UV filters, you'll find sunglasses provide the best protection against harmful UV rays. Feel Good Contacts now stock a wide range of designer sunglasses that offer 100% UV protection.
Stay safe and stylish in the sun with our impressive range, including wrap-around frames that offer full coverage.
If you or anyone you know is off to a festival this summer, we hope you use our helpful tips as a checklist for looking after your lenses and keeping your eyes safe.