So this leaves us to ask,
what does the future hold for
contact lenses
?
According to the College of Optometrists, 74 per cent of people in the UK either wear corrective eyewear or have had laser eye surgery to help them see better. While laser eye surgery is a technological breakthrough for eye health on its own, this isn't an option that appeals to everyone.
Instead, 69 per cent of people in the UK wear glasses and 13 per cent wear contact lenses as vision-enhancing measures. However, in recent news it has emerged that a technological invention for eye health is currently in production: the Bionic Lens.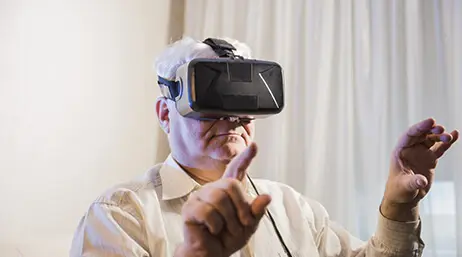 Created by a Canadian optometrist, the Ocumetics Bionic Lens promises to enhance eyesight to a level that's three times better than 20/20 - the universal standard for normal vision.
The $3 million (£1.5 million) investment, put towards eight years of research and development, means that the new technology could signal the end of glasses - should it successfully hit the market.
Rather than the traditional contact lenses we know today, which pop in and out of the eye, the Bionic Lens - developed by Gareth Webb - works on a unique premise. Instead, it is inserted into the eye via a short, painless procedure that lasts around ten minutes and is said to be a similar process to cataract surgery.
What's more, each lens would be custom-made for each individual's eye and designed to be non-degradable, meaning there is no risk of the wearer experiencing problems with cataracts or failing vision for as long as they live.
So how does it work?
A patented mini-optics system is incorporated inside the Bionic Lens, which works like a digital camera that is powered by the body. This means that as the eye moves, the lens' focus shifts from objects in close range to objects that are any distance away - even quicker than the human eye is able to.
In regards to comfort, the lens has been described by Ocumetics Technology Corp - which owns the technology - as "safe and durable". The implanted lens has been designed to feel natural, so wearers won't be able to feel that there is something in their eye.
Not just this, but it is said to prevent the onset of problems such as headaches and eyestrain - both of which can occur as a result of wearing glasses for prolonged periods of time.
But how good really is this new technology?
According to Mr Webb, very. Speaking to CBC News, he explained: "If you can just barely see the clock at ten feet, when you get the Bionic Lens you can see the clock at 30 feet (nine metres) away."
Expressing his excitement about the Bionic Lens, Dr Vincent DeLuise - an ophthalmologist who teaches at Yale University - added: "I think this device is going to bring us closer to the holy grail of excellent vision at all ranges - distant, intermediate and near."
Extensive clinical trials will begin on animals and blind human beings. If successful, the Bionic Lens could be available first in Canada in as little as two years' time.
Keep up to date with Feel Good Contact Lenses as we strive to offer the best and very latest in the eyecare industry.