What is aphakia – how can it be treated?
Aphakia is a condition where you are missing a lens in your eye, causing a loss of focus in your vision. People suffering from this condition are said to have aphakic eye. A person can be born with this condition or lose the lens due to an injury. Or your doctor might remove it during cataract surgery. This condition is very common and can affect either one or both the eyes. Aphakia is treated using Pseudophakic lens (an artificial lens on the eye) or IOL (intraocular lens) through surgery. Contact lenses (sclera) or glasses (very rarely) are used for this condition.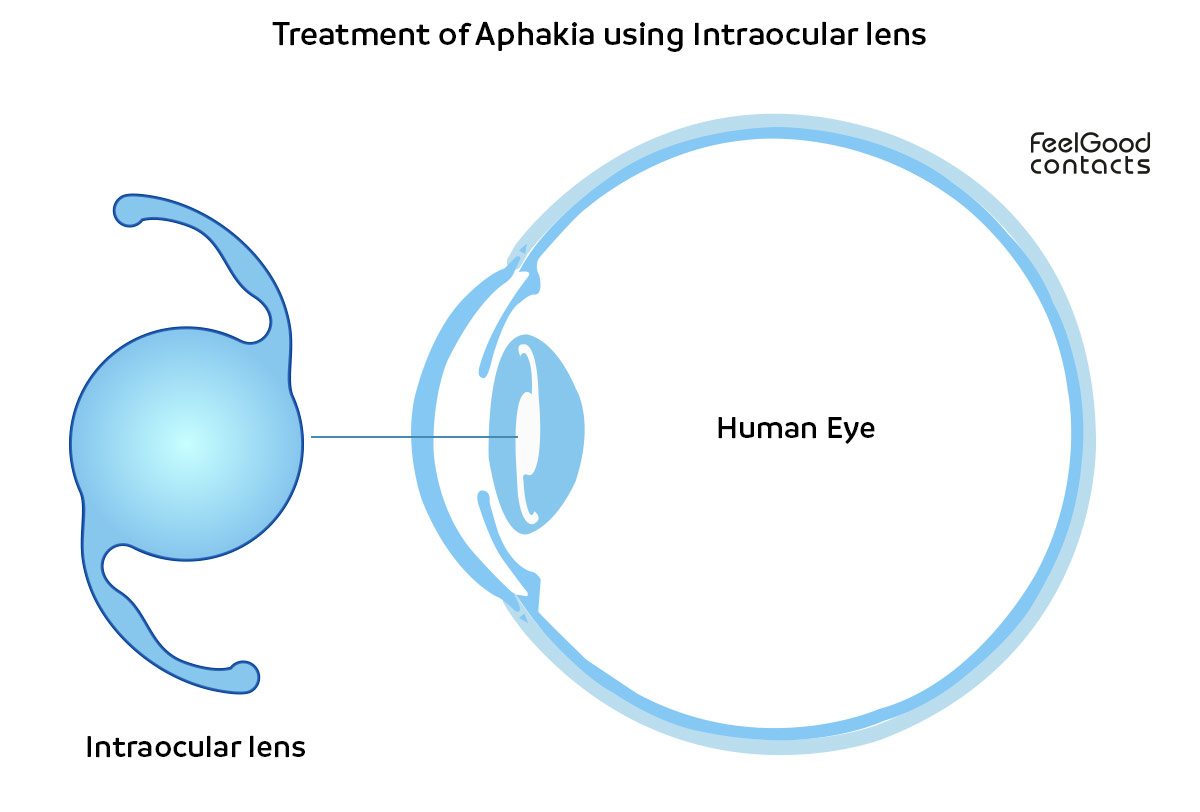 What causes aphakia?
Injuries, cataract surgery, or genetics can play a major part in aphakia. It can affect people of all ages. However, this condition is most common in adults with cataracts as the most common reason for removing a lens is cataract surgery. Patients who are 70 and above tend to suffer from aphakia the most.
Understanding the lens
The lens (a transparent structure in the eye located behind the iris) helps you to focus and see things correctly. Hence, the absence of the lens from the eye will make it difficult to focus and see things clearly due to protein changes. Similarly, it gets harder for the lens to refract light as we grow old, resulting in an eye condition called cataract.
Aphakia is mainly caused by cataract removal and replacement IOL.
Cataracts
A cataract is when the lens of your eye has a cloudy area, and your eyes can't focus light to make you see things clearly. It can make your vision blurry, like you're looking through frosted glass. The person might need to get the lens removed through cataract surgery when this happens.
Genetics
Babies with aphakia are born without lenses due to development issues or genetics. Sometimes, the lens is not formed during pregnancy, or it is absorbed during, before, or shortly after the birth, resulting in an aphakic eye condition.
Injury
Injuries or accidents can play a major role in this eye condition resulting in lens replacement.
What is Pseudophakic IOL?
Pseudophakia or IOL is the term used after an artificial lens is implanted in your eye(s) to replace your natural lens. The artificial lens will help light to focus onto your retina, giving you clear vision. Please note that patients with an IOL in their eyes are known as 'pseudophakic' and patients without any lenses in their eyes are known as aphakic.
What do aphakic people see?
People with aphakia have blurry/shaky vision. Since the lens refracts light and makes it possible to see, a missing lens results in distorted vision. For instance, aphakic people will have difficulty in seeing close-up items such as mobile screens (due to brightness and readability) or printed sheet of paper with tiny writing such as a newspaper.
It can also result in farsightedness, loss of focus and seeing faded colours. People will aphakic eye(s) are very sensitive towards bright lights; hence, they have issues looking towards bright light sources such as the sun, headlights and bright lamps.
What are the signs of aphakia?
Farsightedness (hyperopia)
Difficulty focussing on objects as they move closer or farther
Colour seems faded
Sensitivity to bright light such as sunlight, bright lamps or headlights
Frequent need to change your glasses or lenses prescription
How can aphakia be diagnosed?
Aphakia is diagnosed through a standard eye test.
A sight test is a comprehensive series of tests done by an ophthalmologist or optometrist.
As the lens of a baby starts to develop in the third week of pregnancy, an ultrasound can be used to detect if the unborn baby has this eye condition.
Can aphakia be treated?
Yes, aphakia can be treated through contact lenses, glasses and surgery. However, surgery using IOL is the most common way of treatment and may differ for adults and infants. On the contrary, aphakic glasses are very rarely used nowadays. Glasses are only considered very rarely when the person has both eyes affected (aphakic eyes). Mostly lenses are the first choice of correction.
The surgery involves removing the crystallised lens and replacing it with an artificial one (IOL). The process is safe and simple. It can be easily performed using local anaesthetics and can be completed within an hour. Post-surgery, a prescription of contact lenses/glasses might be provided to make your vision better.
Surgery for aphakic infants is handled and monitored with the utmost care.
What lens corrects aphakia?
Three types of lenses are used to correct aphakia:
Rigid gas permeable (RGP) lenses - these lenses are one of the best choices for aphakia, allowing oxygen to pass through the lens to the eyes; hence they are the healthiest choice especially for children. Moreover, these lenses require simple daily care, which greatly benefits parents.
Hydrogel lenses - these lenses should be used for children over four years of age. These lenses are made of soft material instead of hard plastic.
Silicone elastomer lenses – these lenses are highly permeable to oxygen (easy oxygen flow) compared to RGP lenses.
Although most cases of aphakia are treated with surgery, patients should go for regular eye exams to monitor their eye health.