Understanding Astigmatism: Symptoms, Causes and Treatment
Optically reviewed by Tina Patel, Contact Lens Optician at Feel Good Contacts.
Astigmatism is an eye condition caused by an irregular curvature of the cornea, lens, or both. It is one of the most common types of refractive errors – alongside myopia and presbyopia. Approximately 800,000 people in the UK suffer from astigmatism; fortunately, the eye condition is generally treatable.
Read below to learn more about the causes and symptoms of astigmatism and how this refractive vision error is treated.
Symptoms of astigmatism
There are many symptoms of astigmatism, including:
Blurred/distorted vision
Blurry vision is the most common symptom of astigmatism. This is because, due to the curvature of the cornea or lens, the light that enters the eye cannot correctly focus on the retina. Only part of the object you are looking at is in focus, resulting in a blurred/distorted vision.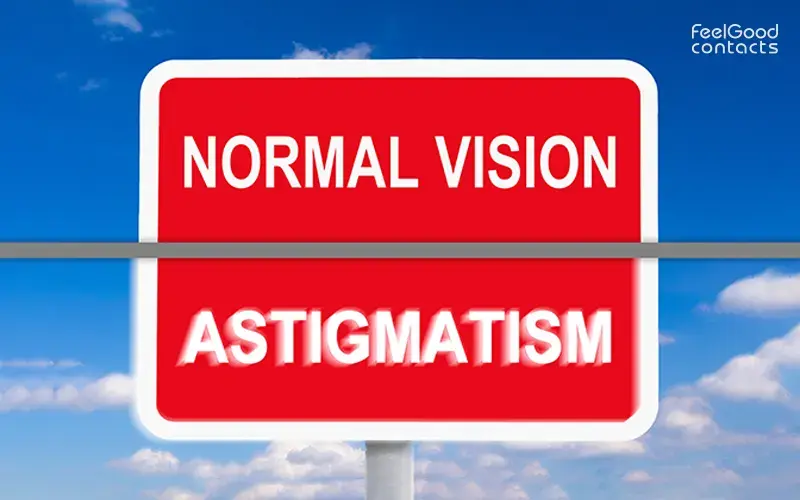 Squinting
Another common symptom of astigmatism is having to squint in order to see clearly. This is also the most common indication of whether a child may be suffering from astigmatism. Whilst squinting may temporarily improve your vision, it is usually a sign of vision issues and can cause headaches over time.
Difficulty seeing at night
Those who suffer from astigmatism may find it difficult to see or drive at night because of the glare or halos caused by streetlights and car headlights. This makes driving during the night particularly dangerous for those with astigmatism.
Headaches
The underlying cause of astigmatism-related headaches is eye strain. When your vision is blurred, your eyes will work harder to focus. This will cause fatigue in the eye and result in headaches.
It's important to note that if you are experiencing these symptoms, it may not always be astigmatism, and some people with astigmatism may not experience symptoms at all; however, you should check by getting an eye exam from your optician.
What causes astigmatism?
Astigmatism is caused by an irregular curve in the front surface of the eye - a normal eye is round and resembles a baseball, whilst an eye with astigmatism is curved, similar to a rugby ball. This curve changes the way that light refracts to your retina, resulting in blurry vision at all distances.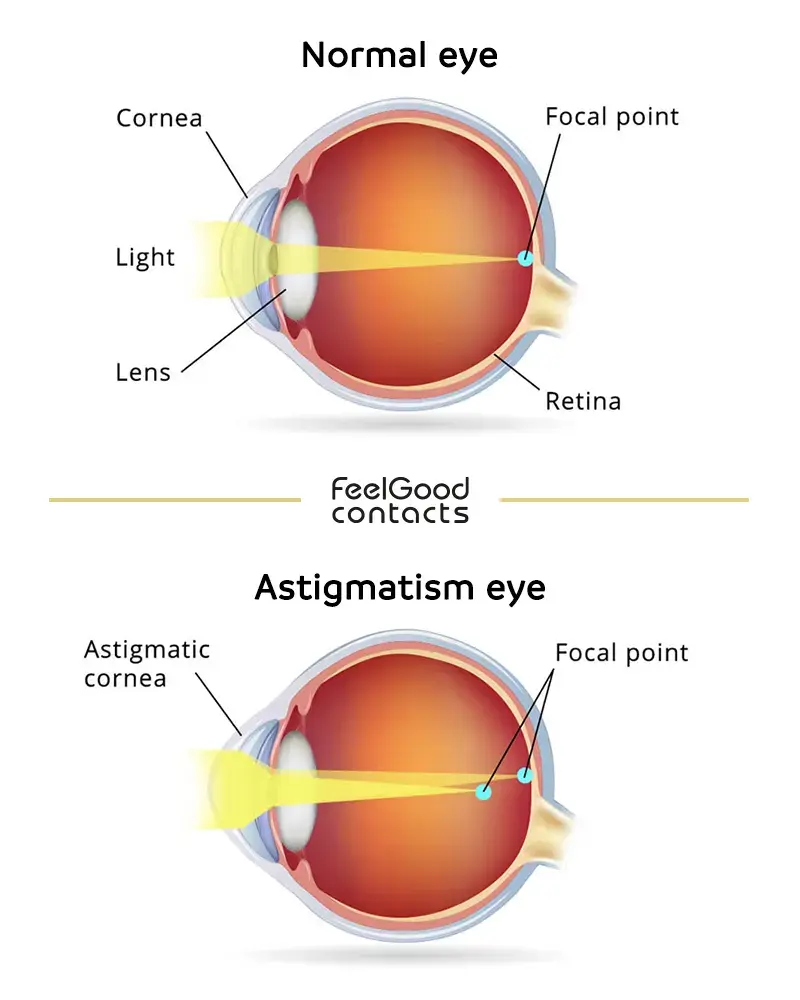 Some say astigmatism is caused by watching too much television, reading in poor light, and even squinting too often. This is false. Whilst some of these activities can indeed harm your eyesight, they will not cause astigmatism. Astigmatism is most commonly present at birth and has much to do with genetics but may also develop later in life. In some cases, astigmatism can develop after an eye injury or surgery such as cataract surgery.
There is currently no explanation for why some people have a curved cornea or lens, and there is no way to prevent from this happening.
Treatment options for astigmatism
The most common way to correct astigmatism is by wearing corrective lenses or glasses. However, there are a range of treatment options available depending on how severe your astigmatism is.
Contact lenses
Contact lenses are an effective way to correct astigmatism. Your optician will recommend toric lenses in particular, as these are specifically designed to correct astigmatism. Toric contact lenses are a torus shape instead of spherical; this allows them to bend and adjust to create different focusing powers in different areas to correct astigmatism. They also have special design features to ensure the lens sits correctly on the eye with minimal movement to keep vision sharp.
Glasses
Glasses are another effective way to correct astigmatism. Your optometrist may recommend a single-vision lens, or bifocal or progressive glasses. According to the American Academy of Ophthalmology, correcting astigmatism using eyeglasses can typically result in 20/20 vision.
There are different aspects to consider when opting for glasses to correct astigmatism:
Lens material: If you have high-level astigmatism, you'll benefit more from a high-index lens than a standard one.
Coatings and layers: Anti-reflective coating may be a good option for those who suffer from astigmatism, as this reduces the lens glare.
Frame shape: Flatter frames have fewer curves than wraparound glasses; therefore, may be a better option for those with high-level astigmatism.
Refractive surgery
Undergoing surgery to correct astigmatism will mostly eliminate the need to wear contact lenses or glasses. However, your doctor will evaluate whether this is a suitable option for you. There are different types of refractive surgery for astigmatism:
Laser in situ keratomileusis (LASIK): This is when a surgeon makes a small incision in the cornea and uses a laser to reshape it before closing the incision.
Photorefractive keratectomy (PRK): This is when a surgeon uses a laser to reshape the cornea.
Laser-assisted subepithelial keratectomy (LASEK): This involves loosening the protective cover over the cornea, before using a laser to fix the curvature.
Undergoing surgery to treat astigmatism may carry risks and side effects. However, you should not leave astigmatism uncorrected, as its severity can increase with age. Even if your symptoms are mild, you should consult an eye specialist to reduce the rate at which astigmatism progresses.
Quick links
Can you be short-sighted and have astigmatism at the same time?
How do toric contact lenses work?
A guide to blurry vision