Make your glasses non-slip
Glasses slipping down the nose can happen often if your glasses don't fit properly, you start sweating or even if you just lean your head downwards. If you tie some hair bands to the arms of your glasses and position them where the ears would sit, your glasses will stay upright all day long.
Stop your glasses from fogging up
With face masks now a daily essential, glasses wearers are faced with a constant battle of foggy glasses. If you step inside from the cold and your glasses instantly steam up, you need The AB Mask Anti-Fog Cloth. After just one use your glasses will be fog-free for up to 48 hours.
Carry a cloth with you at all times
You never know when you might need to clean your lenses, and it's best to use a microfiber cloth for this because it won't damage them. You'll often see people using their t-shirt or any cloth to hand, but the surface will be too abrasive for your lenses. Be sure to wash your cloth regularly too.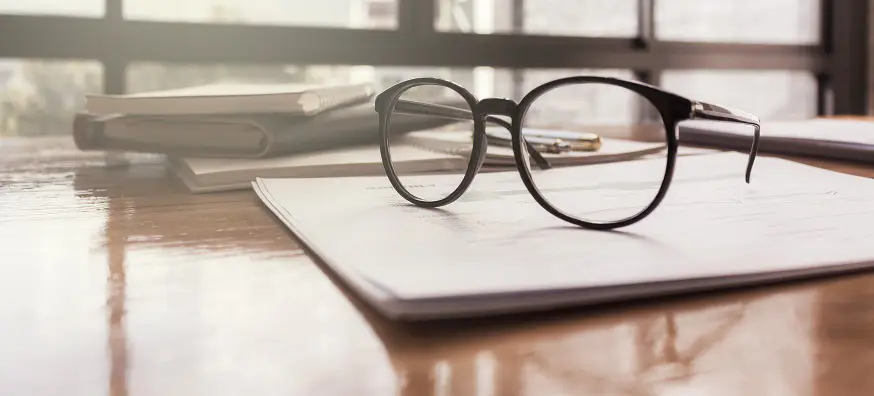 Always find your specs in the dark
If you've ever dropped your glasses in a cinema or a dark car, you'll know how annoying it can be to try and find. Paint a small strip of glow-in-the-dark paint onto your glasses.
Use a flat surface to adjust wonky glasses
If you lay your glasses on a flat surface with the arms fully extended, you'll see straight away if they need adjusting.
Put a hairband/rubber band around your shampoo bottle
Depending on your prescription, showering can be a difficult task without your glasses. Trying to determine if you've just picked up the shampoo bottle or the conditioner need not happen again with this handy trick.
Only use lens cleaner or mild dish soap
It can be tempting to just use any cleaner you have to hand, but this could damage your glasses. For more information on how to clean your glasses, visit our Eye Care Hub. Our Feel Good Cleaning Kit is the travel-friendly kit to keep your lenses clean and smear-free. Thanks to the small screwdriver you can also tighten any loose screws to ensure you have the perfect fit.
Buy your glasses online
You'll find your glasses for a low price online. At Feel Good Contacts, we have a huge variety of designer glasses across many brands, you're sure to find the perfect style for you. You can even save 10% on your order if you're a new customer.