With long gaps between paydays, post-Christmas debt and the realisation that it's time to work on those New Year's resolutions, January can be a little bleak. Having something to look forward to at the end of the month might just provide the motivation you need to stay on track.
Here at Feel Good Contacts, we've crunched the numbers* to create a comprehensive guide of all the hotels in Ireland where you can enjoy a two-night, five-star stay for two from Friday 24th January to Sunday 26th January 2020. This weekend comes just before January pay day for many and follows Blue Monday (20th January), a day dubbed 'the most depressing day of the year'.
Although this guide only includes properties that market themselves as 'hotels' as opposed to B&Bs or serviced apartments, each of the sites listed was rated as "very good" or better based on guest reviews!
Jordon Cox, the Coupon Kid, provides some of his tips for grabbing a bargain:
"January is one of the cheapest times of year to travel. After the Christmas period, money is tight and businesses feel the pinch, meaning they lower their prices to entice customers.
"If you want to fly somewhere, you can often find flights for dirt cheap. Most will be under £50 return with either Ryanair or Easyjet (and even cheaper midweek).
"Getting a cheap 5* hotel is possible. Make sure you look on hotel comparison websites to find the cheapest place to buy. No matter which travel agent you book through, you can usually get cashback from hotel stays on websites like TopCashback and Quidco. You can get up to 10% back on your stay.
"If you're okay with an element of mystery in your hotel, you can always go onto 'secret' hotels, where you don't know what hotel you are staying in until you book. It'll give you a description of the hotel before booking, which you can usually google to decipher which hotel it is referring to. You can easily save between 20-30% and not sacrifice quality"
"Christmas, and subsequently returning back to work after the break, can be a stressful period for many - so what could be better than treating yourself to a weekend away at a 5-star hotel? We wanted to show how inexpensive a staycation can be if they need a little break to look forward to once Christmas is over, great for anyone who is a little cash-strapped in January.
Dublin, Radisson Blu St. Helen's Hotel Dublin - €322.46
Marrying modern and historic elements together, Dublin's Radisson Blu St. Helens Hotel hosts both elegant decor and stylish features. Offering a fitness suite to guests alongside an Orangerie Bar & Ballroom Lounge means families, friends and couples are well suited to this unique hotel. Just 5 minutes from the city centre of Dublin, the hotel offers free car parking to guests, a rare find in the busy city.
Cork, Fota Island Resort - €350.51
Offering spacious and traditionally styled lodges, Fota Island Resort is ideal for families, relaxing weekends or golfing trips. The resort centres itself around offering guests a space to refresh themselves with the most on-trend spa treatments and packages to choose from. Three championship golf courses are available at Fota Island resort, making it the premier golf hotel on offer in Cork.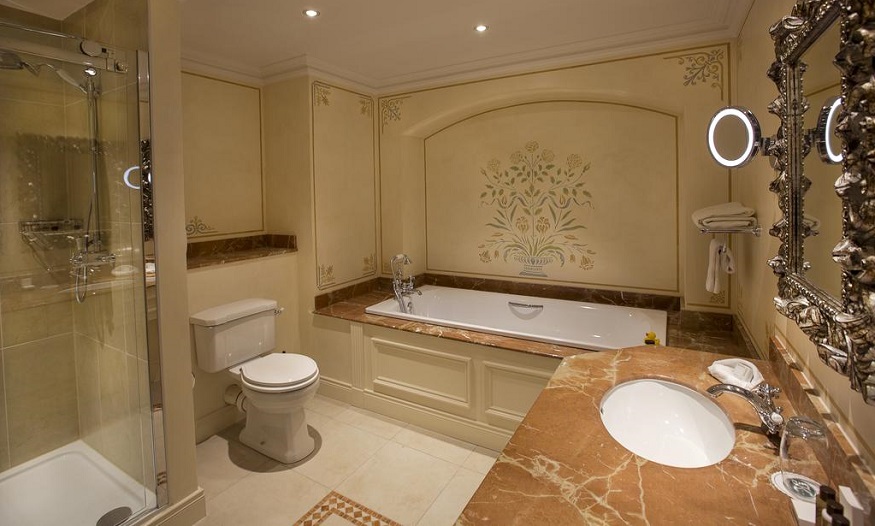 (Straffan, The K Club, picture via booking.com)
Straffan, The K Club - €390.23
As the first ever AA 5 Red Star Hotel in Ireland, the K Club is located in the beautiful county of Kildare. It opened in 1991 and has gained a reputation as the ultimate getaway for families, couples and groups of friends. With both golfing facilities and spa treatments available at the K Club, there is something for everyone at this busy hotel.
Dublin, The Fitzwilliam - €407.75
A boutique hotel located in the city centre of Dublin, The Fitzwilliam Hotel is an award winning escape at a reasonable price. Offering afternoon tea, a beauty salon and a fully equipped fitness suite, the excitement of this hotel does not finish at the luxury rooms. If you are after fantastic views, customer service and equipment, this is the ideal hotel for you.
Galway, Glenlo Abbey Hotel - €408.92
Set on a 138 acre estate and offering a movie theatre, award winning restaurant and 9 hole parkland Golf Course, this five star manor is a tough one to beat. With the Pullman Restaurant featuring two former carriages once aboard the Orient Express, the hotel pulls in tourists from all around the world. On top of this, with a chance to meet birds of prey in the Falcony and give Archery a go in the Walled Garden, there is an experience for everyone at this unique destination.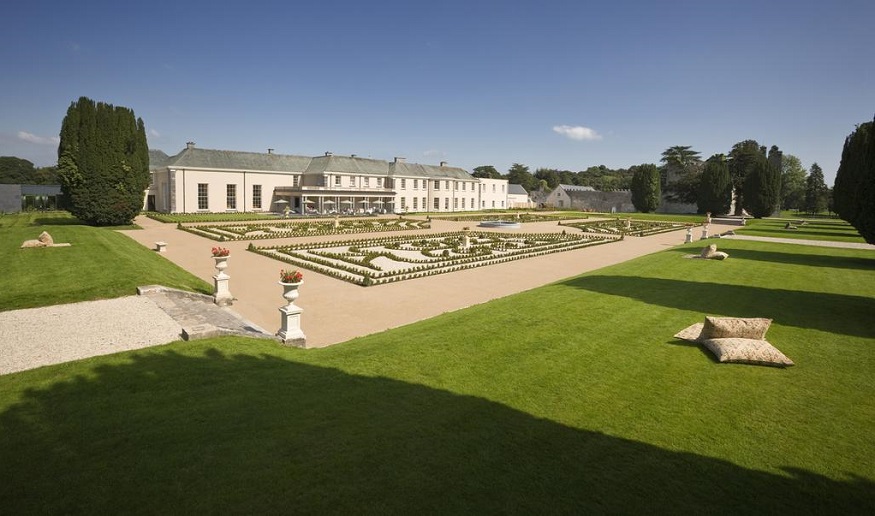 (Castlemartyr, Hotel Castlemartyr Resort, picture via booking.com)



Castlemartyr, Hotel Castlemartyr Resort - €412.43
Specialising in luxury family breaks, this five star escape will leave you immersed in Irish history and tradition. The Castlemartyr Resort features a 17th century manor house sitting adjacent to castle ruins, where 103 guest rooms and suites feature along with 47 luxury self-catering lodges. A fitness studio, 10 treatment spa room, pool and golf course are the finishing touches to the fantastic grounds in Castlemartyr which leave guests with an unforgettable experience.
Dublin, InterContinental Dublin - €415.93
This award-winning five star hotel is located across two acres of beautifully landscaped gardens. With spacious bedrooms and suites for guests to choose from, InterContinental Dublin specialises in providing luxury accommodation. Listed in some of the best categories for Irish hotels, the swimming pool, sauna and whirlpool provided by InterContinental Dublin certainly make it excellent value for money.
Kilkenny, Hotel Lyrath Estate - €420.61
Featuring picturesque gardens, beautiful lakes and historic woodlands, Lyrath Estate Kilkenny is located across 170 acres of countryside. After undertaking a 3-year transformation to marry the 17th century estate with a modern extension, the hotel offers guests contemporary features with an old twist. For those who love walking, the popular picnic spots and charming waterfalls will leave you iching to explore more!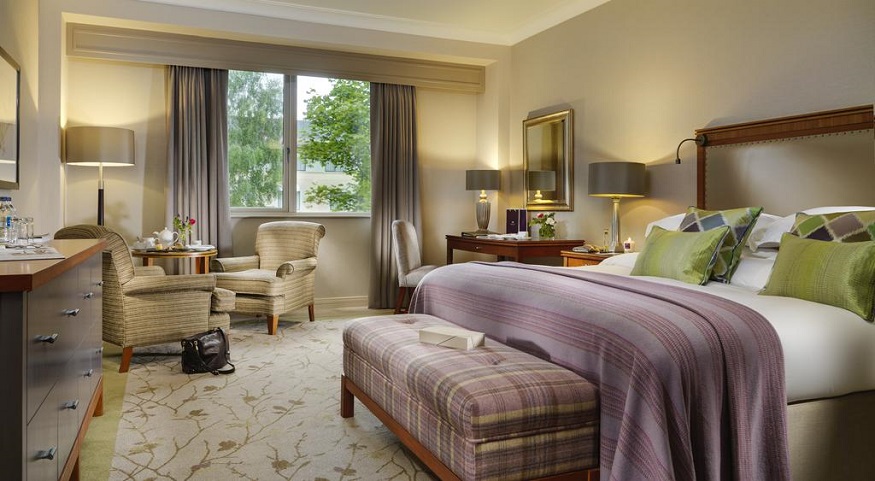 (
Cunnamore Point, Druids Glen Hotel & Golf Resort
, picture via booking.com)

Cunnamore Point, Druids Glen Hotel & Golf Resort - €420.61
Hidden between the Wicklow Mountains and Irish Sea, this 5 star hotel prides itself on offering authentic Irish hospitality and beautiful scenery. The two championship golf courses are proclaimed as some of the finest, most challenging and most enjoyable in Europe, a title confirmed its vote among the Top 5 Parkland Courses in Ireland. So, if you are looking for a 5 star golfing hotel at a reasonable price, this could be the fit for you.
Slane, Tankardstown House - €420.61
Awarded for Business Destination of the Year 2018, this elegant hotel provides friendly service and historic sites. With a booming trophy cabinet, the reputation of Tankardstown is enough to pull in guests from all over the world. From afternoon tea to spa treatments, this hotel exudes luxury in everything it offers.
Killarney, Aghadoe Heights Hotel & Spa - €421.77
Aghadoe Heights is a five star luxury resort offering a wealth of heritage with exceptional personal service. The number of refurbishments has provided guests with large windows, balconies and entrances to appreciate the fantastic views of the lakes macGillycuddy Reeks. As Ireland's first Aveda Concept Resort Spa, Aghadoe Heights Spa features a thermal suite, treatment rooms, heated loungers and eye-catching stream.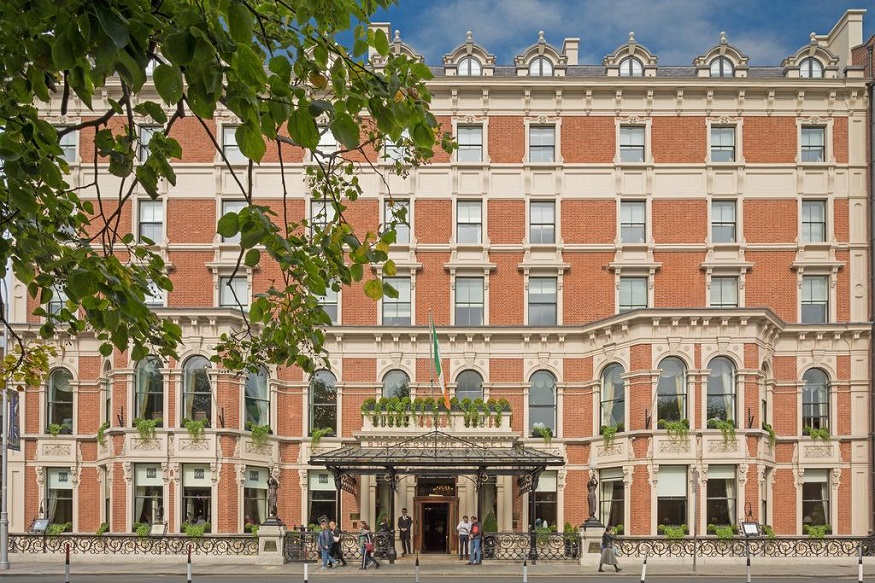 (Dublin, The Shelbourne Dublin , picture via booking.com)

Dublin, The Shelbourne Dublin - €424.11
With a perfect view of St. Stephen's Green, The Shelborne has stood for nearly 200 years in the heart of Ireland. This ideal location allows guests to explore all the sights of Dublin before relaxing in the luxurious guest bedrooms or exquisite bars at the hotel. As well as a 3-storey spa, The Shelborne also offers its very own salon where guests receive beauty treatments or hairdressing with a glass of champagne.
Dublin The Merchant House - €428.78
The Merchant House is an early Georgian city building in the centre of 'Temple Bar', the oldest part of Dublin City. The fantastic location of the hotel means guests are a stone's throw from the museums, cathedrals and historic sights to visit in Dublin. With discounted parking and beautiful suites to choose from, this adult only hotel is the perfect place for avid travellers.
Dublin The Westin Dublin - €449.81
Offering three eateries to guests, The Westin Dublin is an iconic building overlooking Trinity College and the famous Spire. Located within the high end shopping and entertainment district, this hotel is perfect for those visiting the Convention Centre Dublin or International Financial Service Centre.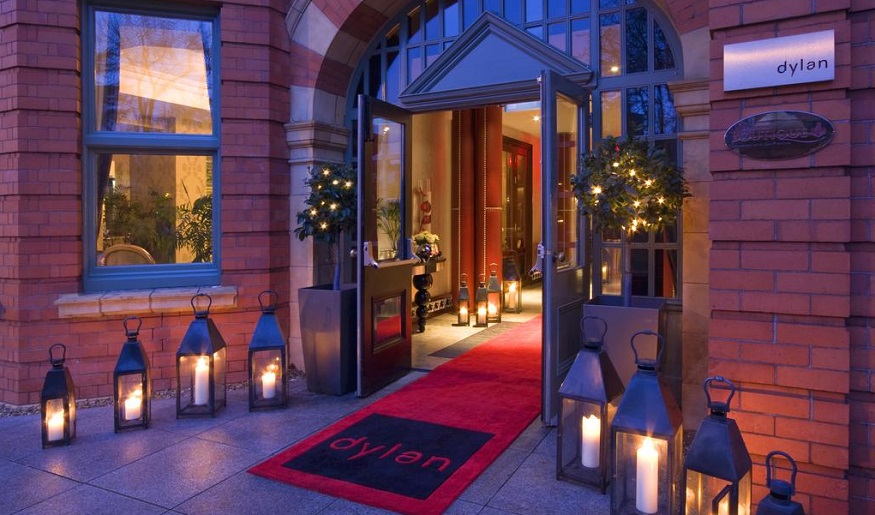 (Dublin, Dylan Hotel Dublin , picture via booking.com)

Dublin, Dylan Hotel Dublin - €466.17
Self-titled as Dublin's leading five star boutique hotel, Dylan Hotel provides contemporary luxury in a former nurse's home for the Royal City of Dublin Hospital. Following a recent transformation to the public areas of the hotel, guests are invited to dine at the award winning Dylan Bar, The Eddison Restaurant, Ruby room and The Nurserie Terrace.
Donegal Town, Lough Eske Castle Hotel & Spa - €468.51
For a real life fairytale experience, we recommend visiting Lough Eske Castle Hotel. The hotel offers converted stable rooms, elegant Castle Suites and contemporary Garden Suites, meaning there is a style to suit every need. With rainforest showers, boutique furnishings and a unique spa, the award winning hotel dazzles all with the experience it provides to guests.
Galway, The G Hotel & Spa - €474.35
Providing the only five star spa in Galway, the g Hotel offers guests luxurious getaways including pamper packages and gourmet experiences. The excellent customer service and beautiful rooms leave overnight stayers feeling like royalty and desperate to return!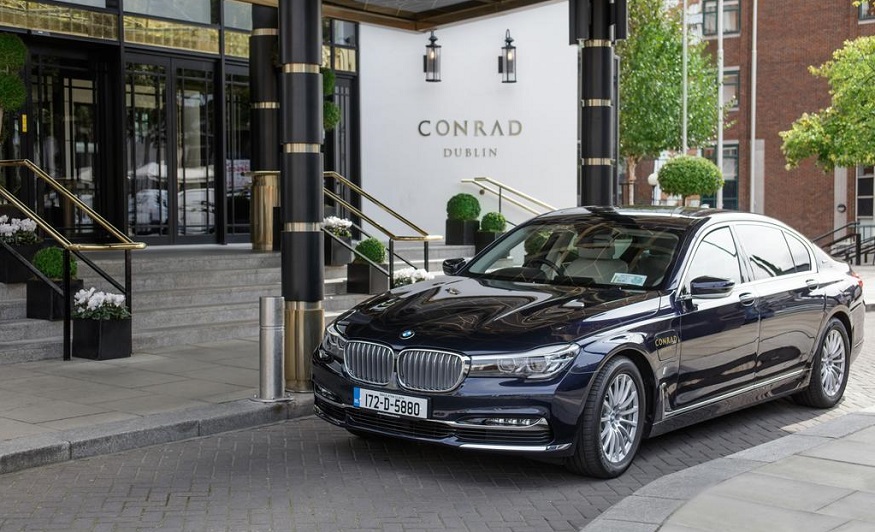 (
Dublin, Conrad Dublin
, picture via booking.com)

Dublin, Conrad Dublin - €479.02
Another recently refurbished hotel, Conrad Dublin provides an award winning stay in the heart of the city. The 192 guest rooms are inspired by the rich heritage of Dublin, meaning guests are treated to charming furniture and beautiful spaces. With picturesque views of St Stephen's Green from the hotel, the experience leaves a lasting impression on all who visit.
Dublin, The Westbury Hotel - €490.71
Voted the number one hotel in Ireland by Condé Nast Traveler Readers' Choice Awards 2019, The Westbury prides itself on offering charming service and luxurious surroundings. The top theatres in Dublin, as well as museums and galleries are all located within short distances, meaning guests can explore the cultural city with ease. The most expensive of the five star hotels, The Westbury delivers fine dining and accommodation to all who visit.

Once you've decided when you want to relax, don't forget your eyecare. Monthly and two-weekly contact lens wearers can shop our travel pack sized solutions here. Perhaps consider daily disposable contact lenses for ease of wear and no cleaning and storing routine.