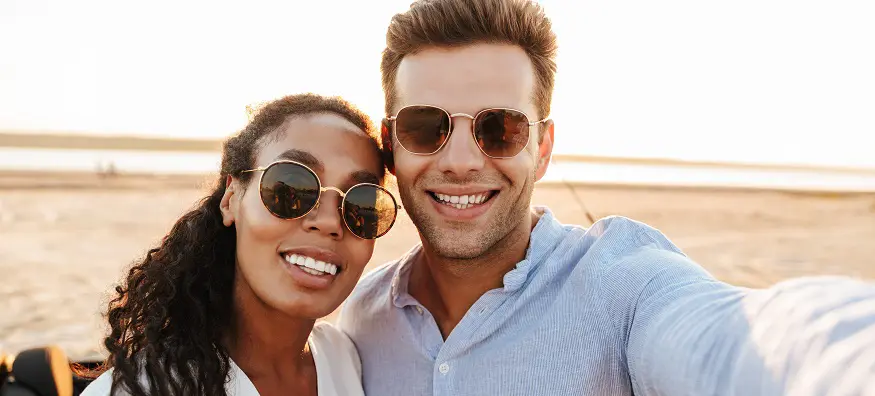 How Ray-Ban started
Founded in 1937 by Bausch and Lomb, the US Army Air Corps needed new eyewear to help minimise the headaches and eye strain pilots endured from the bright conditions in the sky. The brand was bought by luxury eyewear conglomerate Luxottica Group in 1999.
Ray-Ban created the Aviator
The company invented the Aviator style, a functional accessory to protect pilots' eyes whilst in the air. With a large lens style to provide more coverage from the sun and anti-glare technology. This was also when they first created their famous G-15 green lens, which gives natural vision during wear. The unique style of the Ray-Ban Aviator soon became a fashion-favourite outside of aviation.

From the start, Ray-Ban frames innovated the eyewear industry and had instant mass appeal. The shapes they choose are timeless enough to go with anything and everything you wear. No matter what model you choose, they will surely become a versatile piece in your collection.
Ray-Ban Stories – wearable technology
Ray-Ban joined forces with Facebook to create Ray-Ban Stories, an innovative technology that allows the wearer to record video and take photos using its dual 5 megapixel camera. There are 3 built-in microphones to record sound from all around you. With touch controls, voice activation and its own charging case/app, this one of the most exciting wearable technology accessories out right now.
Which celebrities wear Ray-Ban?
It would be much easier to name celebrities that don't wear Ray-Ban! The brand is popular with all kinds of Hollywood actors, presenters, performers, and TV personalities.

Some of the most notable celeb fans include:
Rihanna
Hailey Bieber
Tom Cruise
Emma Watson
Kate Middleton
Priyanka Chopra
Taylor Swift
The list goes on! When this many people endorse a brand (without being paid to do so) it's a sign that the brand is definitely doing something right.
Is Ray-Ban worth the price?
Although the brand isn't as expensive as some designer labels such as Chloe and Jimmy Choo, they are still more expensive than budget brands such as Polaroid and Le Specs. This mid-range price point is one of the reasons the brand is universally loved. If you're looking for an excellent pair of sunglasses, the quality and attention to detail of these frames justify the price.

If you're looking for Ray-Ban offers on sunglasses or prescription lenses, at Feel Good Contacts you can redeem 10% off your first order, making them even more affordable, try on different styles virtually. You can find the perfect pair, made from high quality materials and all with 100% UV protection. Some of our models also have polarised lenses, to reduce glare from the sun.
Which Ray-Ban models are the best?
It's difficult to choose! There are so many amazing styles in their collection, but here are some of the most popular models, along with some newer favourites.
Ray-Ban Original Wayfarer RB2140 901 50 Black
The original Ray-Ban wayfarer is a classic and with good reason. The characteristic slant of the frame adds a laidback vibe to your look. You could also opt for the Wayfarer Ease which is the same shape just without the tilt. Or the Mega Wayfarer which features larger temples.
Ray-Ban RB3025 Aviator Silver W3277
The iconic style that put Ray-Ban on the map. The Aviator is a practical and stylish accessory that suits all occasions. There are quite a few colourways for this style, ensuring everyone can find a colour to suit them. We love the timeless silver one.
Ray-Ban RB3565 Jack Arista 001/GD
The Jack Arista is one of the newest creations from the brand. Potentially their most modern style to date, this cross between hexagonal and round is a unique and stylish shape that has already become a popular model in their collection.
Ray-Ban RB3447 Round Metal 001 Gold
The round shape has always been in fashion, its retro shape is an effortless way to add to your style credentials. The G-15 lens and gold-coloured metal frame are a match made in heaven.
Avoid counterfeits
As a popular brand, Ray-Ban is one of the most counterfeited products in the world. You need to know what to look out for when authenticating, if you're unsure, read our blog on how to spot fake Ray-Bans for some useful tips. You should only ever buy your Ray-Ban eyewear from reputable retailers, such as Feel Good Contacts which is a licenced retailer of the brand.