If you decide to wear coloured contact lenses this year, there's a few things you should keep in mind.
Being tricked into buying cheap coloured lenses for Halloween is easy, as they're inexpensive and highly accessible to buy in store and online. However, these shop-bought lenses are often of very poor quality and pose a threat to your eye health.
Thankfully, at Feel Good Contacts we stock an extensive range of quality branded coloured contact lenses, from some of the world's most reputable manufacturers. Our range of coloured lenses offers both monthly and daily coloured contacts to suit every need.
Never buy coloured contact lenses without a prescription
We strongly advise against buying and wearing cheap coloured contact lenses without a prescription.
Unfortunately, many high street and online retailers take advantage of the short period that Halloween falls in, offering cheap Halloween contact lenses that may not actually be safe to wear. These lenses are often not sterile, or have expired, which makes the selling of them illegal.
In fact, all coloured lenses, whether for prescription or cosmetic use are classed as medical devices and should be prescribed by a qualified optician. With this in mind, make sure to visit an optician, regardless of whether you need a prescription or not, before buying coloured contacts.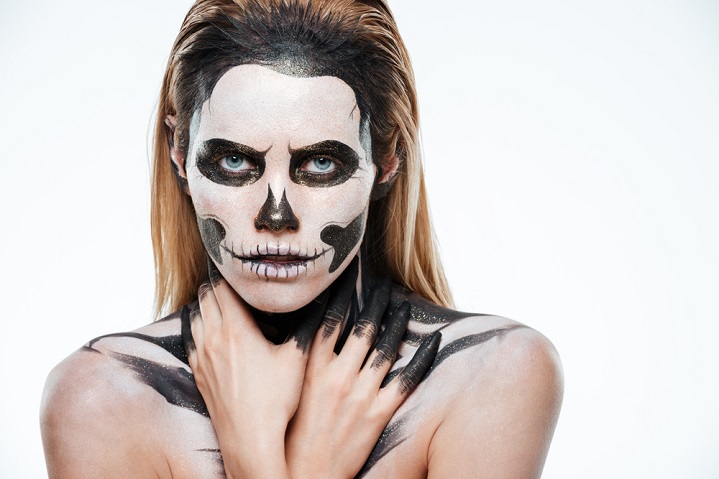 Insert your contact lenses before you apply your makeup
To follow good hygiene, you should always put your lenses in prior to applying your make-up. This is especially important around Halloween, as you might be applying eyeliner, mascara or eye make-up for your scary look.
For contact lens wearers, it's also recommended to wear hypoallergenic make-up to avoid any irritation of your eyes. Be aware, false eyelashes can cause irritation too, so make sure to apply them safely and follow the instructions provided.
Please note: always thoroughly wash and dry your hands of any fake blood, cobwebs and slime before handling your contact lenses.
Don't forget to remove your lenses before bed
After a haunted house party or ghoulish gathering, a common mistake made by party goers is forgetting to take their lenses out before getting into bed. Unless you're wearing extended wear lenses (prescribed by an optician), you should always remove your contacts before bed to avoid irritation or infection.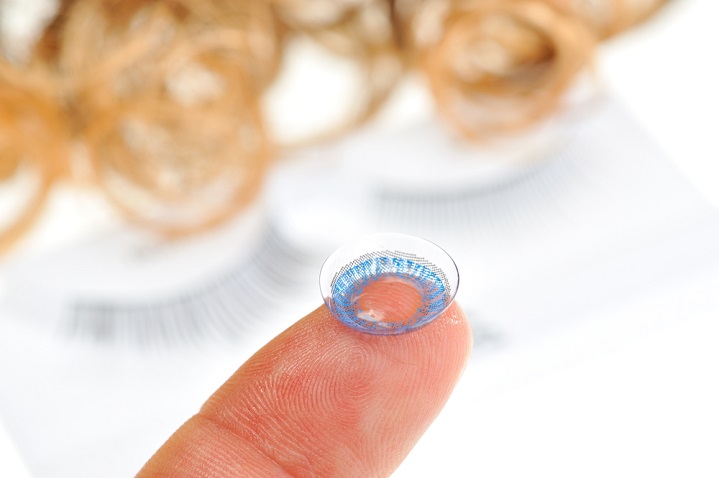 Correctly store or dispose of your contact lenses
After removing weekly or monthly lenses, you'll need to store them in solution overnight.
A multi-purpose solution is just what you're after, offering everything you need in one bottle. Designed to clean, rinse and store your contact lenses, why not opt for a convenient travel pack solution? You can even carry this with you on your night out, without taking up too much extra space or weight.
Alternatively, if you're wearing daily disposable contact lenses, simply throw them away before getting into bed.
Don't ever share your contact lenses
Never, absolutely ever, share your contact lenses with anyone. It might seem like a fun idea in the moment to swap contact lenses with your friends but sharing your Halloween contact lenses is dangerous and can lead to seriously scary eye problems.
If at any point you experience any discomfort or irritation from wearing your coloured contact lenses, immediately remove them and contact your optician as soon as possible.
The Feel Good Contacts team hope you have a boo-tiful Halloween and stay safe while you're out partying! If you have any suggestions or advice to offer your fellow contact lens wearers, don't be afraid leave a comment below.