Comfi is a wonderful multi-purpose solution that offers the unique combination of performance and convenience, alongside outstanding value. Lenses are lubricated by the solution, while they are also cleaned, disinfected, rinsed and stored, which means your eyes will feel more comfortable than ever.
Interestingly, comfi All-in-One solution is the only multi-purpose solution that uses two cleaners whilst cleaning your lenses. This means that you can rely on a hygiene level unrivalled across the industry. In addition, the solution has a pharmacy grade hyaluronate. This HA is a natural lubricant that works to offer more moisture, something that is of particular benefit to those with dry eyes, and prevents your contact lenses from drying out.
It is worth noting that solution is not preservative-free, however more importantly to note that only one contact lens solution currently on the market has no preservatives.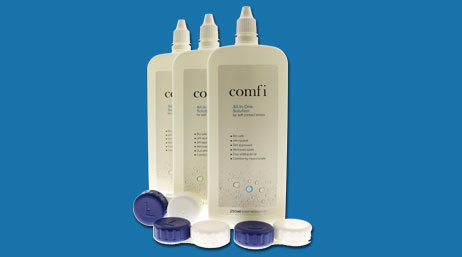 Versatility across our range is something Feel Good Contact Lenses have always been proud of, and we are delighted to present this exceptional multi-purpose solution in 3 different-sized packs. You can try out the impressive solution for a month with a
250ml bottle
available, or you can even stock up for 3 months with our
multi-pack bundle
.
In addition, we are also very proud to currently stock a
comfi All-in-One Solution Travel Pack
, your perfect companion for whenever you're jetting off abroad. With a 100ml bottle and a contact lens case provided, you can count on keeping your lenses lubricated and your eyes safe, whilst also abiding by airport baggage restrictions.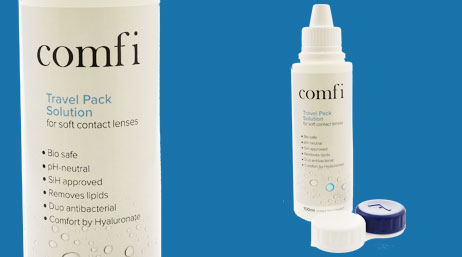 Shop
from our comfi All-in-One range, and enjoy a unique multipurpose solution that ticks all the boxes of: performance, quality, value
and
comfort.