Oté Optics
Sort By: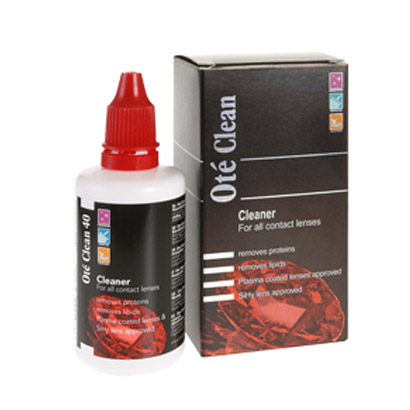 What are Oté Optics contact lens solutions?
Oté Optics is one of the most celebrated eye care manufacturers on the market, providing a premium selection of contact lens solutions for all contact lenses. Ote Clean is not suitable to be used with soft contact lenses. This solution is powerful enough to disinfect your lenses, yet gentle enough for sensitive eyes.
What types of Oté contact lens solution are there?
Ensure you have a healthy contact lens wearing experience, use Ote Clean contact lens cleaner (formerly called Crystal Cleaner). This solution is specially formulated to be used with soft or hard lenses. This daily cleaner disinfects, removes dirt, debris and protein build up from the lens surface, for an intensive clean.
Can I take Oté contact lens solution in my hand luggage?
As this solution is 40ml in size, its perfect for cleaning your lenses abroad. This travel sized solution is ideal to keep in your hand luggage when travelling as it meets cabin luggage restrictions. We also have some handy tips for taking care of your lenses whilst on holiday.
Which contact lens solution do I need?
There are several types of solution available at Feel Good Contacts, such as hydrogen peroxide . If you're unsure about which contact lens solution to use for your lenses, please visit our Eye Care Hub for more information. You'll also find other useful tips about contact lens care, such as how to clean your contact lens case and how to look after your lenses.
Have a question?
For any questions or queries you may have regarding Ote solutions or any other products, please don't hesitate to contact our helpful customer service team. Call us on 01 514 3614 or email us at cs@feelgoodcontacts.ie.

Buy your contact lens solution from Feel Good Contacts and enjoy FREE delivery when you spend over €55. At Feel Good Contacts, we promise we won't be beaten on price with our Price Match Guarantee. Buy your Ote Clean solution for the cheapest price in Ireland from Feel Good Contacts.