Can You swim with contact lenses?
Medically reviewed by Sharon Copeland on 6th April 2022
Water can pose a serious threat to contact lenses and contact lens wearers, so swimming with contact lenses or getting them wet should be avoided at all times. Water is a host for harmful microbes and viruses. Lenses absorb water very quickly and can trap all sorts of germs, bacteria and viruses against your eye if left in for a long time after getting wet. This can lead to inflammation and infection. The most dangerous of these infections is the Acanthamoeba organism. The organism is responsible for causing a condition known as Acanthamoeba keratitis. While the condition is very rare, contracting it can result in partial or full vision loss or require a corneal transplant.
Swimming with contact lenses
Swimming with contact lenses is highly advised against by opticians and eye care specialists. In fact, you should not expose your lenses to water of any type including tap water, showers, lakes, the sea and so on. Not only can exposure to water when wearing contact lenses cause infection, it can also cause your lenses to tighten, depriving your eyes of oxygen and resulting in dry eye. Swimming with contacts should be avoided.
Chemicals in a swimming pool such as chlorine will not kill harmful microbes. Soft contact lenses are particularly porous, making them susceptible to absorbing the bacteria and chlorine in pool water. In addition to this, when wet, contact lenses can change their shape causing blurry vision and discomfort.
Can you swim with contacts?
If you need to keep your lenses in while swimming, it's advisable to wear daily disposable contacts and use tight waterproof swimming goggles. Daily contact lenses are the most hygienic wear lenses and can be thrown away straight after swimming and replaced with a new pair.
Better still, you can eliminate the need to wear contact lenses in water by opting for prescription swimming goggles. These are available as ready-made models with the same prescription in both eyes or as bespoke goggles, made with your exact prescription for each eye.
How to swim safely with contact lenses?
The safest way to swim with contact lenses is to wear waterproof airtight swimming goggles. After you swim, whether you think any water has reached your eyes or not, make sure you dispose of your contact lenses to eliminate the chance of irritation or infection.
Making sure you carry eye drops in your swimming kit is also an excellent idea. You can apply these in the changing room or on the beach as these can help reduce stinging, redness and burning.
Try Clinitas Soothe
Clinitas Soothe eye drops offer quick, soothing, and effective relief for dry, gritty, and irritable eyes. They are suitable for contact lens wearers and come in travel friendly, resealable vials, perfect for on the go. They feature sodium hyaluronate to hydrate the tear film and mimic the eye's natural tears for long-lasting comfort.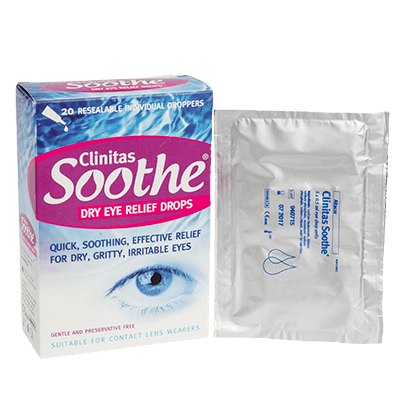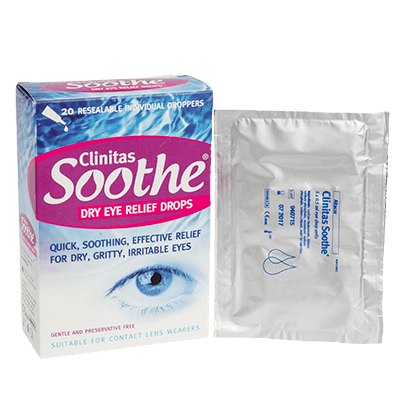 What are the risks of swimming with contact lenses?
Swimming with contact lenses poses huge risks to your eye health and can lead to a range of eye issues including:
Corneal ulcers
Inflammation of the eye (uveitis)
Corneal abrasion
Acanthamoeba keratitis
Swelling
What to do if you get your lenses wet?
If you get your lenses wet by accidentally swimming or showering with them, remove them straight away and dispose of them immediately. Rather than replacing your lenses with a new pair, we recommend using sterile eye drops and giving your eyes a break for the day by wearing glasses instead.
Make sure you also keep a lookout for any signs of an eye infection and if you experience any symptoms, contact your doctor to get treated immediately. Symptoms of an eye infection include red eyes, pain, itchy eyes, teary eyes, blurry vision, eye discharge, swelling, sensitivity to light and feeling like you have something in your eye.
Can you wear contacts in the pool?
You should avoid wearing contacts in the pool. Soft contact lenses in particular are especially porous and more prone to absorbing bacteria and chemicals from swimming pools. Rigid gas permeable contact lenses on the other hand can easily dislodge in water.
Prescription goggles for swimming
Prescription goggles are a highly recommended alternative for thosewho need visual correction while they swim. They will sharpen your vision while preventing any water from coming into contact with your eyes, therefore, reducing the risk of contracting an infection whilst wearing contact lenses in water.You can get custom made prescription goggles for a wide range of refractive errors including myopia, hyperopia, presbyopia and astigmatism. For more basic prescriptions, you can buy readymade prescription goggles. These come with the same prescription for both eyes.
Can I Scuba Dive/Snorkel wearing contact lenses?
Scuba diving /snorkelling, like swimming while wearing contact lenses increases your risk of an eye infection and we would highly advise against it. There are prescription masks available for scuba diving and although these are relatively expensive, it is worth the investment. You can also get clip-ins with your prescription.
If you do decide to wear contact lenses while scuba diving, make sure you wear daily disposables with an airtight diving mask over the top. Nevertheless, there is still a risk of the mask flooding and you losing your contact lenses or having to refit them. When diving with soft lenses, you should close your eyes or remove your mask if it floods to avoid losing your lenses.
According to LiveAbout, The Divers Alert Network Europe (DAN) advises against diving with hard or gas permeable contact lenses as the increased pressure under water can cause them to suction to your eyes which can be painful. In addition to this, if air bubbles get trapped between the lens and the eye, this can lead to blurry vision.
As you cannot communicate verbally underwater, always make sure to let your diving partner know if you are wearing lenses, should one fall out and you lose visibility. Due to the changes in pressure as you descend during diving, it is highly advisable that you do not wear rigid gas permeable lenses and opt for soft contact lenses.
Scuba diving and snorkelling in contact lenses puts you at risk of both acanthamoeba keratitis and microbial keratitis (an infection on the cornea). Both these can be extremely painful. If you experience persistent irritation that will not clear in your eyes after being in the water, visit your optician or GP at the closest opportunity.
Even though many people scuba dive/snorkel while wearing contact lenses, they are putting their eye health at risk. The Eye Drops Database shared some poll results from the charity Fight for Sight which highlights that 'many Brits are frequently putting their eyesight at risk through unsafe contact lens habits.' One of these habits included swimming with contact lenses which increased their risk of Acanthamoeba Keratitis.
Quick links:
Can I clean my contact lenses in water?
What to do when your contact lenses hurt?
Sports and contact lenses