During the winter, it's extra important to look after yourself and make sure that you're getting all the right nutrients from your diet. After all, by maintaining a healthy diet, you'll be much less likely to fall victim to one of those dreaded colds that are circling around the office. And, you'll also find you have more energy to conquer those pitch-black mornings!
Of course, as eye care specialists, we'd love you to take the health of your eyes into account when it comes to food. There's loads of healthy, nutritious additions you can make to your diet to help your eyes stay healthy and vision sharp.
Here are just a few of our favourites:

Irish stew
Would it really be an Irish winter without a pot of good old fashioned stew on the go at any given time? It may come as a bit of a surprise to know that a bit of beef is actually good for the eyes. The leaner the better, beef contains zinc, which helps the body with vitamin A absorption when eaten in moderation. Vitamin A can be found in carrots, another ingredient of this hearty recipe, and helps to fight off night-blindness.

Instructions:
1) Melt two knobs of butter with the oil in a pan (large and heavy-bottomed works best, with a tight fitting lid needed later)
2) Add the garlic and onions to the pan, letting them cook on a low heat for 15 minutes
3) Chop the potatoes into different sizes, then add to the pan. Stir thoroughly to coat in the sauce
4) Add three pinches of salt and plenty of black pepper (as much as you prefer) to the pan
5) Leave the pan to cook over a low heat for a further 15 minutes
6) Meanwhile, heat a drop of oil in a frying pan over a low heat. Add the excess fat from the lamb to the pan. Allow this to render down, before adding salt and pepper
7) Remove any solid fatty bits that are still in the pan, then add the lamb chops and allow to brown on both sides
8) Remove the lamb chops, and add them to the pan of potatoes, onion and garlic
9) Add a third of the stock to the frying pan, stirring well to remove any lamb from the bottom of the pan. Pour this into the pan with the chops and potatoes
10) With the rest of the stock, pour it into the pan until it reaches just under the level of your ingredients. Add the lid to the pan, then allow to cook over a low heat for one and a half hours
11) If you wish, you can add some chopped parsley 10 minutes before the stew is ready
12) Remove the stew from the heat, leave to stand for 10 minutes before serving
What you'll need:
Butter
1 tbsp olive oil
3 cloves of garlic
4 onions
6 large potatoes
8 lamb chops with excess fat trimmed off and kept
565ml lamb stock
Salt and pepper
Chopped parsley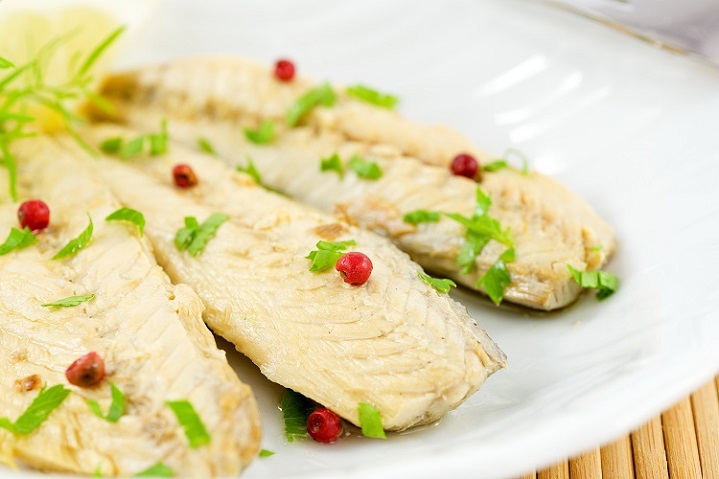 Mackerel breakfast
Now this one's about as quick and easy to make as meals come. And, it's also a sure-fire way to make sure your body is getting just the right vitamins you need when you treat yourself to a mackerel breakfast this winter. Mackerel, like all oily fish, is full of Omega-3 fatty acids, which are super beneficial to your eyes' long-term health and also help to keep your eyes moist and feeling good. Even more nutritious the salmon, mackerel is an easy addition to your diet that can prevent the onset of dry eyes. And, with a nice egg or two on top of your mackerel, you'll be getting a nice dose of lutein, which helps to fight off macular degeneration. All of which is served on a bed of traditional Irish soda bread.

Instructions:
1) Boil 2 pans of salted water
2) Add both mackerel fillets to 1 pan, and poach for 4-6 minutes
3) Add both eggs to the other pan and poach for 3 minutes
4) Toast the soda bread and drizzle with oil
5) Place the bread on a plate, and top each slice with a mackerel fillet and a poached egg
6) Season with pepper, and a sprinkle of chopped chives
What you'll need:
2 large slices of soda bread
2 large eggs
2 mackerel fillets
Olive oil
A few fresh chives
Pepper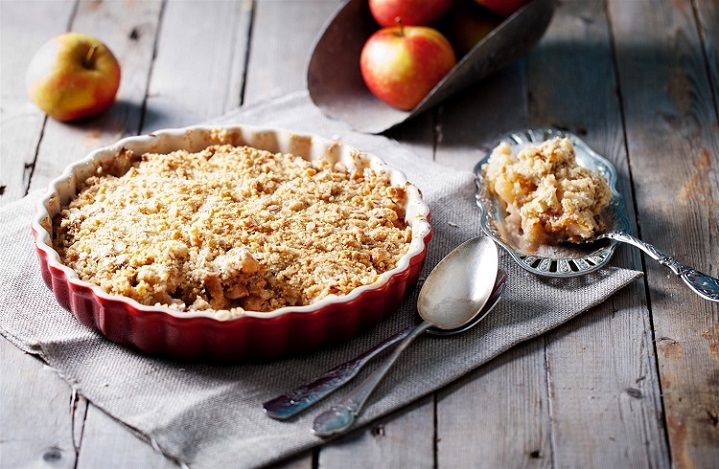 Apple crumble
A classic of everyone's winter cookbook, apple crumble truly is the greatest dessert around for many of us. It's the perfect ending to a Sunday dinner on a cold winter's day, so we thought we'd offer a helpful recipe of our own, designed to give your eyes and your body that boost they need during these cold months. As well as being a good source of vitamin C, apples are also packed full of bioflavonoid, which lower your risk of developing cataracts or age-related macular degeneration. Which is just another reason why you should whip up a crumble next time you fancy something sweet!

Instructions:
1) Preheat the oven to 180C
2) Mix the flour and 175g of the sugar together in a large mixing bowl, adding a pinch of salt
3) A few at a time, rub cubes of the butter into the flour mixture until it resembles breadcrumbs
4) Add the apples into a separate large bowl, before adding the remaining 50g sugar, a tablespoon of flour and cinnamon. Stir well, but gently to avoid breaking up the fruit
5) Butter an ovenproof dish, then spoon the fruit mixture into the bottom
6) Sprinkle the crumble mixture over the top of the fruit
7) Allow to bake in the oven for 40-45 minutes, until the crumble mixture has been browned, and the fruit mixture is bubbling
8) Serve with custard or ice cream

What you'll need:
300g plain flour
A pinch of salt
200g unsalted butter
225g unrefined brown sugar
Knob of butter for greasing
450g peeled and cored apples, cut into 1cm pieces
Tbsp of flour
1 pinch of ground cinnamon