Good eye health can start from what you eat. Nutrient-rich foods are key in maintaining a well-balanced diet and improving your ocular health. Vitamin A, vitamin C, Omega-3 fatty acids and lutein have been proven to maintain healthy cells and tissues in the eye. They can slow down age-related eye problems, diseases and help against dry eyes. Sources of these nutrients can be found in a range of foods, including high citrus fruits, eggs, oily fish, carrots, green vegetables and even sunflower seeds.
Tip: In particular, compounds that give fruits and vegetables their pigments are known to reduce the risk of eye diseases. So, thankfully they'll be easy to spot.
Here's just a few recipes we've found that contain the ingredients needed to promote healthy eyes.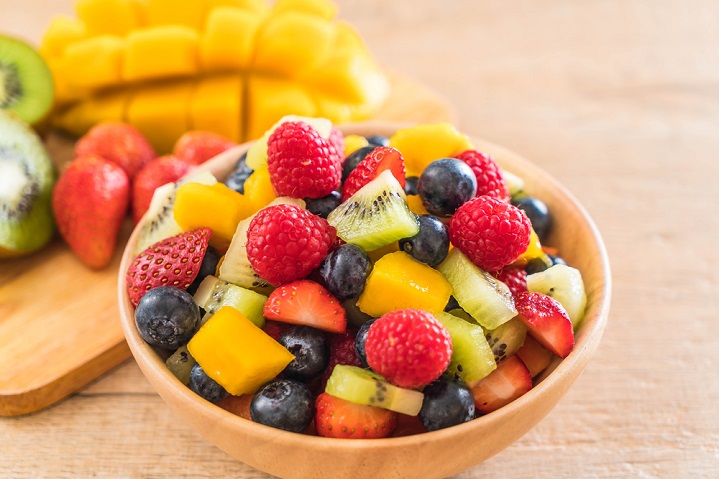 Fruit Salad via Delish
Dive into a refreshing bowl of fruit salad. These fruits are the perfect summer snack and hold all the vitamins and nutrients you and your eyes need!
Ingredients:
For salad
1 lb. hulled and quartered strawberries
6 oz. blueberries
6 oz. raspberries
3 peeled and sliced kiwis
1 orange peeled, and wedges cut in half
2 peeled and chopped apples
1 peeled and chopped mango
2 cups of grapes
For dressing
1/4 cup of honey
1/4 cup of freshly squeezed orange juice
Zest of 1 lemon
Method:
In a small bowl, whisk the honey, orange juice and lemon zest together.
Then, add all of the fruit into a large bowl.
Next, pour over the dressing and gently toss.
Finally chill your fruit salad until its ready to serve.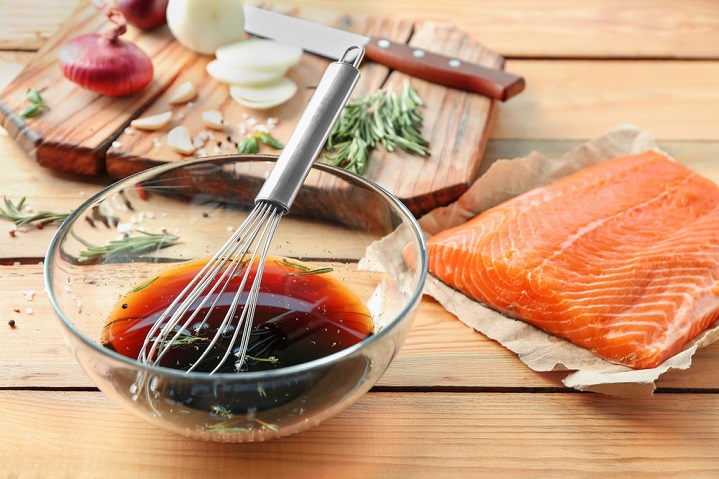 Salmon Teriyaki and Sweet Potato Mash via Ocado
Enjoy a delicious summer meal, rich in Omega-3 and fatty acids to help keep your eyes clear and healthy.
Ingredients:
For the salmon
½ bunch coriander
1 pinch ground black pepper
1 clove garlic
1 pinch salt
2 tbsp light soy sauce
1 tbsp pure clear honey
1 tsp root ginger
2 tbsp mild olive oil
4 salmon fillets
For the mash
8 peeled and chopped sweet potatoes
1 dash butter
2 tsp chopped garlic
1 handful flat leaf parsley
2 tbsp light olive oil
Method:
Start off by pre-heating your oven to 200 ºC.
For the salmon, mix all the ingredients in a bowl together. Then add the salmon fillets and allow to marinade for 30 minutes.
Next, add the sweet potatoes to a pan of boiling water for roughly 7 minutes.
Then, place the marinated salmon into a baking dish and into the oven for 10 minutes.
Meanwhile, drain the potatoes and mash together the final ingredients. After this, stir in the finely chopped parsley.
Serve the salmon on top and drizzle the marinade around the mash to finish.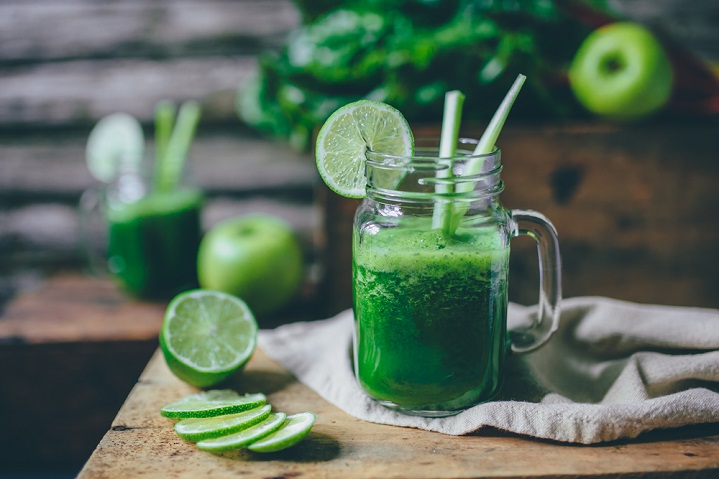 Naturally improve your eye health with leafy greens such as kale. These are good for your eyesight, being a valuable source of lutein. Start your morning right with this refreshing summer drink.
Ingredients:
5 large kale leaves
1-2 large cucumbers
1 lemon (peeled)
1 apple
1-inch knob of ginger (peeled)
1-2 large ribs celery
Method:
First, ensure all produce is washed.
Use a blender or food processor and start by blending the wateriest produce first (apples, cucumber & lemon are a good place to start). Work your way through each ingredient until everything is blended well together and you're left with a pulpy juice.
Then, seperate the pulp from the juice using a sieve over a bowl.
Serve over ice.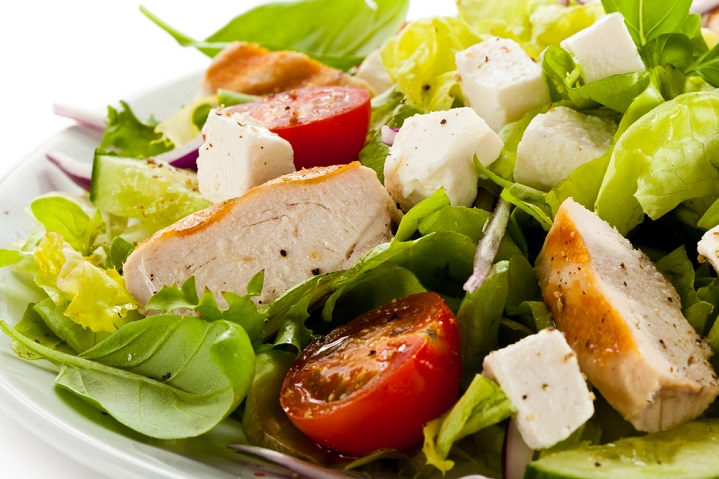 This light grilled chicken salad is ideal for preparing in summer, filled with nutrients and incredibly simple to make!
Ingredients:
4 ounces grilled chicken breast, skin removed
2 cups chopped romaine lettuce
1/3 cup sliced carrots
1/3 cup chopped cucumber
1/4 cup chopped red onion
1 ounce of crumbled goat cheese
To taste:
Raspberry vinegar
Method:
Cut the grilled chicken into bite-sized slices.
Toss the vegetables, cheese and grilled chicken together in a large bowl.
Finally, add the raspberry vinegar and toss once more.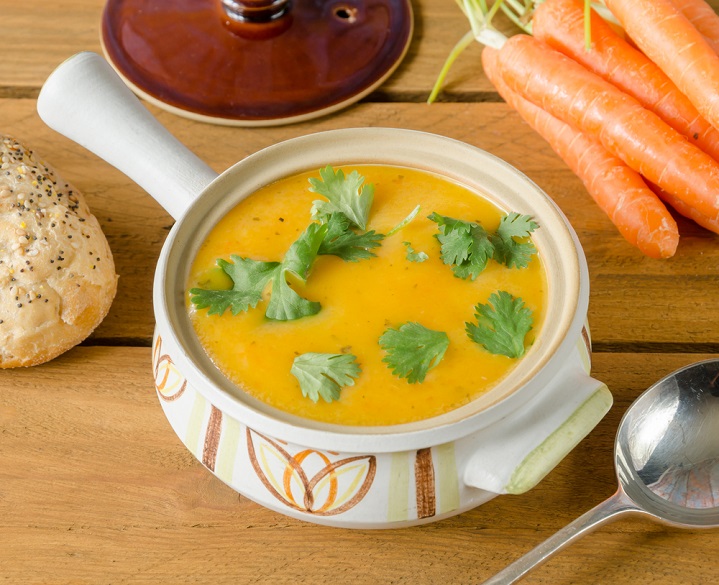 Carrot and Coriander Soup via BBC
This tasty and colourful soup is incredibly quick and easy to make. It's also high in vitamin A to help the retina and other parts of the eye function smoothly.
Ingredients:
1 tbsp vegetable oil
1 chopped onion
1 tsp ground coriander
1 chopped potato
450g peeled and chopped carrots
1.2l vegetable or chicken stock
Handful coriander
Method:
In a large pan, heat the oil and then add the chopped onion to fry for 5 minutes.
Once the onions have softened, stir in the ground coriander and potato. Leave to cook for 1 minute.
After this, add the carrots and stock. Bring this to boil and then reduce to a low heat.
Cook for a further 20 minutes until the carrots are tender.
Finally, using a blender or food processor, mix the carrot batch and coriander together until smooth.
To serve, add salt if necessary.
We hope you've been inspired by our recommended recipes. If you have any queries surrounding eye health, our dedicated customer service team are happy to help.