SoloCare Solutions for Contact Lenses
Sort By: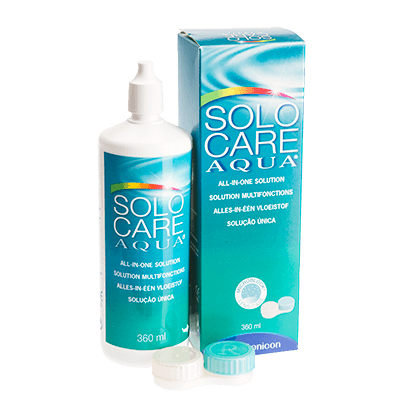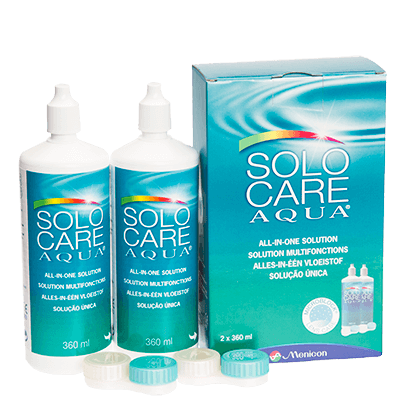 SoloCare contact lens solution is a highly versatile multi-purpose solution that takes care of cleaning, disinfecting, rinsing and storing all types of soft contact lenses, including silicone hydrogel contact lenses. Contact lens wearers can experience all day comfort, as contact lenses retain more moisture throughout the day after using SoloCare aqua solution.
All-in-one SoloCare solutions
SoloCare Aqua all-in-one solution
Developed by Menicon, SoloCare Aqua all-in-one solution effectively cleans your lenses. This solution is designed to re-wet and condition your contacts for a comfortable lens wearing experience. With its HydraLock effect, you'll enjoy an unrivalled level of hydration when you clean your lenses with Solocare solution. SoloCare Aqua contact lens solution is also available as Twin Pack, offering incredible value for money alongside total convenience.
How do I use SoloCare Aqua solution?
After washing your hands thoroughly, dry them with a lint-free towel. Then place one contact lens at a time into the palm of your hand. Apply three drops of the solution and rub each side of the lens for at least 20 seconds. Rinse both sides of the lens. Fill your contact lens case with solution and add the lenses, screw the lid shut.

All SoloCare contact lens solution packs come with a specialised antibacterial contact lens case, which features infused anti-bacterial ions. These cleaning ingredients help to achieve an even deeper clean of your monthly or two weekly disposable contacts.

Be sure to discard old solution from the lens case and rinse the lens case with solution before each use. For more information on taking care of your lenses, please visit our Eye Care Hub.
Why should I choose SoloCare contact lens solution?
SoloCare solutions not only disinfect your contact lenses, they also deliver long-lasting hydration. Using their HydraLock technology, your lenses retain moisture and keep your eyes comfortable all day long. This one solution can be used for your entire cleaning routine, making your lens regime quick and simple.
Have a question?
For any questions or queries you may have regarding SoloCare Aqua contact lens solution, please don't hesitate to contact our dedicated and friendly customer service team. Call us on 01 514 3614 or email us at cs@feelgoodcontacts.ie.

Enjoy unbeatable prices at Feel Good Contacts with our Price Match Guarantee. We promise you the cheapest price online in Ireland for your SoloCare contact lens solution. If you're in a rush, we offer next day delivery for only €5.50 on all orders over €55.