Certain things are just essential before you leave the house. Face mask, keys, eye drops, bank card, sunglasses. What if you also wear glasses though? As a glasses wearer, it can feel like you're choosing between clear vision and protecting your eyes from the sun, but that doesn't have to be the case.
Is it worth buying prescription sunglasses?
If you have light sensitivity, you want to protect yourself from 100% of UVA and UVB rays, or if you hate sun glare, then polarised lenses with prescription are a worthy purchase. UV damage is also on the increase, which is why opticians always recommend sunglasses with 100% UVA and UVB protection. It's worth investing in some prescription shades as UV protection is so important. Exposure to UV light can put you at risk of a few eye conditions, for example, cataracts and pinguecula.

Prescription sunglasses are a brilliant two-in-one accessory. Alternatives such as clip-on sunglasses sometimes don't fit your frames in quite the right way. Check out our blog for more reasons why you should have two pairs of glasses.
What are the darkest prescription sunglasses?
Here at Feel Good Contacts, we offer the darkest sun tinted lenses you can get (category 3). You have choices of a few different colours, including brown and grey lenses, both of which are good for different purposes. Brown is a warm colour; these lenses are good for overcast days. Grey lenses appear most natural and pair well with a wider variety of frame colours. It's important to note that these sunglasses aren't suitable for night driving.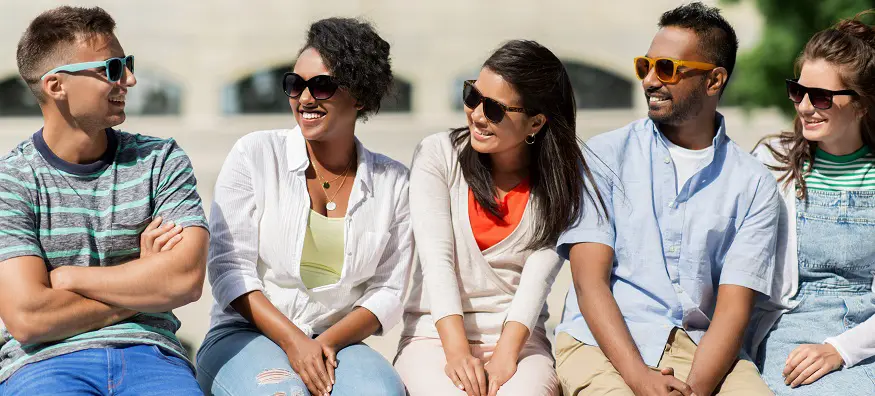 Is there a transition period?
You may find that your eyes need to get used to prescription sunglasses. Just as with any new prescription, there will be a period of time at the beginning where your eyes need to adjust. You may experience headaches or dizziness, but this should only be for a couple of days. If you have symptoms for a week or more, then you should revisit your optician to ensure you have the correct prescription. Wearing your sunglasses for extended periods will speed up the adjustment process.
Where can I get prescription sunglasses?
Did you know you can have any pair of glasses at Feel Good Contacts made into prescription sunglasses? Simply choose the 'sun tint' option when selecting the lenses. We have a huge range of brands including Ray Ban, Prada and Le Specs, to ensure you find the perfect prescription designer sunglasses for you.

Prescription sunglasses are the ultimate dual-purpose accessory to protect your eyes, allowing you to enjoy the sun with clarity. With so many affordable and stylish sunglasses on offer, you could even get multiple pairs.