The Body Doctor
Sort By: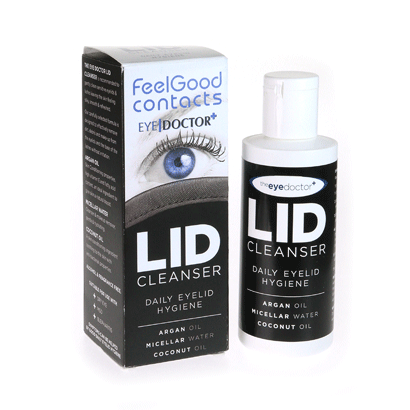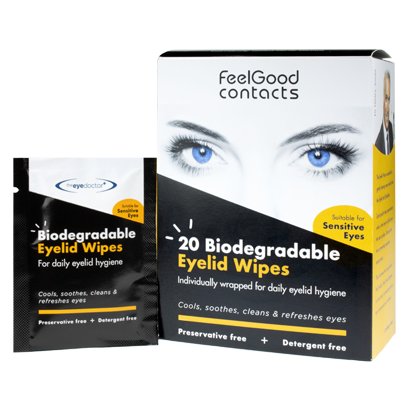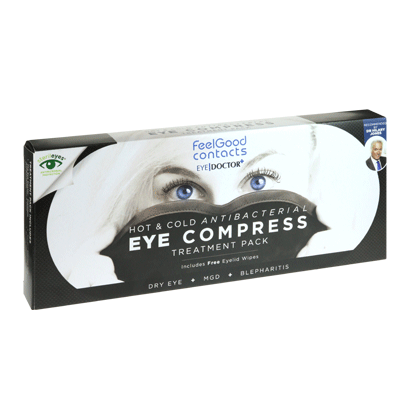 The Eye Doctor range, created by The Body Doctor, offers eye care products to help keep your eyes clean and revitalised. If your eyes are dry and irritated from too much screen time or allergies, the products in this range will soothe tired eyes and cleanse the eye area. Make these products a part of your eye care routine for healthier, more refreshed eyes.
Why use The Body Doctor products
Developed by Menicon, SoloCare Aqua all-in-one solution effectively cleans your lenses. It's tempting to use our hands to remove irritants from our eyes throughout the day. Even with clean hands, our hands and nails can transfer bacteria to the eye area. The Eye Doctor products allow you to easily cleanse the eye lid and eyelashes any time of day or night. The lid wipes are particularly convenient for cleansing when out and about.
The Body Doctor range
The Body Doctor offers easy to use products to help you maintain eye health, whether you wear contact lenses or not.
The Eye Doctor Lid Cleanser
For a thorough and deep clean throughout the day, or to remove your eye makeup at night, The Eye Doctor Lid Cleanser is a gentle enough to be used every day. Designed for sensitive skin, this alcohol-free and fragrance-free formula wipes away dirt, debris and excess product from the eye lids and lashes. The cleanser is infused with coconut oil, vitamin E and argan oil to soften and condition the eye area. This cleanser is recommended by Medical Broadcaster, Dr Hilary Jones and Speciality Doctor in Ophthalmology, Dr Colin Parsloe. The 100ml bottle size is perfect for travel as it can be placed in your hand luggage.
The Eye Doctor Premium Eye Mask
The Eye Doctor Premium eye mask is the perfect edition to your night time routine. Filled with BodyBeads self-hydrating technology, the mask can be heated either in the microwave or the oven within 7-10 minutes. Alleviate the affects of dry eye, blepharitis, irritation and light sensitivity with this soothing at-home treatment. Fitted with an adjustable strap for a comfortable fit, this registered Class 1 Medical Device gives fast and effective relief for your eyes.
The Eye Doctor Lid Wipes
The Eye Doctor Lid Wipes are specially formulated for those with even the most sensitive eyes. These gentle yet deeply cleansing wipes will remove dirt, debris and excess product from the eye lid and eye lashes. The 20 pre-soaked individual wipes are detergent-free and preservative-free and can be disposed of after use. These travel-sized sachets can be slipped into your pocket, purse or bag for convenient cleaning on the go. These are especially good to use after you have used The Eye Doctor Premium eye mask for a more effective clean and added relief for your eyes.
The Eye Doctor Allergy
The Eye Doctor Allergy is a cold compress that soothes, and cools eyes irritated by allergies.
The Body Doctor AB Mask Ear Saver
To make wearing a face mask even more comfortable, you can wear The Body Doctor AB Mask Ear Saver to help ease the pressure that mask wearing can cause on your ears. This face mask ear saver can be worn around your head. The elastic strap pulls the ear loops of your mask away from your ears for lasting comfort throughout the day when you're wearing a mask.
The AB Mask Anti-Fog Cloth
If your glasses constantly get foggy when you wear a mask, The AB Mask Anti-Fog Cloth should be your new daily essential. After using this cloth, your glasses will be fog-free for up to 48 hours, plus it also helps to prevent smears and dust accumulating on your lenses. With each anti-fog cloth for glasses lasting up to 1000 uses, it's the perfect way for glasses wearers to see clearly while wearing a mask.
Need help?
If you have any queries regarding products from The Eye Doctor range, please don't hesitate to contact our helpful customer service team. Call us on 01 514 3614 or email us at cs@feelgoodcontacts.ie. If you'd like more information about eye care, you can also visit our Eye Care Hub. Thanks to our Price Match Guarantee, you'll benefit from the lowest prices in Ireland when you shop at Feel Good Contacts. You can also get FREE delivery on orders over €55.