This article discusses whether love at first sight is real, looking at the notion's different theories and origins.
The Origins Of Love At First Sight
The idea of love at first sight originates from Greek and Roman literature where this notion was accompanied by imagery of love arrows from the God's Eros and Cupid. The Greeks often thought of the expression as 'theia mania', meaning, madness from the Gods.

It wasn't until 1598 that the expression 'love at first sight' made its appearance in English literature with Christopher Marlowe's poem 'Who Ever Loved That Loved Not at First Sight'. The poem discusses how fate influences our life choices, a theme which Shakespeare later adopted. The expression was used to convey romantic attraction and has since been used across various cultures and languages. It can be used to describe an instant attraction to someone or something.

Love at first sight can also be interpreted as falling in love with someone upon meeting them for the first time.
Is Love At First Sight Real – What Do The Psychologists Say?
Over decades of research have led psychologists to suggest that the notion of love at first sight is a myth and that true love takes some time to develop.

Psychology Today, a 2017 study by researchers at the University of Groningen described love at first sight as a 'positive illusion.' This suggested that couples may have thought they experienced instantaneous love because of how they felt years later.

Nevertheless, others believe that there is a science behind the feeling of love at first sight.

Psychologists and scientists alike have put this down to the brain's chemical reaction that makes you feel love. When we meet someone we like, our brains release dopamine and serotonin. Our brain releasing these chemicals can cause butterflies in the stomach, dilated pupils and feeling high. This can also lead us to feel an instant pull to that person, and when one feels a mutual attachment, a connection begins to form and this is often described as love at first sight.

A study published in the Journal of Neuroscience suggested that 'love at first sight' cannot happen without an initial attraction. Their study discovered that people can tell almost immediately if they find someone attractive. Therefore 'love at first sight' might be better off being called 'attraction at first sight.'
What Role Does Sight Play In Falling In Love?
New studies suggest that falling in love has more to do with the 5 senses with sight playing a significant role. One article wrote that a mutual gaze affects feelings of romantic love.

Some say that we are more likely to fall in love with people whom we see as physically attractive, which means that sight plays a significant role in the process. This is sometimes referred to as the 'attractiveness halo'. The attractiveness halo holds the notion that people who are more physically attractive are more likely to leave positive impressions on us, causing us to believe that they must have other desirable personality traits.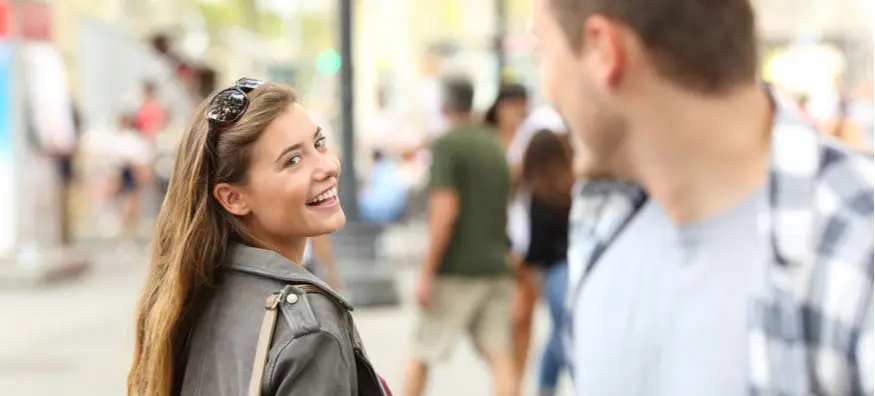 One can also make a visual connection with another individual through eye contact. Studies have proven that prolonged eye contact is a great flirting technique that allows someone to know that you are interested in them and that locking eyes with someone you find attractive can cause the feeling of falling in love.

Some physiological theories have stated that gazing into another's eyes causes heart rates to synchronise. Research 'shows that couples who are in love and gaze into each other's eyes for three minutes naturally experience synchronised heartbeats.'
Myth Or Real – Does Love At First Sight Exist?
As you can see, there has been much debate regarding whether love at first sight is real or a myth. While you'll hear many say that they have experienced love at first sight, whether it is real or not may depend on one's definition of love.

Some would argue that experiencing love at first sight is a better way to describe lust, an initial attraction rather than a deep connection.
Make the right first impression
When you're trying to impress someone on a first date, you want to make the right impression. You'll probably think carefully about every part of your outfit, which should include your eyewear!
FGC Sloane C2 Grey Tortoise
This fully rimmed frame features a stylish grey tortoise print. The square shape and medium size make it a versatile accessory that's sure to get you noticed on a date.
Tommy Hilfiger TH1704 7C5 Black Crystal
These sophisticated rectangle-shaped glasses provide clear vision and style. High-quality and well crafted, these premium glasses will complete any date look.
Radley RDO Marcie 161 Purple Havana/Gold
It's love at first sight with this fashionable and colourful frame. The round shape will especially flatter square and heart face shapes. The gold-coloured temples add luxury to this lightweight frame